This week, Calgary's award-winning Burwood Distillery announced the continuation of its growing collection of seasonally-inspired small-batch gins with the launch of three new winter-themed offerings, each designed to showcase traditional and nostalgic elements of the winter season.
The first and arguably most interesting offering in the new lineup is the Spiced Apple Gin. The unique homage to the classic spiced hot apple cider features a diverse range of apples and spices, along with an eye-catching and colour-changing gin inspired by the Northern Lights.
"This flavour combination has been on my mind for a while now, and I am thrilled to say we've made a gin that packs a lot of flavour and fun into one glass, explains head distiller Laurence Quinn. "Top with soda, and let the Northern Lights kiss your cocktail."
The Winter Berry Gin is a versatile ruby-hued gin infused with sweet white mulberries. Along with a silky mouthfeel from the addition of persimmon, the spirit achieves a beautiful balance thanks to the tartness of cranberries.
The last in the set of three is the Mandarin Orange Cranberry, an easy-sipping, bright and vibrant spirit that celebrates the seasonal tradition of enjoying mandarin oranges with friends and family.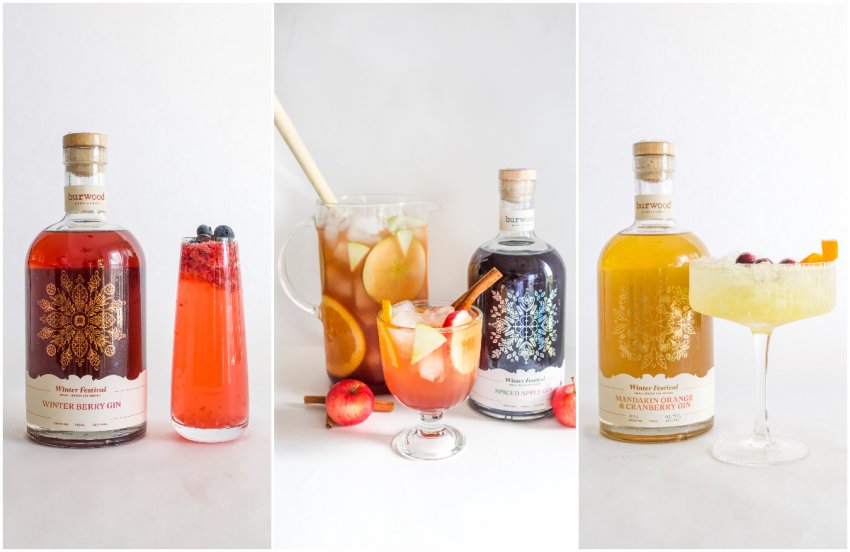 "You will get to experience flavours that remind you of your favorite holiday traditions, and who knows, it may just bring you happiness, prosperity and good luck," says chief sales officer Jennifer Jamison. "I think we could all use a bit of that this year!"
Burwood Distillery's Winter Festival Gins are available to purchase online and at select retailers across Alberta.