After a devastating fire forced Fergie's Cafe to close its doors in April 2018, many patrons of the popular Squamish institution believed their beloved Sea-to-Sky oasis was gone for good.
But owners Jess and Jake Freese, who had previously revived Fergie's Cafe when they assumed ownership in 2010, saw the fire as an opportunity to recreate something exceptional that would not only maintain the rustic charm that the 70-year-old landmark had become known for, but would also update the restaurant with a new focus on modern sustainability.
And after just over a year of construction, the Freeses saw their vision come to life when they reopened Fergie's to the public on November 14.
"We wanted the design to emphasize the outdoors and minimize our environmental impact, but we had to make that work with the constraints dictated by the property and permitting,'' explains co-owner Jess Freese. "Jake and I were determined to use green materials and resources to build and fuel the restaurant, and to protect natural features like our black walnut tree. We prioritized functionality due to the restricted physical footprint we were granted but when we had to elevate the structure to meet building requirements, we found we were able to embrace the glorious views—standing on the deck looking at Mount Alpha or the bald eagles soaring overhead is a magical experience."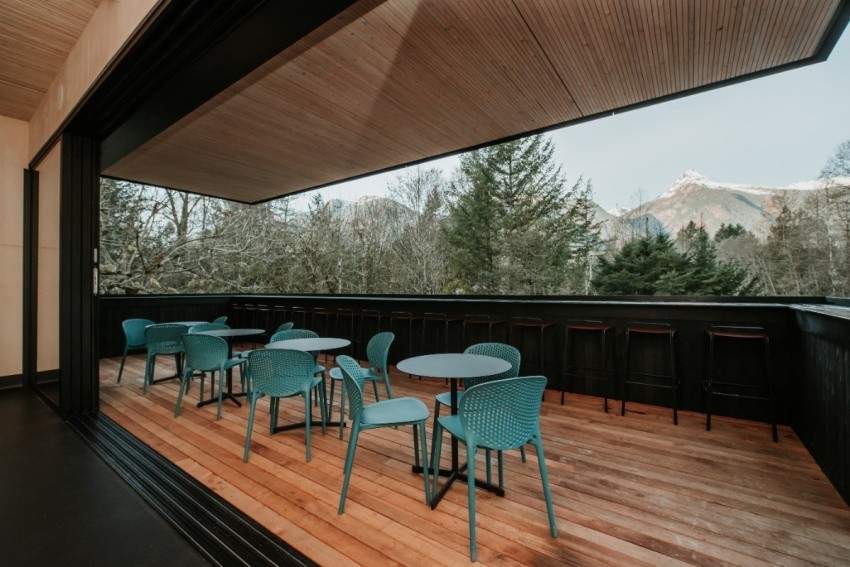 The new 1400-sq.-ft. Fergie's Cafe building is clad in black-stained cedar, framed with steel beams, and accented by rusted plate steel with a splash of the old building's vintage blue colour scheme. The restaurant contains a 10-seat indoor bar, a 20-seat outdoor patio, and an indoor restaurant space centered around a wood-burning stove and panoramic mountain views that seats up to 50 guests. In the summer, outdoor seating will expand capacity to over 200.
While the menu will generally offer the same style of seasonal, locally-sourced cuisine that garnered Fergie's the Best Breakfast in Squamish recognition for three consecutive years before it was forced to close, the Freese's have recently revamped their management team.
The back of house is now led by executive chef Victor Pulleyblank, who brings with him a wealth of experience from B.C. favourites such as Araxi, Café Medina, and West, to name a few. The front of house team is now under the seasoned leadership of Naomi Aris Horii, and the newly revamped cocktail program--which includes a negroni on tap--was developed by Rob Scope of Homer St. Cafe and Bar, Upstairs at Campagnolo, and Pigdin.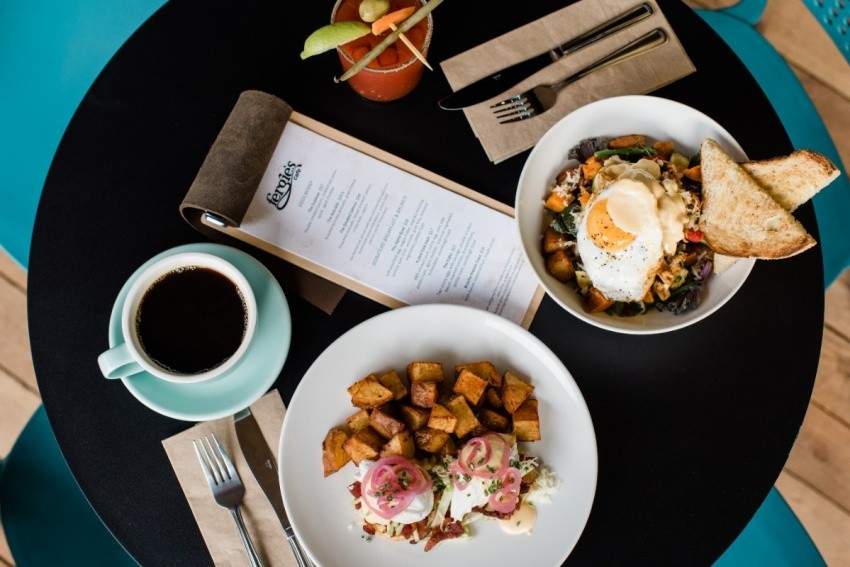 Although Fergie's has insinuated a possible expansion of its future food offerings, the menu is currently concentrated on brunch served until 3 p.m. daily
Update: Due to a beverage line leak found in Fergie's kitchen floor, the restaurant will be undergoing further renovations to avoid long-term damage and will close on January 8 for approximately two months.