After Biscuits and Bars Week brought out the best in some bakers during last week's episode, the arrival of Bread Week brings with it a new opportunity for those who fell short to rise to the occasion.
So far, Chi appears to be the Season 6 frontrunner with Top Baker honours in each of the first two episodes, so it will be up to the six other remaining bakers to bridge the gap. Chi admits in the episode intro that they are a bit scared of Bread Week, which may afford the other bakers an opportunity to stand out.
Only time will tell!
Challenges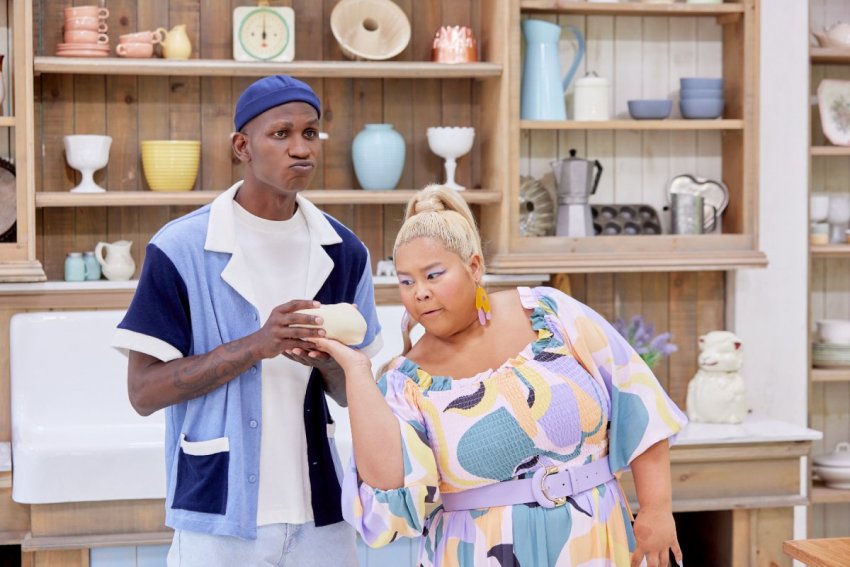 After a bit of playful banter between the charismatic co-hosts, the bakers are told that for the Signature Bake, they must create a flatbread of their choice, stuffed with a savoury filling of their choice. That leaves lots of room for improvisation, so the challenge will test both the bakers' fundamentals and their creativity.
There were quite a few delicious-looking dishes presented to the judges, but the two esteemed chefs seem to enjoy Jomar, Kristi, Lauren, and Chi's flatbreads the most.
For the Technical Bake, the bakers are told that they are taking a trip to Sweden to take part in teatime—or what the Swedish refer to as "fika". The bakers will have to prepare a Swedish tea ring, which is typically a sweet, yeasted bread with cardamom, cinnamon, and raisins.
If the bakers can come up with something as stunning as the example from chef Kenalley, she and chef Feldeisen may have a difficult decision on their hands. The bakers are not permitted to use their stand mixers, so for the first 10 minutes or so the GCBS tent is uncharacteristically quiet as the bakers focus on kneading their dough by hand.
Chi gets their first piece of negative feedback, but finishes fourth overall. John is awarded runner-up with only a few minor missteps, and Kristi's tea ring is declared the best of the bunch.
The judges state that Nigel and Rosemary have been struggling so far and will need to bring their A-game for the Show Stopper challenge to avoid elimination. The bakers are tasked with creating edible artworks that incorporate colour and texture, and are inspired by an artist, a style, or a movement.
Once again, the bakers demonstrate just how wholesome The Great Canadian Baking Show can be as the bakers who finish early rally to help their fellow competitors in need. We were really rooting for Jomar's drag queen-inspired creation, but one problem the other bakers can't help with is the amount of time remaining, and his underdone dough was unfortunately in need of a little more.
Kristi, on the other hand, made the absolute most of the aid she received and submitted a street art-inspired bread that basically blew Bruno away. Lauren and Zoya went on to do the same, so it looks like Chi may find themselves outside of the Top 3 for the first time.
Bottom Baker
While his ideas were almost always highly creative, Nigel seemed to lack the timing and technical precision that today's bread making tasks demanded. He needed to really stand out in the Show Stopper challenge, but his Postmodern Super Sandwich fell a bit short and he was selected as this week's Bottom Baker.
Top Baker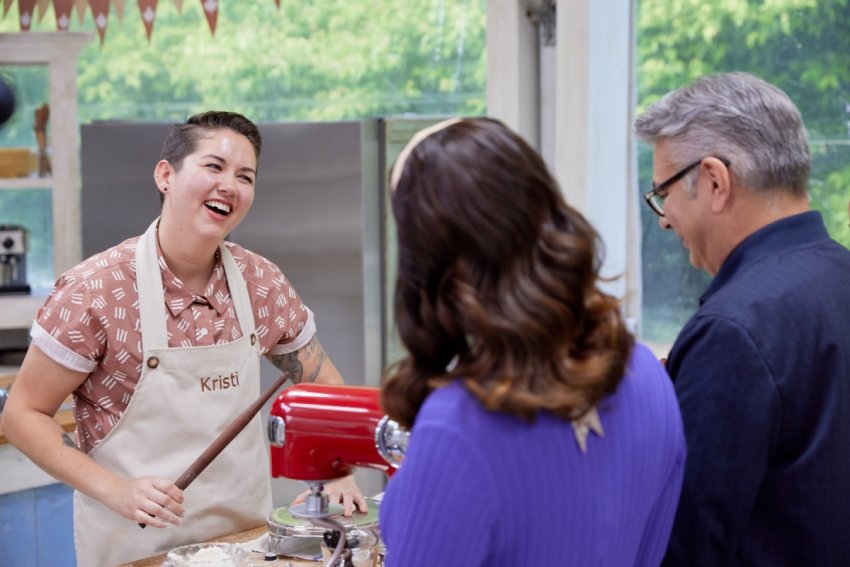 Although Lauren and Zoya gave her a good run for her money, Kristi was ultimately selected as this week's Star Baker after excelling in just about every way in Episode 3. She put a tremendous amount of creativity and heart into each bake, and was definitely deserving of this week's result.
Next Week
Kristi proved to be a beast with the yeast, but generally speaking, in the GCBS tent you're only as good as your last bake. In next week's episode, the six remaining bakers will have to put Bread Week behind them and brave the big and beautiful world of Botanicals.
GCBS Season 6 Episode 4 airs Sunday, October 23 on CBC and CBC Gem.