After bidding farewell to one of the first frontrunners of the season in last week's episode, we're now down to the final four and just one episode away from the finale. In the same spirit of "you never know what will happen on GCBS", instead of being greeted by Alan Shane Lewis and Ann Pornel in this week's cold open, Kyla Kenalley and Bruno Feldeisen get a chance to prove that the Second City duo aren't the only ones with comedic chops.
Speaking of frontrunners, Chi and Kristi arguably held that title for the first half of Season 6, but over the last few episodes Lauren and Zoya have hit their strides and momentum seems to be on their side. A solid performance in Fancy Dessert Week should be a ticket to the finale, so there will obviously be a lot on the line throughout each bake.
Challenges
For the second-last Signature Bake of the season, the final four competitors are tasked with serving up the trendsetting Japanese treat, mochi doughnuts. Shane Lewis, who for some reason is not joined by Pornel, explains that the rice flour doughnuts should be soft and chewy on the inside, slightly crispy on the outside, and since it's Fancy Dessert Week, decorated from top to bottom.
Zoya does a cool riff on African street food that the judges seem to love. Lauren goes for a bright and bold doughnut duo that gets mostly positive feedback. Chi's concept initially caused concern from the judges but after tasting they quickly change their tune. Kristi goes last and possibly for the first time all season her presentation is not very appealing and her dough is a little dense. There's probably some kind of avant garde art going on here but it's definitely going over my head.
The Technical Challenge is one that typically doesn't allow for much creative interpretation, so it will be a good opportunity for the usually-technically-sound baker to make up lost ground. Kristi and her fellow competitors will have to make a sans rival, which is described as a Filipino-style dacquoise with layers of cashew meringue and French buttercream.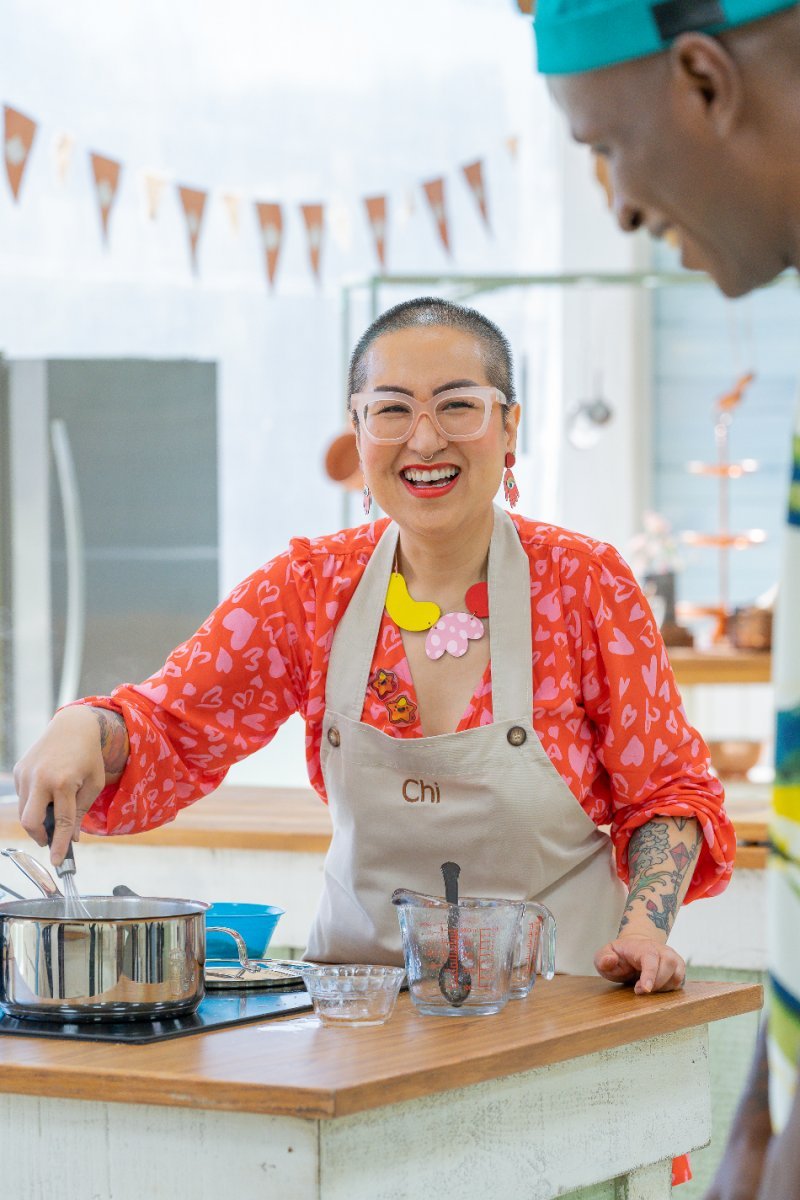 The judges fly through the blind tastings and quickly pronounce Kristi's as the best of the bunch. Thanks to the quick bounce-back, the final four bakers are basically back to level and it's once again anyone's game to win.
All that stands between the final four and a trip to the finale is a Show Stopper Challenge that will require the bakers to create a jelly art cake with traditional layers of sponge, mousse, and ganache, along with a personlized piece of art encased within.
Quick aside—if you love looking at creative jelly art cakes, Leah Van Loon's Jelly Lab will very likely become your new favourite Instagram account. Back to the show!
As the final four help each other finish their Show Stoppers it's starting to set in that we will soon have to say goodbye to one of these bakers. They all seem so talented and genuinely warm-hearted. Maybe we'll get our first-ever finale with four contestants?
Top Baker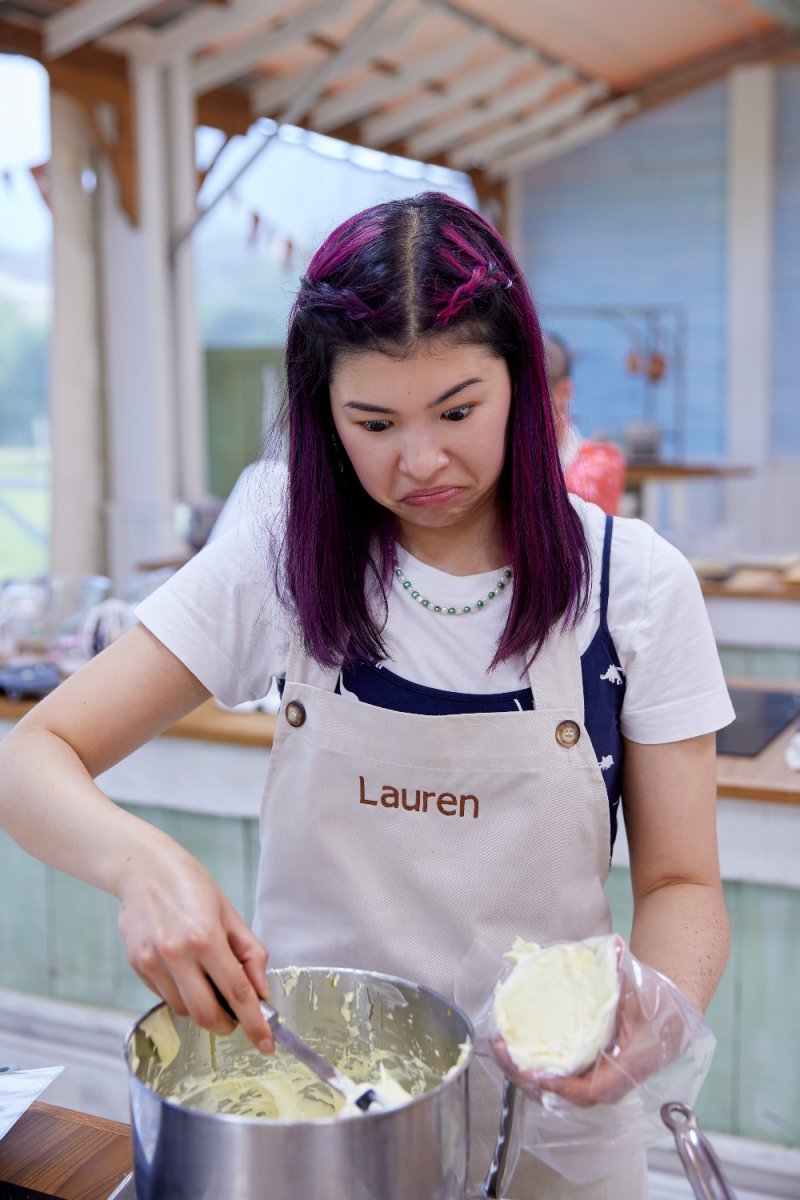 Both Lauren and Chi submitted eye-catching creations that could sit proudly in the window of any professional patisserie, but Lauren's near-flawless Show Stopper was so technically sound that it sealed her spot as this week's Star Baker. It also positions Lauren as the likely favourite going into the finale, having now accrued the most Star Bakers of any competitor.
Bottom Baker
Kristi's Show Stopper was looking so good until the final few minutes, but it started to split right as the clock was winding down and she was forced to submit something she definitely didn't feel proud of. Although she rescued it to some extent and the flavour was on point, it ultimately fell short and Kristi's competition came to an end.
Next Week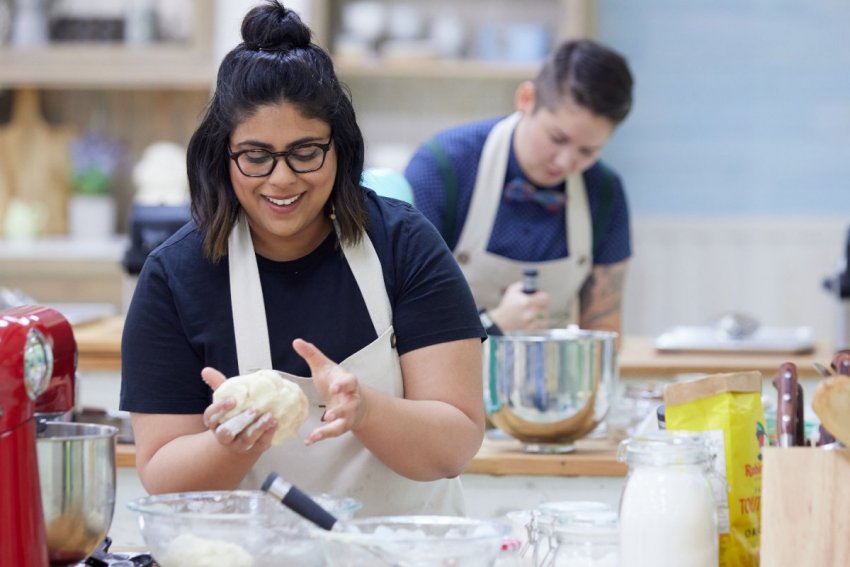 It's hard to believe that the finale has almost arrived, but there are now just three challenges that stand between our final three bakers and the Season 6 crown.
The Great Canadian Baking Show Season 6 finale airs Sunday, November 20 on CBC and CBC Gem.