It's hard to believe that seven weeks of The Great Canadian Baking Show have already come and gone, but as they say, time flies when you're having fun. This season has been one of the most enjoyable to watch in recent memory, which makes sense considering the sheer level of talent, creativity, and charisma in this year's batch of bakers.
Of the three finalists, Lauren is likely the baker with the most momentum on her side having won two of the previous three Star Baker honours. With back-to-back wins at the start of Season 6, Chi is still tied with Lauren for the most wins, so we know they have what it takes to go the distance.
Zoya has had one fewer Star Baker finish, but all three have spent the majority of their GCBS time near the top, so it's safe to say it's still anyone's game to win.
Challenges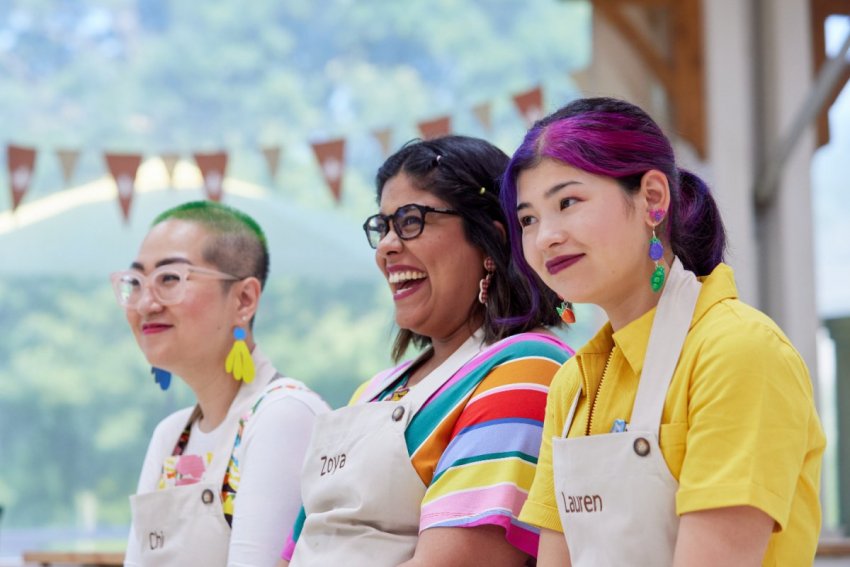 After a quick tear-jerking trip down GCBS Season 6 memory lane, we find our final three competitors looking dapperly-dressed and as determined as ever. The bakers are greeted by the co-hosts and co-judges, who much to our delight are rejoined by Ann Pornel.
For the final Signature Bake of the season, the bakers are told they'll be journeying to the City of Love to test their abilities with choux pastries. They'll have to create their own rendition of a classic Paris-Brest, which is traditionally filled with praline cream and topped with sliced almonds.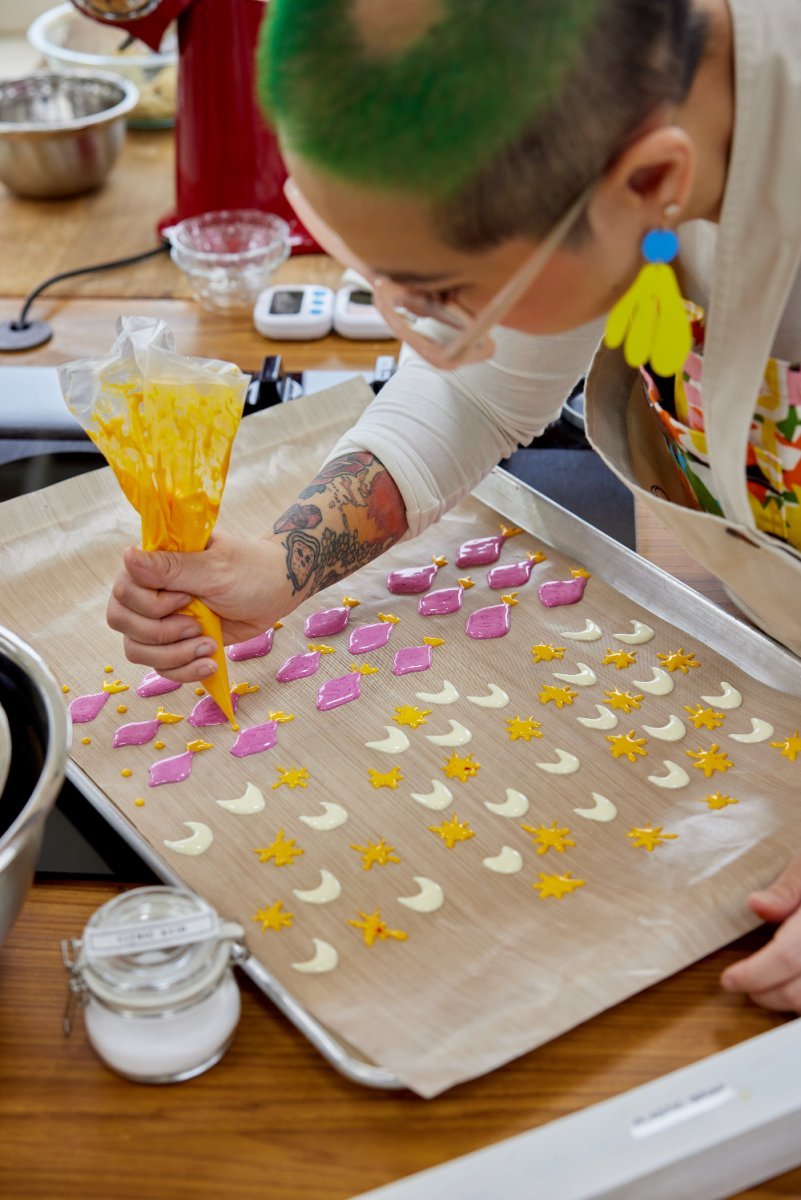 Both Lauren and Zoya elect to go the savoury route, while Chi decides to go with a sweet flavour profile. The decision to diverge from the pack clearly pays off as Feldeisen describes Chi's dessert as pure genius. Lauren's choux is well-made, but not robust enough to prevent the filling from overpowering it.
Zoya's is just about as vibrant as Chi's, and it might actually be better tasting too. The judges are so blown away that they're almost left speechless. Feldeisen—a French-born two-time James Beard Award nominee and one of the Top 10 pastry chefs in America according to Chocolatier Magazine—says he feels humbled. Score one for Zoya.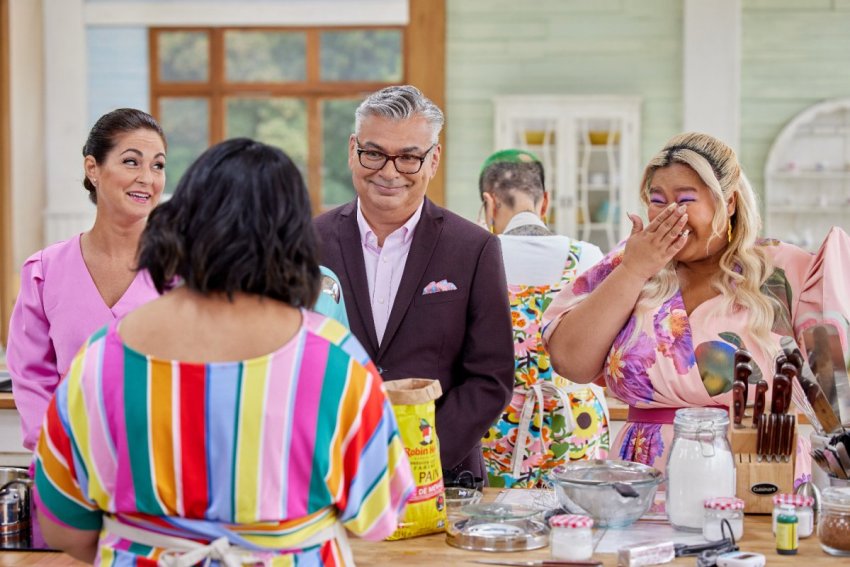 For the Technical Bake, the bakers will be going from France to Italy to try their hands at a Sicilian cassata made with ricotta, marzipan, and sponge cake, and topped with candied fruit and royal icing.
With seemingly fewer recipe instructions than ever before, the finalists are forced to make more educated guesses than they'd obviously have liked, not to mention trying to recall the exact shape of a trapezoid. While each of the three bakers' submissions look relatively good, there's no question that they are all quite different from one another.
Zoya and Chi were on top coming out of the Signature, but this round wasn't even close; Lauren absolutely crushes it to win her third Technical Challenge of the season. Score one for Lauren. Chi coming in third here means they will most likely need to win the Show Stopper in convincing fashion to to propel them to the top, but as the judges point out, all three bakers are immensely talented, so we're definitely not counting Chi out just yet.
For the very final challenge of the season, the bakers are told they must make a towering garden party dessert centrepiece composed of at least three different bakes. Beyond that parametre, the bakers are free to do as they please.
Lauren goes for a veggie garden party theme, Chi says they're doing a Mid-Autumn Festival homage, and Zoya decides on a wedding tower dedicated to a friend who got married while she was in the tent.
As if we weren't already enamoured enough with these three bakers, while they focus on their Show Stoppers, GCBS runs a brief backgrounder by way of heartwarming home videos featuring each of their loved ones. I also just noticed that all three are wearing food-themed earrings, so now I love them even more.
After a terribly tense final few minutes, the bakers breathe a collective sigh of relief as they all manage to finish on time. Lauren is the first to approach the judges' table (with the help of Shane Lewis), and in addition to her creative assemblage, Kennaley says she's incredibly impressed Lauren was able to bring her concept together on so many levels. Neither judge offers a single critique that we see on camera, so we're left to assume her Show Stopper is a resounding success.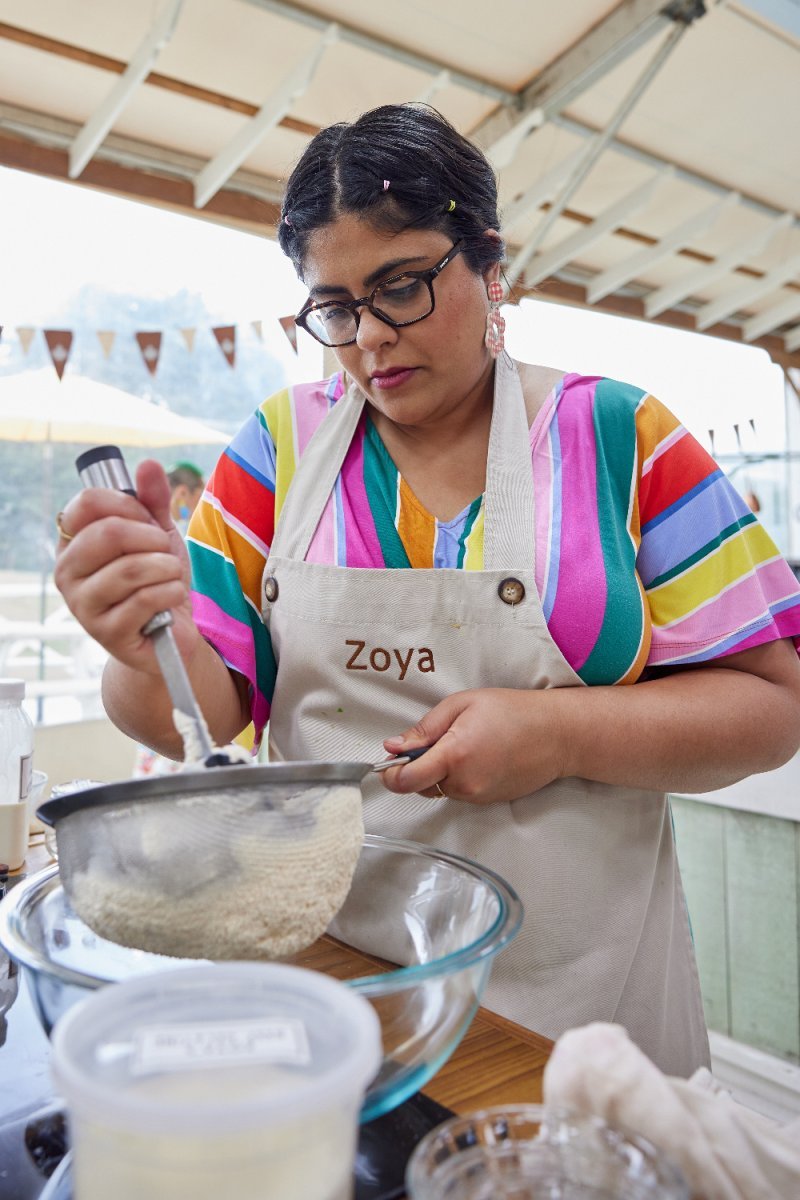 Zoya seemed to have a bit of trouble throughout the Show Stopper challenge, but at first glance, her bake looks as visually striking as Lauren's, if not more so. Whatever hurdles she ran into this challenge do not appear to have phased the highly-adaptable Edmonton-based baker. She does receive some criticism about her choux, but the perfection of her pandan and coconut wedding cake might just make up for the minor misfire.
As the camera pans over Chi's Show Stopper, Kennaley steals the words right out of my mouth, "I feel like I'm looking at a beautiful store window display." Seriously, wow. If it tastes as good as it looks, the judges will have another difficult decision on their hands. They did receive some criticism for their pineapple cakes and red bean Mont Blanc, but the presentation alone should keep Chi in the running.
While the judges deliberate on their last decision of Season 6, the finalists are rejoined by both their former competitors and their loved ones, who line up to hear the judges' final verdict.
Great Canadian Baking Show Season 6 winner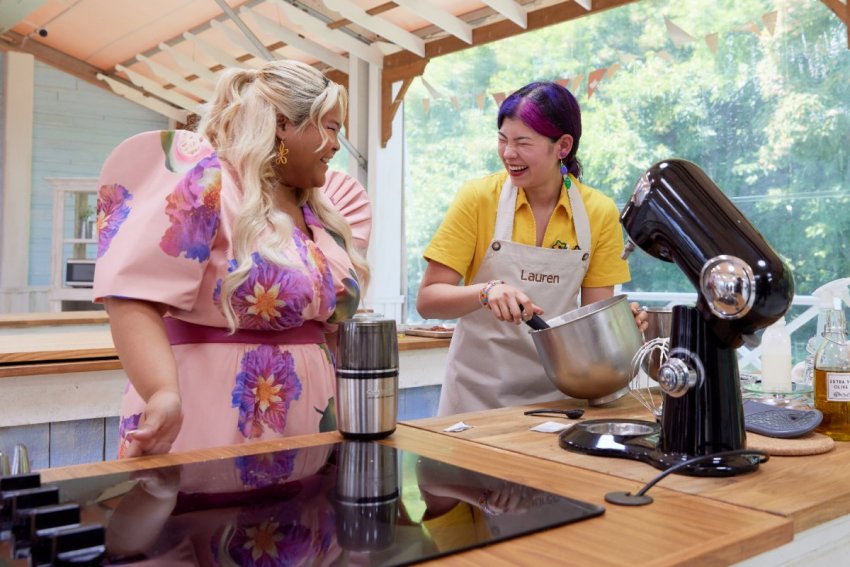 Despite being just 21 years old and the youngest baker of the three by more than a decade, Lauren Tjoe baked through Season 6 to her eventual win like she was a seasoned professional. Zoya and Chi both proved that they are exceptionally skilled bakers, but Lauren's consistency, creativity, and prodigious technical prowess was just on another level and that's what led her to victory.
This was easily my favourite season so far and one of the most talented trios to have ever competed in the finals. Beyond their baking abilities, all three had memorable moments that I'm sure they will look back on with pride. Although they were competing, they were always there to help and uplift one another, and their sense of humour in the face of near-insurmountable challenges was wonderful to watch. I'm looking very much forward to seeing where their success on the show takes them next.
Next Week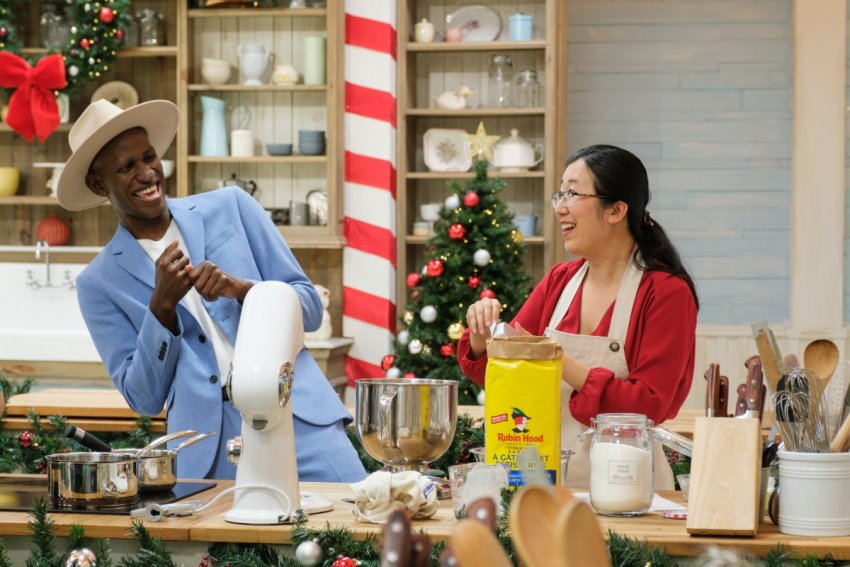 Season 6 of The Great Canadian Baking Show might have concluded, but we're not done with GCBS just yet!
Next week, tune in to watch four fan favourites from seasons past face off for the title of Holiday Star Baker in The Great Canadian Baking Show's 2022 Holiday episode which airs Sunday, November 27 on CBC and CBC Gem.