We're officially down to the final five and only two episodes away from the finale, which means our remaining bakers will have very little room for error going forward. Each of the bakers have felt the pain of a poor performance, so they'll have to approach Pastry Week with poise, passion, and precision if they plan to proceed to the penultimate episode. Now that I've gotten that out of my system, on with the recap!
Of the five finalists, Zoya has probably had the least amount of time in the limelight, but when she enters the GBCS tent for Pastry Week, she seems enthusiastic and as confident as ever. As Lauren proved last week, a few solid challenges strung together in succession can completely change a competitor's trajectory, and Zoya looks like she's on her game this week.
Challenges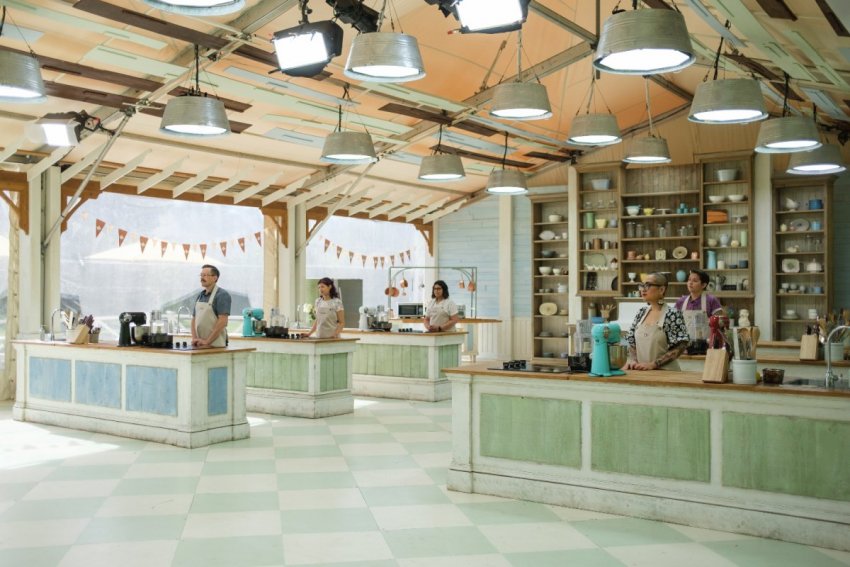 The bakers seem a bit perplexed to find out that for today's Signature Bake, they must create Kürtőskalács, but after Shane Lewis explains that they'll be making Hungarian chimney cakes, tensions seem to settle.
Traditional chimney cakes tend to be hollowed out, but the bakers are told that their cakes must include a filling of their choice. Kristi is the only baker that elects to go the savoury route. Making a rendition of Japanese-style hot dogs is a bold move, but she pulls it off wonderfully and garners high praise from the judges.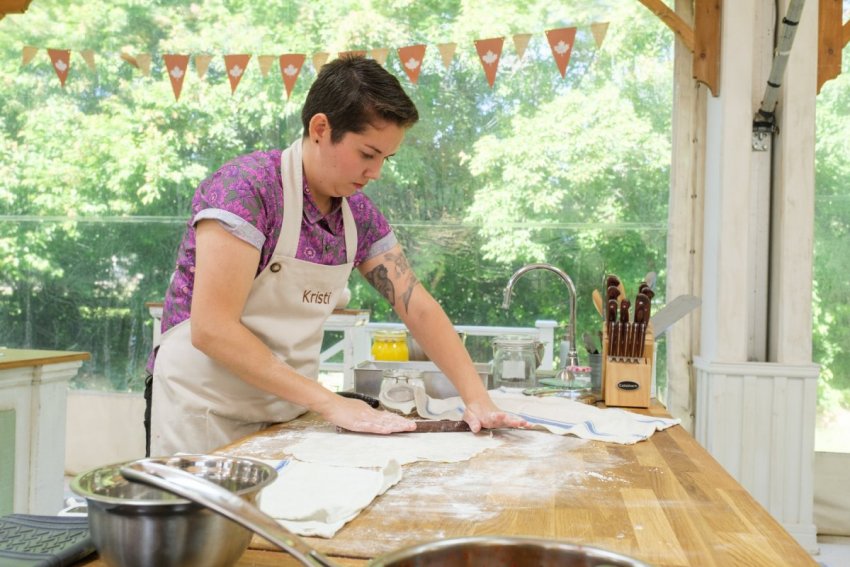 For the Technical Challenge, the bakers have to make a mango rose tart with a crumbly shortcrust pastry, a tangy mango curd, a luscious creme diplomat, and a rose-shaped topper of fresh mangoes and mango caviar.
After a collective deep breath, the bakers get to work.
Whether they win GBCS or not, I would love to watch a cooking show hosted by Chi. The way they walk Pornel through the process of making mango caviar was seriously captivating. Their final submission was similarly entrancing, but their chances of taking the Technical Challenge went out the window with a really runny curd. Lauren, however, quietly created the best by far and like Chi in previous weeks, found herself with another consecutive win.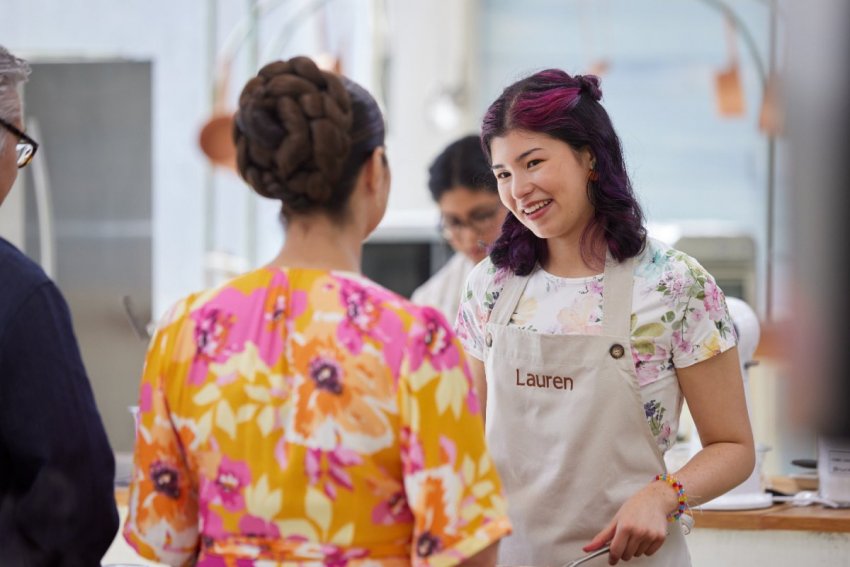 Before getting into the Show Stopper, the judges confer about the first two challenges and I'm paraphrasing here but Feldeisen basically says that Chi, Kristi, Lauren, and Zoya have all done well so far, but the other bakers are really struggling. John's been super solid up until today, but if he doesn't blow the judges away with his Show Stopper we might soon be bidding farewell to our favourite B.C.-based Newfoundlander.
To accomplish this, he and his fellow competitors will have to make their best baklava tower, built with two types of baklava and using the notoriously tricky and labour-intensive phyllo pastry as a base.
At first glance, the finished baklava towers that Zoya, Lauren, and Kristi submit really stand out visually. In terms of taste and technique, based on the judges' responses I would wager that Chi's ube jam and crushed pistachio baklava was the single best-tasting baklava, while Zoya's was likely the highest-quality and most consistent.
Top Baker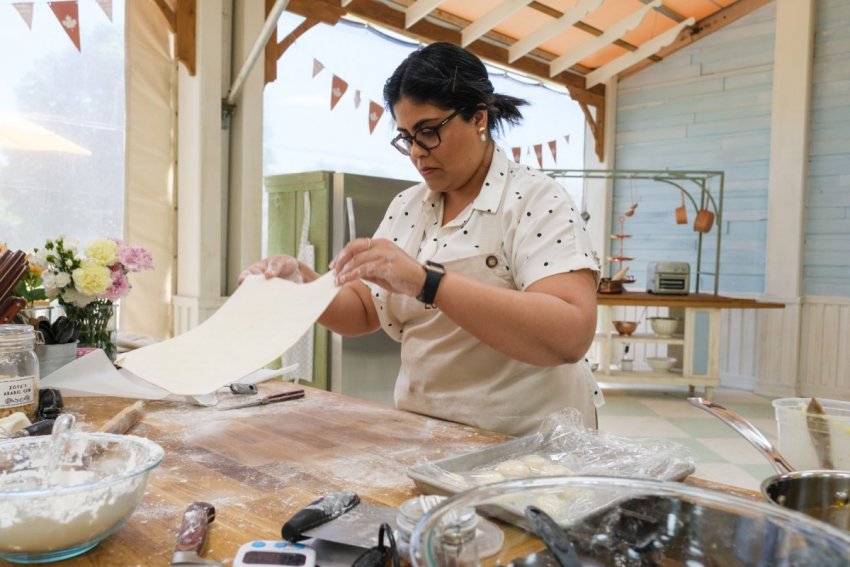 I was right about Zoya being on her game today, but I didn't expect her to be so on that she catapults herself into a final four frontrunner. She was poised and precise, but perhaps more importantly, she put a tremendous amount of passion into each of her bakes, especially the Show Stopper.
Bottom Baker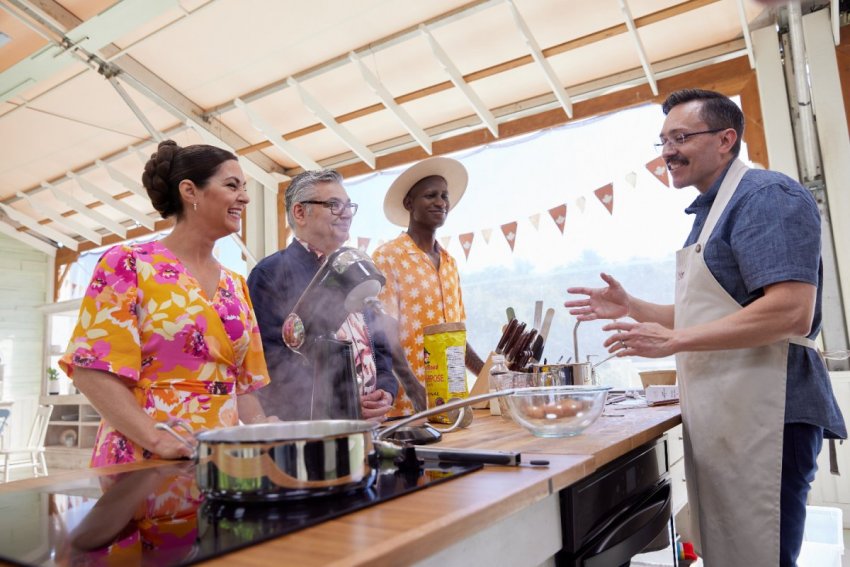 John seemed a touch out of his element today and although all of his bakes had redeeming qualities, each one missed the mark in one way or another. As sad as it was to find out his run in the GCBS tent was over, he did seem rather relieved to be returning to his regular life. It was obvious from the get-go that John is an exceptionally talented baker, so his elimination today just speaks volumes to the level of raw skill required to even be selected in the first place.
Next Week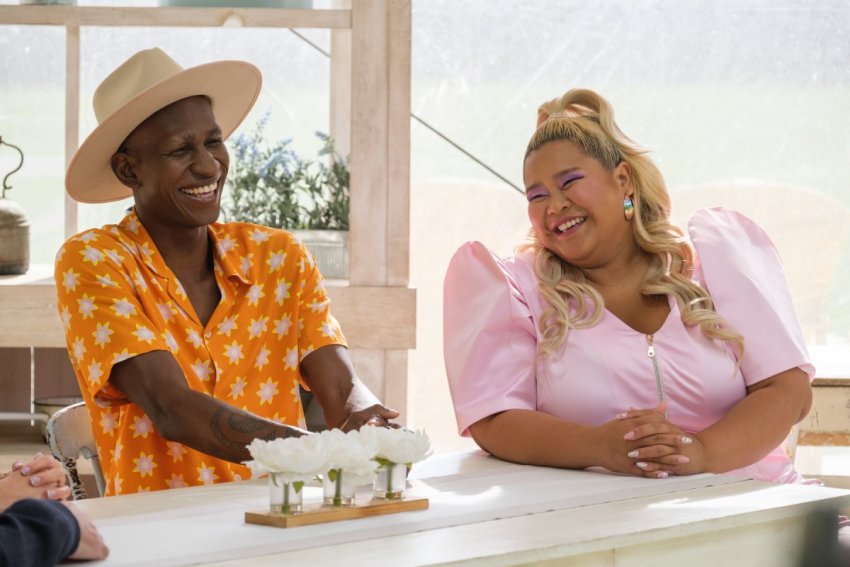 Pastry Week proved that you don't necessarily need a poor performance to find yourself on the chopping block, so the final four bakers will have to be at their very best to dazzle and delight the judges on Fancy Dessert Week.
GCBS Season 6 Episode 7 airs Sunday, November 13 on CBC and CBC Gem.