With a record-breaking 2,000 bakers across the country answering the initial call out for this new season of The Great Canadian Baking Show, it seems casting was an exceptional amount of work for the Proper Television production team due to overwhelming interest coupled with the pandemic. Virtual interviews followed by various screenings led just 40 Canadian home bakers to a Zoom baking competition. From here, the 10 competitors for season 4 of GCBS were born.
Before I get to those 10 individuals, I can only assume that judging a baking competition without being able to taste the end result must suck. At this point, you really are judging solely on looks...something we were all told not to do as kids.
On a mildly related note, CBC has happily shared their COVID-19 protocols online in regards to this season's production and how they approached safely filming this new season.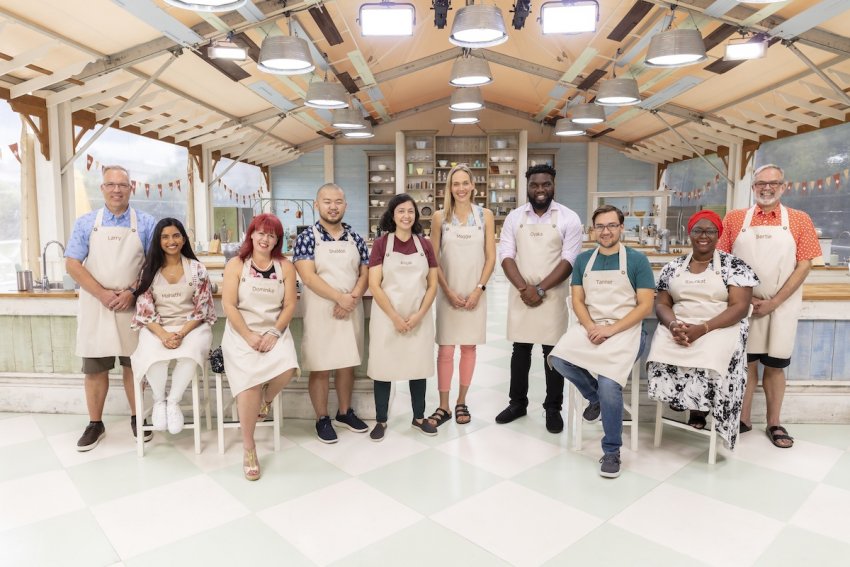 First we meet Toronto's Anjali Helferty who explains that she learned to bake while avoiding to work on her PhD and says she is known as a "procrasti-baker."–No need to worry though, as she has recently graduated. She seems like the easy-going one of the bunch.
Bertie Diaz also from Toronto is a Broadway-loving globetrotter. He shows us his jazz hands before we're even four minutes into the show. He seems a touch more theatrical than baker.
First impressions of Larry Harris are that he is a friendly father from Edmonton who just sort of blends in. We'll see if he's able to whip up flavour concoctions that are not as vanilla as his first impression is.
Maggie Frith is another Torontorian in the competition. She's a super smiley, full-time mom, who gave up her lawyer life for family time and baking. She seems to know what she's doing in the kitchen and with her main audience being her three children I'm sure she'll know how to bake up a tasty treat or two.
Markham's Mahathi Mundluru (pictured at top of article) captivates right off the bat while explaining how she infuses the flavours of her Indian heritage into her creations. She has a bubbly personality which she probably gets from being a skilled classical Indian dancer and a flutist–which I just learnt was, in fact, a real word.
Oyaks Airende is an engineer from Calgary, who explains that he caught the baking bug at the age of five. You can tell he's a bit timid and nervous compared to the rest, but I might be too in a competition like this.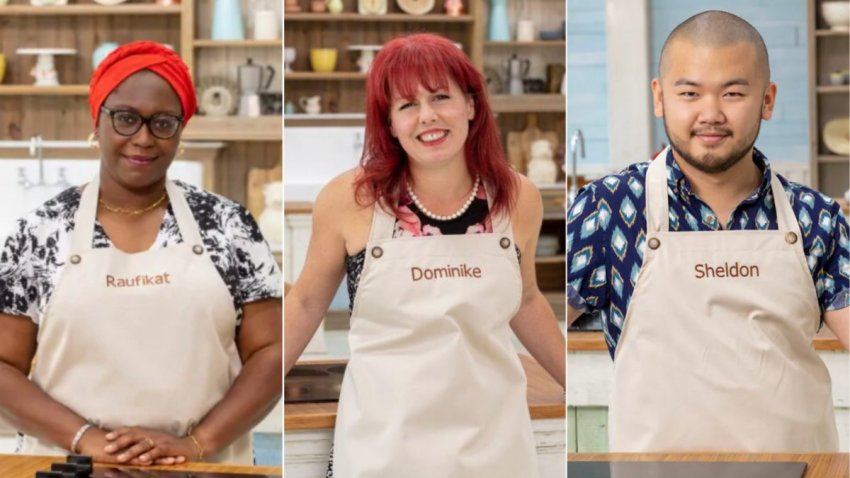 Dominike Audet is the ginger of the group. She strutted into that tent like she was Beyoncé ready to hit the stage and slay. She hails from Quebec and comes with a lot of eccentric body language, but every show needs that personality!
Raufikat Oyawoye from Milton, Ontario is definitely the mother hen of the group in a warm, loving way. She says that she loves to infuse flavours into her baking that are inspired by her mother's kitchen back home in Nigeria into her creations. I like her vibe.
Sheldon Lynn from Vancouver is a drag queen at heart and you see it play out in his fierce baking designs.
"A queen loves drama," Lynn proudly proclaims and I imagine that is a hint of what's to come!

Tanner Davies of Winnipeg has been obsessed with watching the show, but also wanting to be on the show since it first aired. He appears so excited to finally be in the GCBS tent that he's either going to rock the challenges or let his nerves kill his skills. I'm keeping my eye on this one, he seems like a wildcard.
Meeting the new co-hosts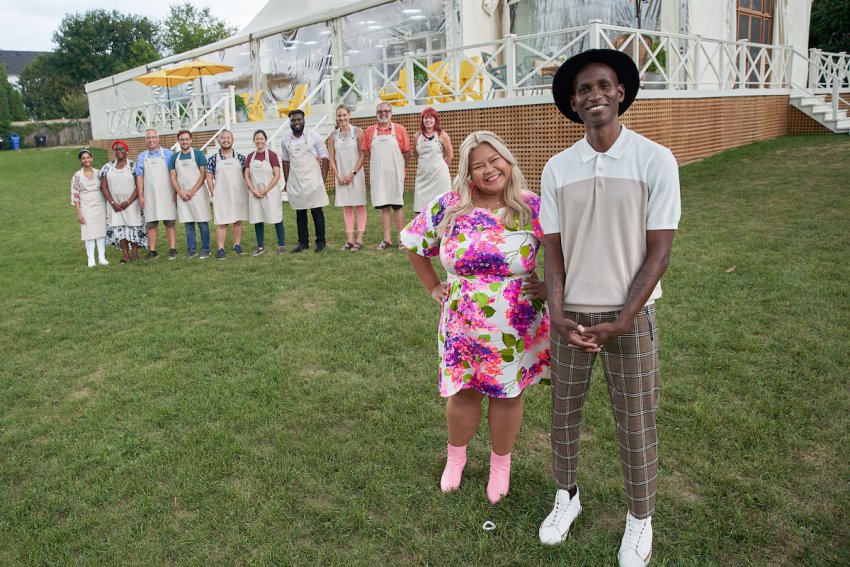 We also get fresh co-hosts this new season of The Great Canadian Baking Show as actors, comedians and Second City alumni Alan Shane Lewis and Ann Pornel are replacing last year's Carolyn Taylor and Aurora Browne of Baroness von Sketch Show fame. I'm hoping the duo bring some humour to the series as there isn't really a ton of emphasis on their comedic skills in the premiere.
Ann is a high-energy, whimsical host with a particular vibrancy when it comes to her wardrobe, lipstick and eyeshadow. Alan is the cool, calm and composed guy who isn't about asking too many questions or interfering as the bakers buzz about.
Familiar faces judges Bruno Feil Dyson and Kyla Kennaley return to the tent and everyone seems happy to see them. Both are critical as discerning judges must be, of course, but there is much pleasantry in their deliveries of criticism.
An odd, artsy entrance comment
Before we get to the first challenge, one thing that really stood out to me was Bertie's opening comment. Upon entering the open green field heading for the tent he says: "I feel like I'm in a Salvador Dali painting."
Really? Do you see where you are?
This could be a filming location for Mary Poppins 3 with all of the vibrant colours, green grass and sunshine. Salvador Dali's environments have a nightmare effect and prominent works such as The Great Masturbator do not come to mind when I look at the set of GCBS.
Onto the baking!
Signature Bake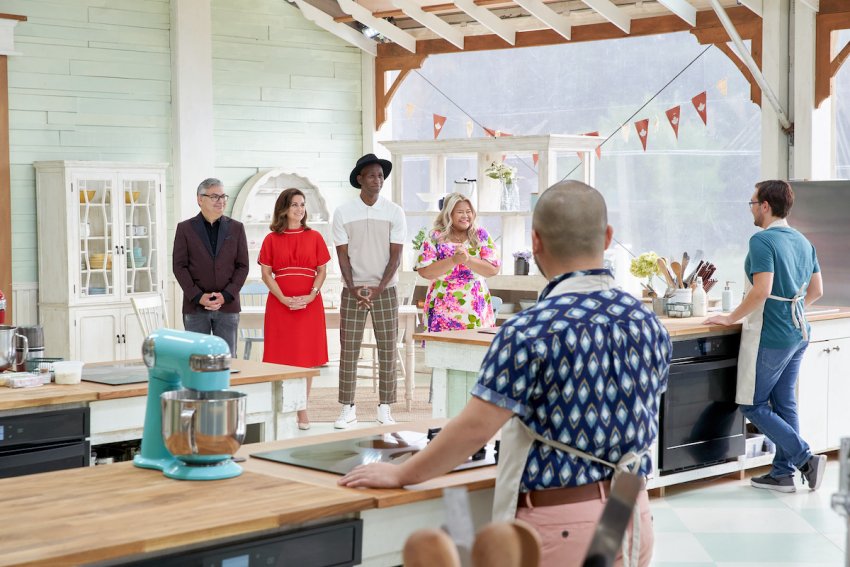 This GCBS season premiere is all about cake. In the first Signature Bake of season 4, bakers are challenged with making a bundt cake complete with a drizzle or glaze. Seems easy enough, but the judges are looking for a tender cake with non-cookie-cutter flavour combinations.
Raufikat does something I haven't seen before. She seasons the pan with equal parts shortening, oil and flour, to give the cake a good shine and a perfect, clean release. The old school method of butter first, then a light dusting of flour has never failed me. However, her method is a one step process that you can slap on with a pastry brush.
Her cake came out clean, so now I'm definitely going to try this technique.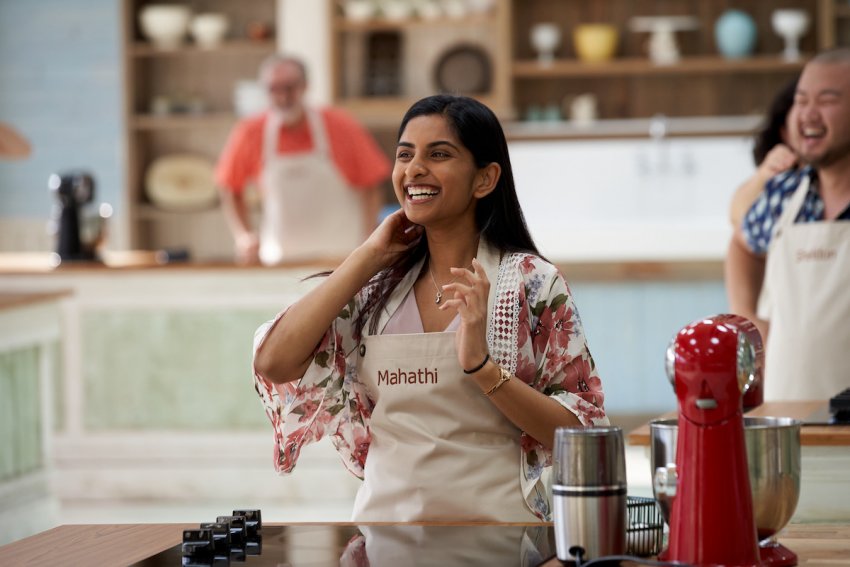 I love that Mahathi opted for a gulab jamun cake. For non-Indian readers, gulab jamun is a classic Indian dessert–think deep-fried spongy Timbits that are dipped in a syrup made of rose, saffron, cardamom and sugar
(Side note: I've made Tasty's recipe for a gulab-jamun-inspired cake and it's solid. I highly recommend trying it.)
Larry's cake was undercooked, which is unfortunate and defeats the purpose of the bundt pan. The hole in the center of the pan allows the cake to bake faster and for the heat to be transferred more evenly than standard round pan of the same size. My guess is that his dough wasn't right for this type of cake pan.
The judges, and myself, were looking for a rum-soaked cake from Bertie since he opted to make a Cuban cake and emphasized wanting to incorporate his background into his cake. He didn't put in any of that smooth, sweet Cuban rum, which he was called out for by the judges and I would have done the same.
Technical Bake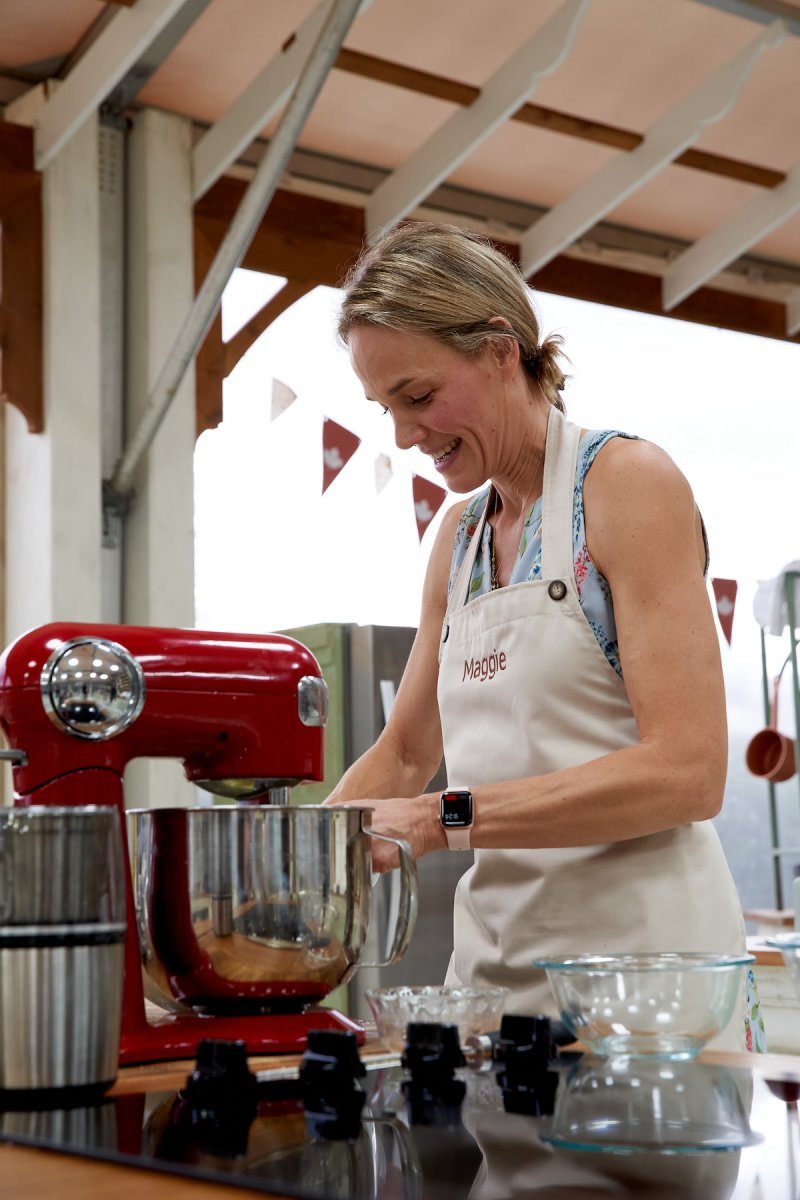 If you're a fan of the show, you know the drill: Everyone is given the same incomplete recipe and the same base ingredients. Though it was not Valentine's Day when this particular episode was filmed, it certainly is now that we're all at home watching the season premiere. As such, everyone is instructed to create a "cupid cake".
Immediately Bertie seems a bit lost. He turned left looking for solace from a neighbouring contestant, but the camera didn't pan in that direction. I wish they caught his reaction when the judges continued on with their instructions. A red velvet, vertically striped cake, with Swiss meringue buttercream icing and accents of heart-shaped decorations is no simple assignment.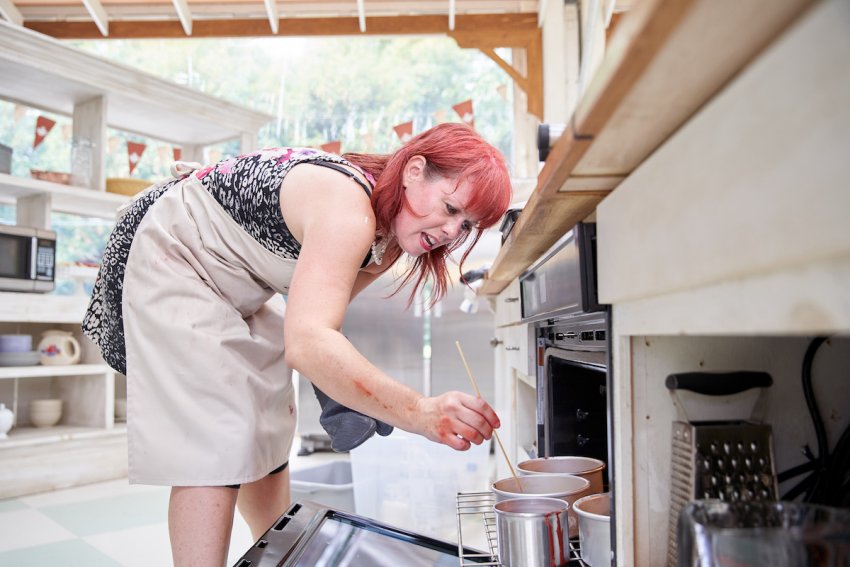 Next, the camera crew captures my favourite facial expression of the entire episode. Dominike's reaction to this challenge was a spitting image of Kristen Wiig's recurring character Sue (as seen on Saturday Night Live), who is always so freaking excited that she can't handle herself. Love the personality she's bringing to this premiere.
Real talk: Maggie's cake was shoddy. Plus, she covered the cake in poorly tempered chocolate. Chef Bruno also makes reference to the fact that adding more to a cake to cover up fundamental flaws does not improve the situation.
On the baking uptick, it warms my heart that Raufikat won the first technical challenge of the season. She nailed the structure of the cake, the shine, the vertical lines and taste.
Bertie wound up being the worst in show for the Technical Bake because his cake lacked vibrancy, it was overcooked and, like Maggie's cake, was covered in poorly tempered chocolate.
Showstopper
If a bundt cake and cupid cake wasn't enough for our bakers, now they are all asked to construct a tall, multi-tier cake with a cascading mirror glaze.
This challenge is where flavour combinations get really interesting. Anjali mades a black pepper buttercream to accent her cake, Larry goes big and bold with a bacon and peanut butter cake and the list goes on...
While others earnestly worked away on their glaze, Bertie was in the back of the tent starting an accidental fire. Of course, mothering Raufikat comes to the rescue to help him out and boost his spirits.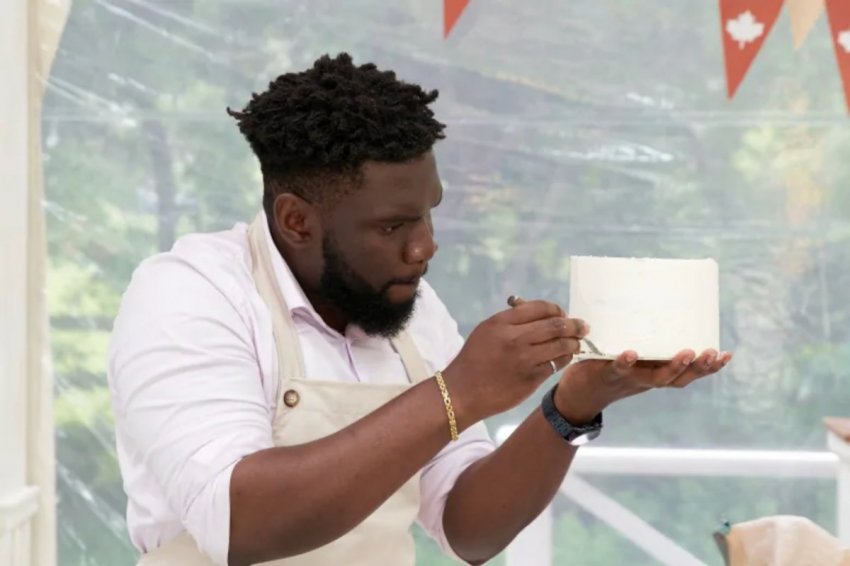 The judges love Oyaks's creation as did I while watching. He created a Pina Colada cake that was dripping in gold thanks to a gorgeous mirror glaze. Kyla says that she almost forgot it was a cake. An exaggeration no doubt, as people typically don't chew their drinks, but delicious point taken.
With plenty of praise throughout the episode, it's not too surprising that this season's first Star Baker is Oyaks (pictured above). His creation is also the only glaze I can clearly picture while writing this recap. He has made an impact and set the bar...and now I also want a Pina Colada.
Accidental (almost) fire-starter, Bertie is the first baker to leave the GCBS tent which, let's be honest, we all saw coming as the season 4 premiere played out.
Kitchen Scraps
Some of the design accents on the bundt cakes felt a little bit extra. When I think of a bundt cake, I think of an unfussy slice of cake to go with my morning or midday coffee. Full stop.
When it came to watching that glossy, gorgeous, shiny mirror glaze waterfall over the cakes, I just couldn't look away. It's a bit hypnotizing. If this show had a similar production value (and budget) to Chef's Table, it would be proper mirror glaze porn that I'd rewind to watch again and again.
The first episode of a new season of a competition series like this one rarely gives all contestants equal screen time. I'm looking forward to seeing more of each of the bakers' personalities on next week's episode.
The Great Canadian Baking Show season 4 airs Sunday nights at 8 p.m. ET on CBC and CBC Gem.