This week, six remaining bakers face the first-ever Botanical Week on The Great Canadian Baking Show which celebrates fruit and herbs–as well as teaches us as viewers which flowers are edible and can add great flavours to baked goods.
Co-host Ann opens the show by asking Alan if he remembered his first time. She used adjectives such as soft, sweet, supple to describe her first. Ann was actually referring to the first time she baked...which was not what we were all probably thinking.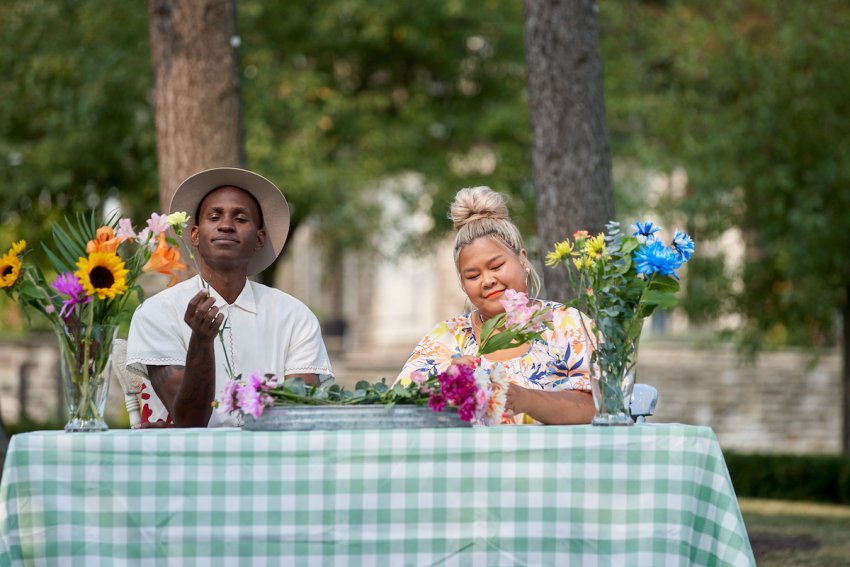 She got quite the laugh out of me with this moment. (Off-coloured humour often gets a laugh out of me.)
Tanner starts off by commenting that there's a 16.7 per cent chance of him leaving the GCBS tent this week and. His math is spot on.
If he doesn't rise to fame by way of winning The Great Canadian Baking Show, I imagine being a self-proclaimed baking mathematician would make him very popular with the masses. After all, math is used in every step of baking.
An opinon article for another day, perhaps.
Signature Bake
To kick things off, eight mini fruit tarts using any combination of custard and pastry cream is announced as the Signature Bake.
The judges are looking for a buttery tart shell with a silky cream filling topped with fruit. They also had to look pretty enough to line a pastry shop window...making passerbys want to stop and salivate from the sidewalk looking in.
Whether to strain or not to strain the pastry cream appeared to be a question worth pondering in most of the remaining bakers' minds.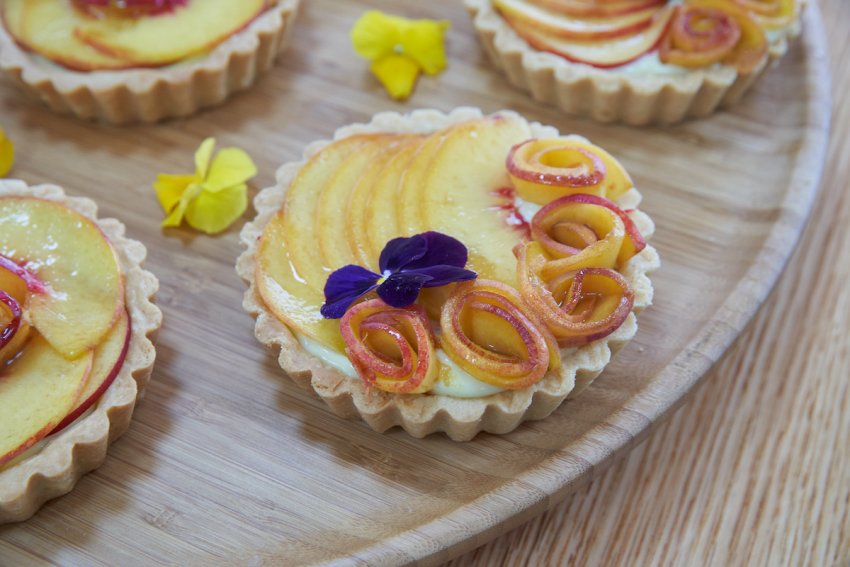 Judge Kyla said she never strains her pastry cream, however I have when I've added a solid ingredient to the cream for flavour. Maggie agrees, as she strains her lavender pastry cream, so the essence remains, but no remnants of the lavender flower itself.
Larry makes a tropical tart with orange pastry cream which he garnishes with exotic fruits–including yellow dragon fruit–using a melon baller to make spheres. I've never seen a yellow dragon fruit and while watching, I wonder if it tastes the same as the pink ones.
Surely it must, but who's to know?
Perhaps Larry, who won points with me for these pretty tarts thanks to their tops being lined with vibrantly coloured fruits.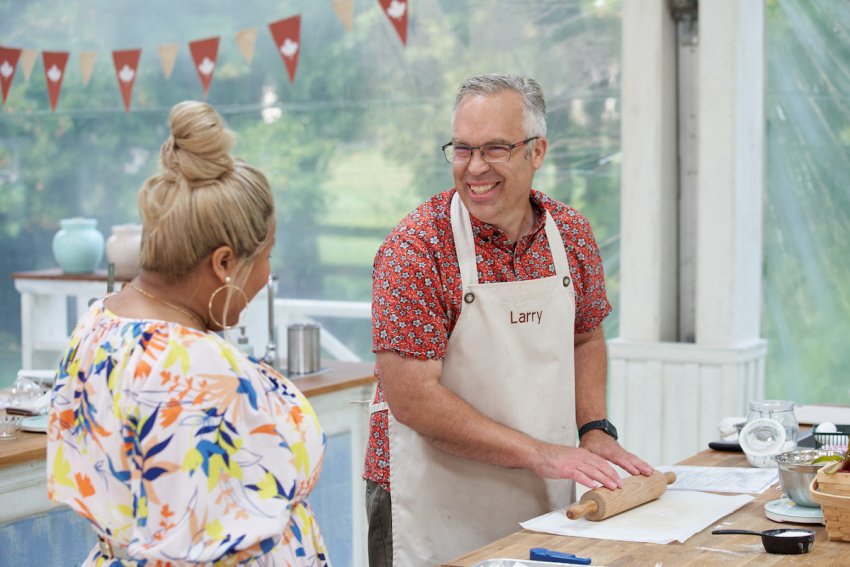 I was skeptical seeing this, but Raufikat was the only one that didn't roll out her dough or use any tools to get a perfect thickness. She hand-pressed her brown butter dough right into the tart tin. It paid off because Raufikat had a perfect crust.
This was a confident, experienced move right here. Bravo!
In my opinion, the Signature Bake was a three-way tie between Larry, Maggie and Raufikat.
Technical Bake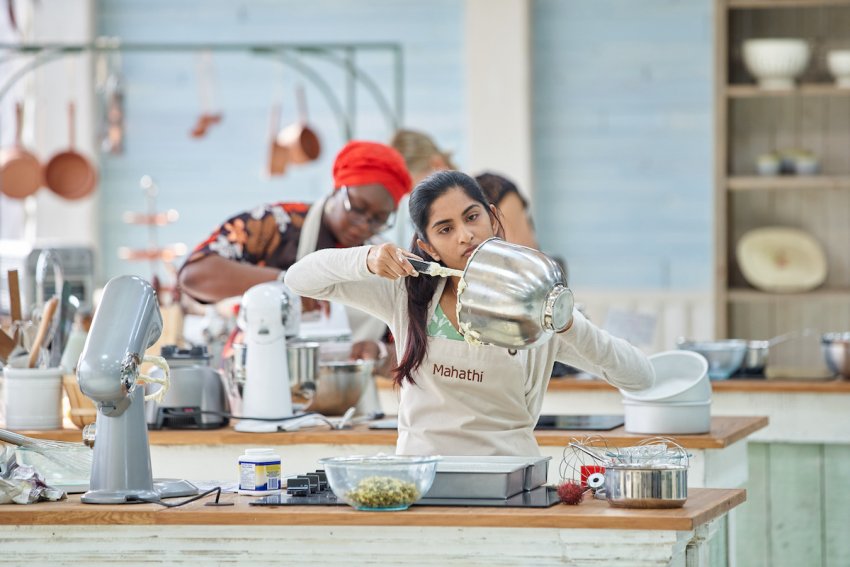 The Technical Bake this week is no easy task and requires bakers to produce 16 pan-fried dumplings, infused with garden herbs, with a delicious dip. As expected, the bakers had to wing it when it came to the length of time needed to cook the perfect dumplings.
The dumplings also had to be two-toned, which meant the bakers had to make two doughs that were eventually rolled together. The judges were looking for perfect sear and steam on the dumplings.
This Technical Bake was more of a cooking challenge than a baking challenge. The bakers didn't even have to turn on their ovens, which seemed odd.
I'd also have to say that the award for most panicked reaction towards a Technical Bake this season (thus far) goes to Sheldon. Did you catch the distress on his face when the hosts shared the challenge details?
Raufikat confessed she had never eaten dumplings. In an earlier episode, she also confessed she'd never eaten cheese. A chef needs to be open-minded about trying items from around the world. Good things she's a baker and not a chef.
Luckily, she nailed the shape the judges were looking for. They preferred more spinach in the dough for brightness, but that wasn't a deal breaker.
Larry got the bright colour right, plus a good sear, however; his dough was thick and raw. The judges were unable to try his dumplings.
Maggie's dumplings shared the same issue – raw dough. As such, they were also inedible.
Real talk: I really don't understand how Mahathi forgot to turn on her stove for this challenge. This meant not only was the dough still raw when presenting the dumplings to the judges, but so was the meat filling.
Three out of the six contestants' dumplings went untested by the judges this week, which further supports my argument that this was more of a cooking challenge than a baking one.
Mahathi came in last place for this challenge, while Larry came in fourth. Raufikat clearly wins this round with her perfectly shaped dumplings which also carried the perfect amount of filling in each.
Showstopper
For the final challenge, our bakers are now tasked with creating a two-tiered floral cake of their choice, with a botanical-flavoured filling and handmade flowers.
Raufikat makes a lemon and raspberry flavour combo. Her secret weapon is Nigerian hibiscus.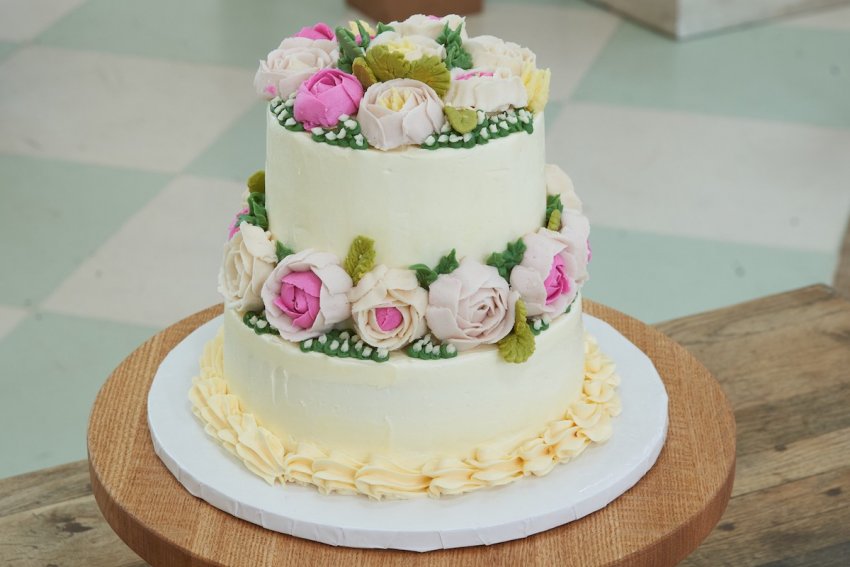 Raufikat went with a simple design that was executed beautifully (pictured above). Once the judges cut into her cake, they were thrilled to see bright, beautiful jelly made from the hibiscus. The raspberry tier had a lovely shade of red, but unfortunately lacked the expected raspberry flavour.
Larry made a lemon and thyme olive oil cake. I have never had a non-chocolate olive oil cake that I have enjoyed. The oil oftens leaves an unpalatable, greasy, and lingering taste.
Based on the comments, he creates an olive oil cake where one could not taste the oil. Essentially, he made a cake that I would love, but apparently the judges did not.
The judges did, however, love Larry's lemon mascarpone filling.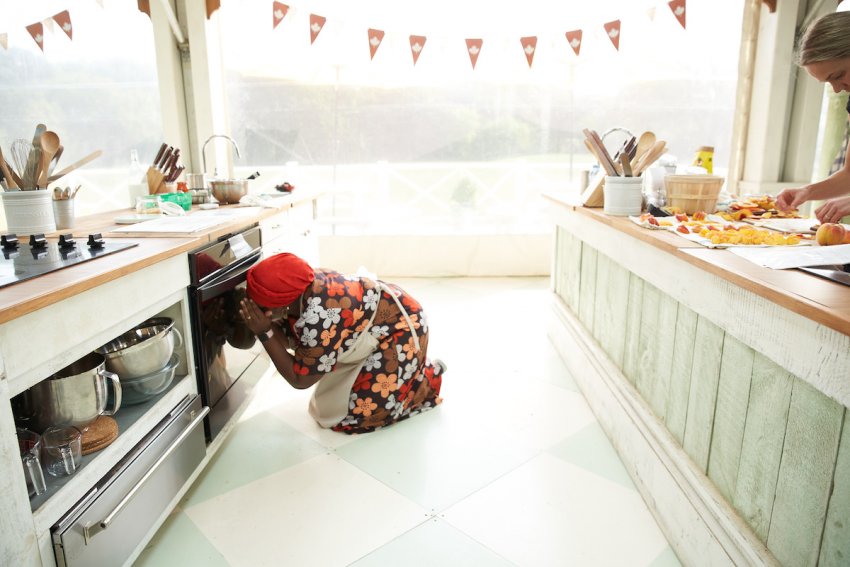 Raufikat received positive remarks from judges Bruno and Kayla in all three challenges this week, which leads her to be crowned this week's Star Baker. Well-deserved!
During the dramatic pause before announcing who would be leaving the GCBS tent this week, I honestly couldn't pinpoint which baker it might be. We are getting down to the wire here and all remaining bakers have their culinary strengths and charms about them.
Sadly, it is Larry that will be heading home. I wasn't ready to see him go.
Kitchen Scraps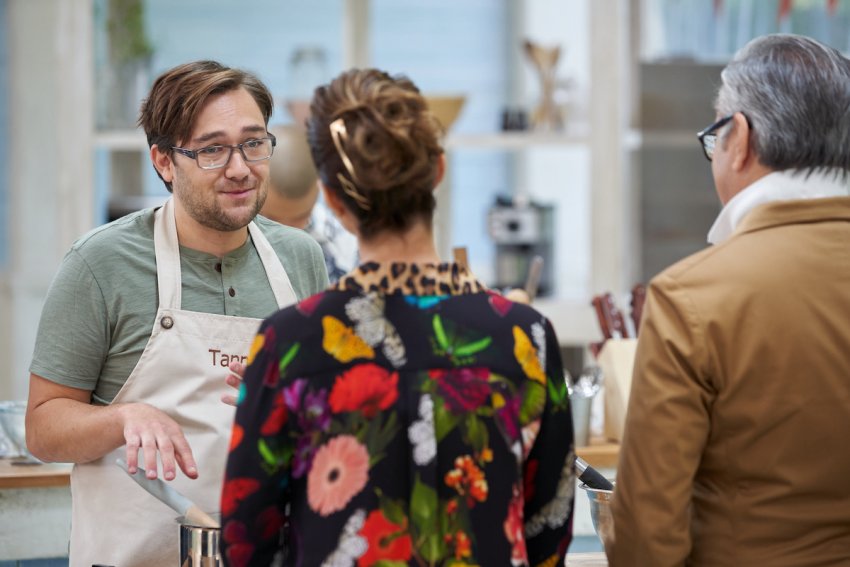 Sheldon's shaky hands worked so well in creating beautiful crinkled flowers. Who knew shaky hands could be an accidental technique worthy of praise?
Sheldon made shiso leaf buttercream for his Showstopper cake. This guy knows how to use out-of-the-box ingredients as well as interesting techniques and has been doing this in every episode thus far.
The judges were hesitant on whether Sheldon would be able to make the shiso flavour–which is a cross between mint and basil–pop. They were right to be concerned as it didn't stand up to a fatty buttercream.
Judge Bruno suggested making a compote out of the shiso leaf, therefore the flavour wouldn't get lost in the cake, as it did for the showstopper. I agree, but also applaud him for the innovative flavour attempt.
Tanner took a stab at defending the imperfections in his Showstopper cake by saying it was done purposefully to make the cake look rustic.
Nice try, Tanner, but the judges didn't buy it.
The Great Canadian Baking Show season 4 airs Sunday nights at 8 p.m. ET on CBC and CBC Gem.