We're down to five bakers on week six of The Great Canadian Baking Show–meaning we're only one week away from the semi-finals– and right now, it's all about pastries.
Co-host Ann welcomes the bakers to the "crustiest" week yet. If I was one of the show's writers, I'm not sure I would have gone with that adjective.
Unrelated, her co-host Alan is wearing a very cool shirt that I now really want. Who does the styling for GCBS co-hosts and judges? I need to know them!
Signature Bake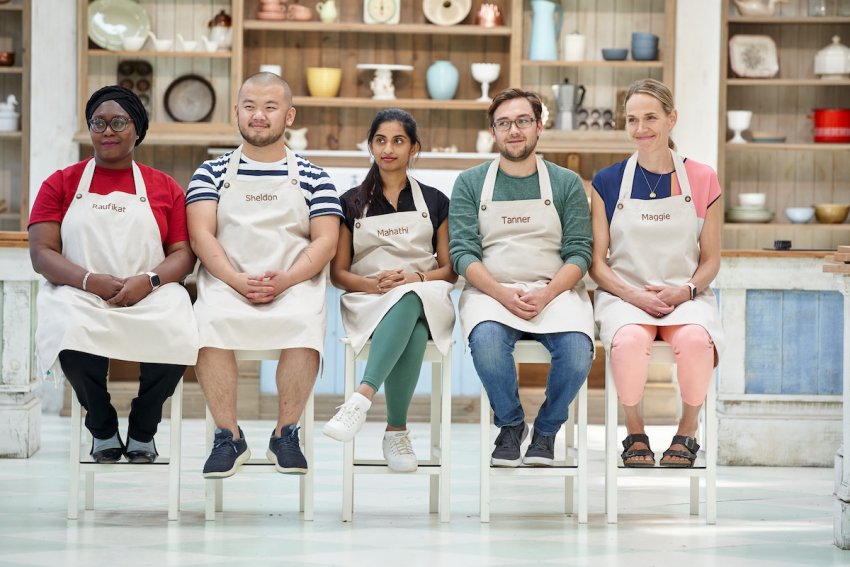 To start, our bakers are instructed to make a strudel as the Signature Bake. Sweet or savoury, at least 12-inches long and filled with whatever the bakers want. Let creativity roam free!
Creating elasticity in the strudel dough is the real challenge here, as it needs to have a really good stretch without tearing. However, it also has to be sturdy enough to hold a filling. In short, strudel dough making is no joke.
Alan pointed out that this is something he should do before his workouts. I would have to argue and say that this is the actual workout... for your biceps.
Maggie stays in her comfort zone and bakes a familiar caramel pear strudel, something she explains that she has made for her family five times before this episode. She's confident with her sixth run at this dessert.
Maggie seems to be the only one that made a sweet dessert strudel, which is surprising. In the end, her filling was good, yet her dough was a bit undercooked.
The judges also seem to like Tanner's very classic-looking strudel filled with wild rice and mushrooms, but judge Kyla notes that the edges look like the pastry was starting to shrink. Overall, Tanner's pastry was flakey and the filling was buttery with a good rice-to-mushroom ratio.
Sheldon creates a unique sticky rice and pork strudel. He says it's a recipe straight out of his grandma's kitchen. Sheldon's dough had the flakiness that the judges were looking for, but he lost points for a chewy filling.
The judges had constructive criticism for each of the remaining contestants, so it's anyone's game at this point of the episode.
Technical Bake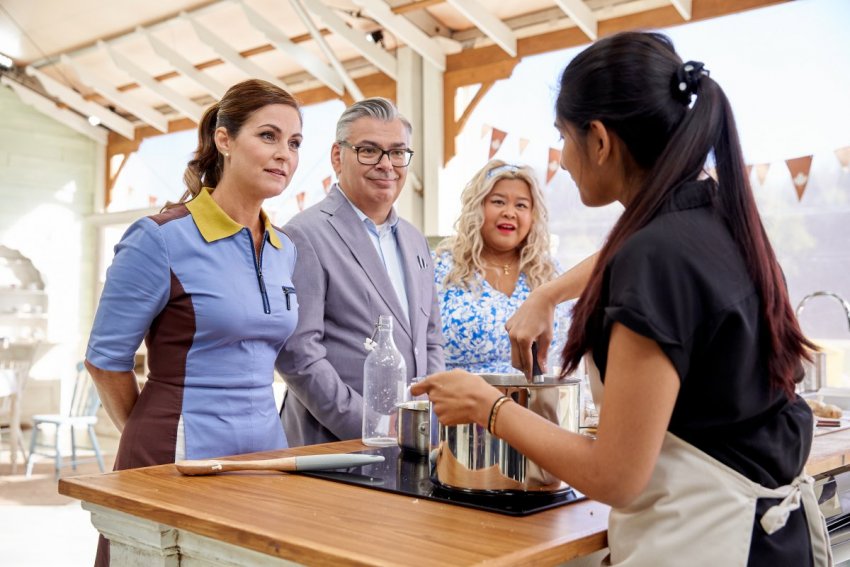 It's time for the bakers to make a Bakewell tart.
What's that? I have no clue.
Like Mahathi, I do not know what that is when the co-hosts announce it.
Google tells me that a Bakewell tart is a classic shortcrust English pastry with three layers: pâte sablée crust (which is crispier than a flaky pie crust, but with a cookie texture), a bed of jam and then a frangipane filling (sweet almond paste) with icing on top.
The judges appear quite cruel with this one as the recipe seems to leave out a ton of crucial details. Every baker has to rely on their natural instincts for this technical challenge. It makes me laugh that the recipe simply reads: "make jam, make frangipane, assemble tart."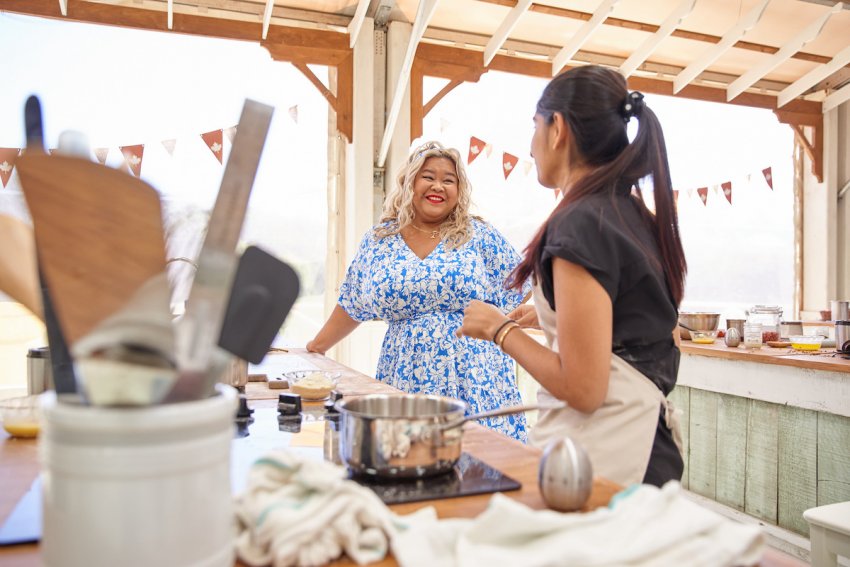 Sounds like I'm the cruel one for laughing!
I like that Maggie's tactic for knowing when the crust is done is the smell test. I'll keep that in mind for when I make a pâte sablée crust...which will likely be never!
Since the bakers have to feed off their innate judgment, some bakers put jam as their first layer, while others put frangipane first.
So, who is correct?
The recipe pointed out that the frangipane needs to be golden before being topped with icing. How can your frangipane be golden if it's covered in a layer of raspberry jam?
This should have been enough of a hint for a baker to make jam the first layer, followed by the frangipane so you can see how golden it is while the tart bakes.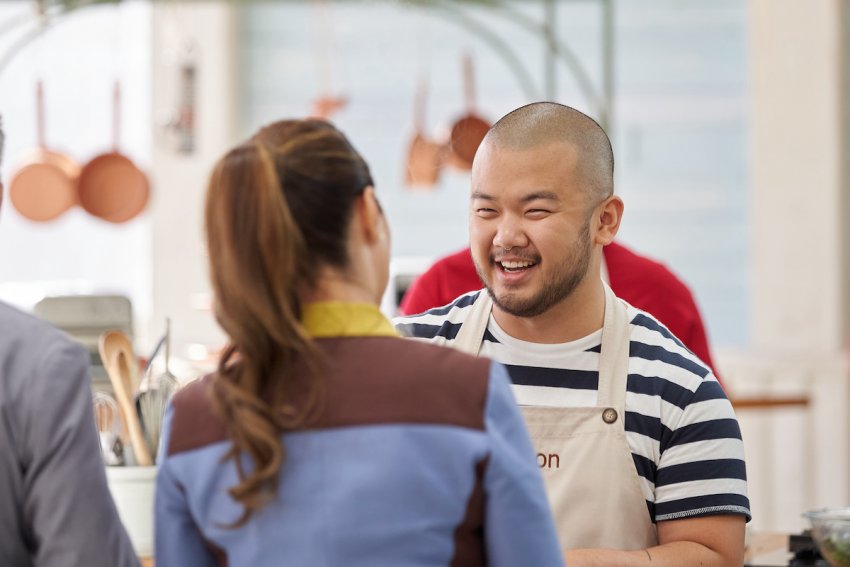 Tanner's crust appears buttery and crunchy, although–according to the judges–his frangipane could have used more time in the oven. He winds up in second place.
Upon first glance, Sheldon's round icing design isn't what the judges are looking for. They asked for straight lines. Though once they cut into it, both seem happy to see that the layers were all there.
Sheldon also gets bonus points for straining the seeds out of his jam. A great addition to detail.
Maggie, on the other hand, did not fare so well with the critiques. Her filling winds up not being properly baked through and her tart falls apart when sliced which lands her in fifth place for this challenge.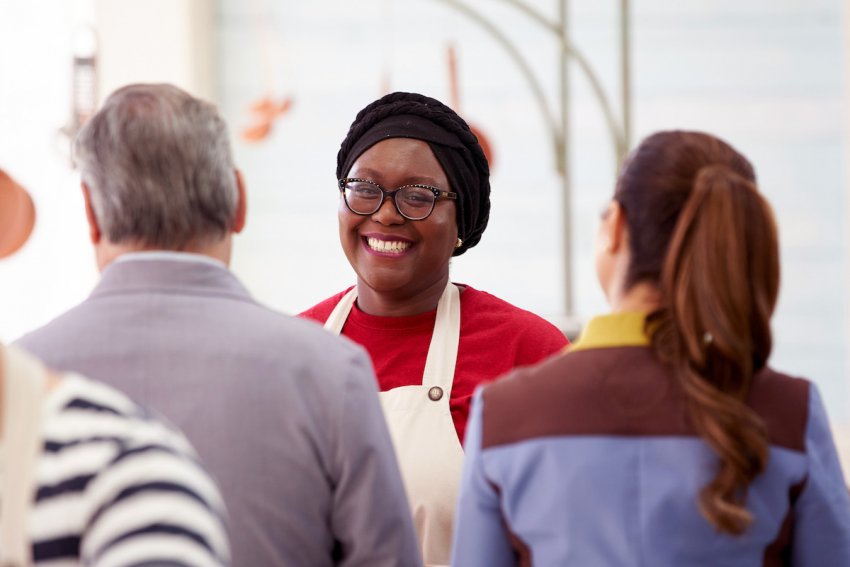 Raufikat continues to prove to be a force to be reckoned with. Proper layering lands her a Technical Bake win for the second time in a row.
Let's see how long her winning streak continues...and I certainly hope it continues.
Showstopper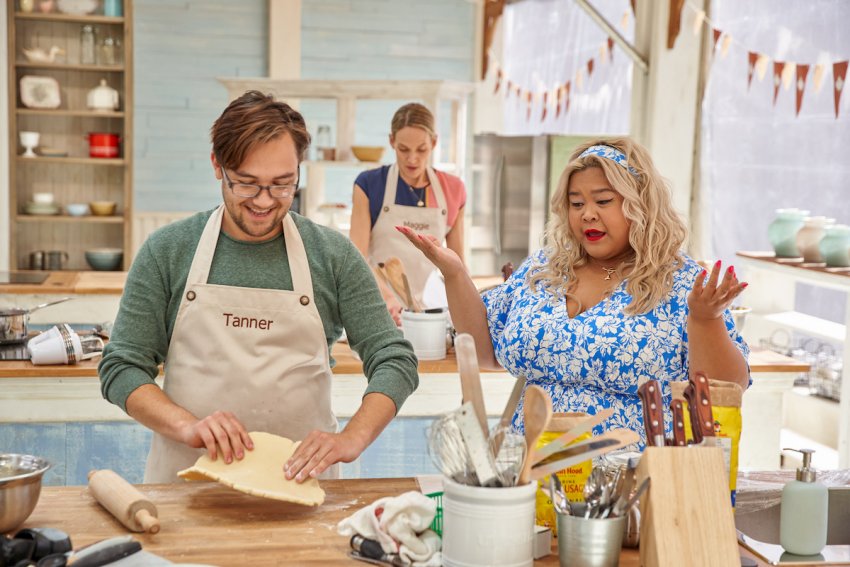 This week's crowning challenge for the bakers is to make a vegetable tart using three different types of veggies. The bakers must keep in mind that the tart needs to be sturdy enough to hold its vegetable filling, but at the same time, it must also be light and flakey.
No pressure?
The colours of ingredients at Sheldon's baking station really pop, as he works with watermelon radish, beets and sweet potatoes. All the colours!
Speaking of pop, the measuring cup at Sheldon's station pops and cracks into a million pieces because it was sitting empty next to the hot element. As a result, Sheldon restarts his peanut satay filling over to avoid the judges finding a glass shard or two in his end product.
Tanner makes a sage and butternut squash risotto tart with zucchini slices and yellow peppers. The zucchini design cooks up beautifully. The judges gush, saying they could taste both the risotto and pastry, which I imagine would be hard to do considering both components are undeniably rich.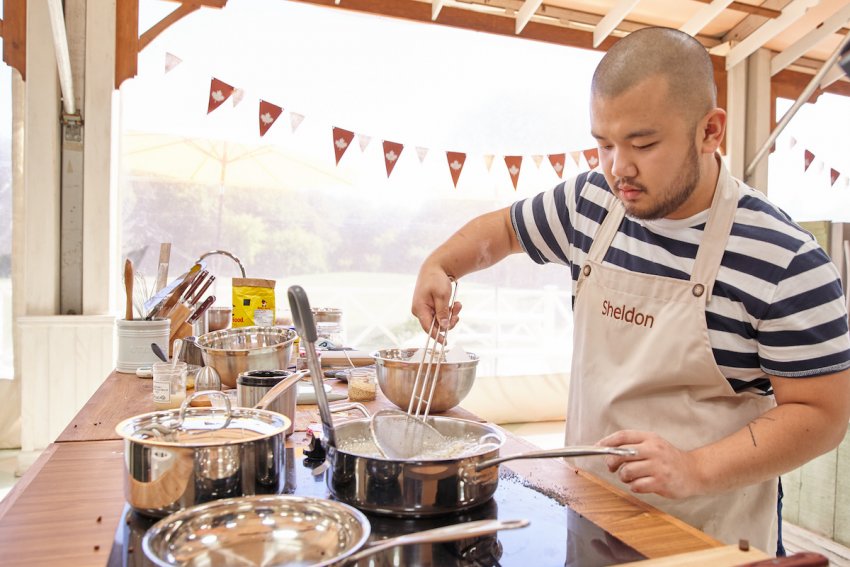 Sheldon's array of colours bake up nicely as well, but the judging goes deeper than looks.
Kayla points out that Sheldon's pastry was only 4-inches wide and that he could have done better given the two and half-hour time slot for this challenge. The baker admits he had microwaved his vegetables for the tart, which was met with a fair amount of shock from Bruno.
Even after using her mother's recipe as inspiration, Mahathi lands herself somewhere in the middle. This was not a great week for her.
On the other hand, Tanner has a real wow moment. He becomes the Star Baker and officially moves on to the semi-finals along with Raufikat, Maggie and Mahathi.
Looking back at the beginning of the episode, Sheldon made a point of saying that the judges love his ideas, but that he needs to fine-tune his execution. In this case, Sheldon did not execute properly, which leads to him being sent home.
We'll miss you, Sheldon!
Kitchen Scraps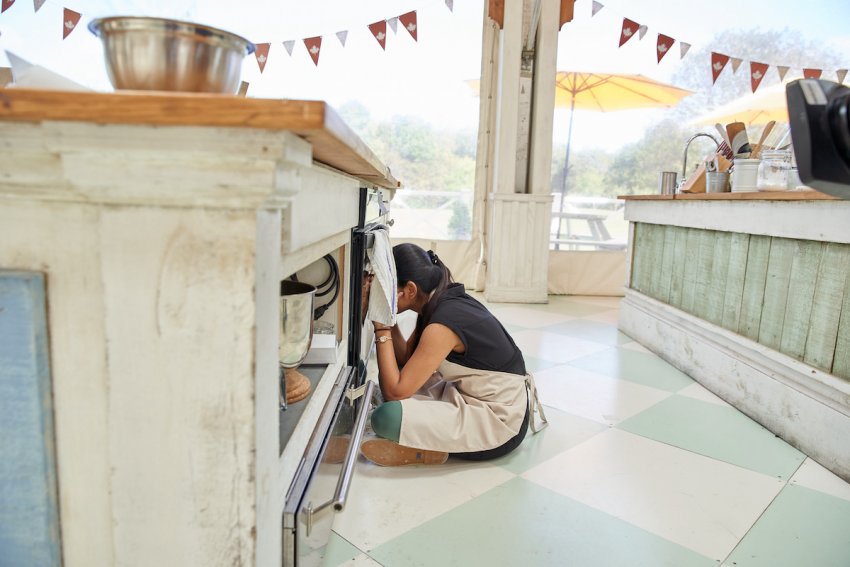 Did you notice how many bakers in this episode were praying to the oven gods for their pastries to bake up perfectly? I did.
There was a lot of talking to the oven in this episode. Whatever works in your moment of need, I suppose!
Mahathi tried to mask all of her pastry fuck ups by covering them with raw vegetable garnishes. The judges saw right through that move and removed said garnishes.
Thankfully, both Mahathi and the judges laughed about it.
I knew it was likely we were saying goodbye to Sheldon when he started to microwave his veggies. Bruno seemed very disappointed.
Don't get me wrong, I get that they'll cook up faster this way–everything cooks faster in a microwave–but it's also going to affect taste. I think a simple stir fry could have saved him, if he was truly tight on time.
The Great Canadian Baking Show season 4 airs Sunday nights at 8 p.m. ET on CBC and CBC Gem.