It's cookie week on The Great Canadian Baking Show. Seriously, is there anyone out there who doesn't love cookies?
My eyes light up when I see cookies come out of the oven. Plus, it's one of the rare foods that can cater seamlessly to one's emotions.
If you're happy, cookies can make you even happier. If you're sad, you reach for a cookie for comfort.
None of the challenges asked for the ultimate chocolate chip cookie, nor did any of the bakers attempt to make them as part of their cookie of choice. I found that surprising.
A chocolate chip cookie may seem like a safe choice. but the fact that it's so popular and has garnered so many variations over the years, in my opinion, no cookie is judged more critically than the infamous chocolate chip cookie.
Guess that could be the reason why none of the bakers decided to make some?
Signature Bake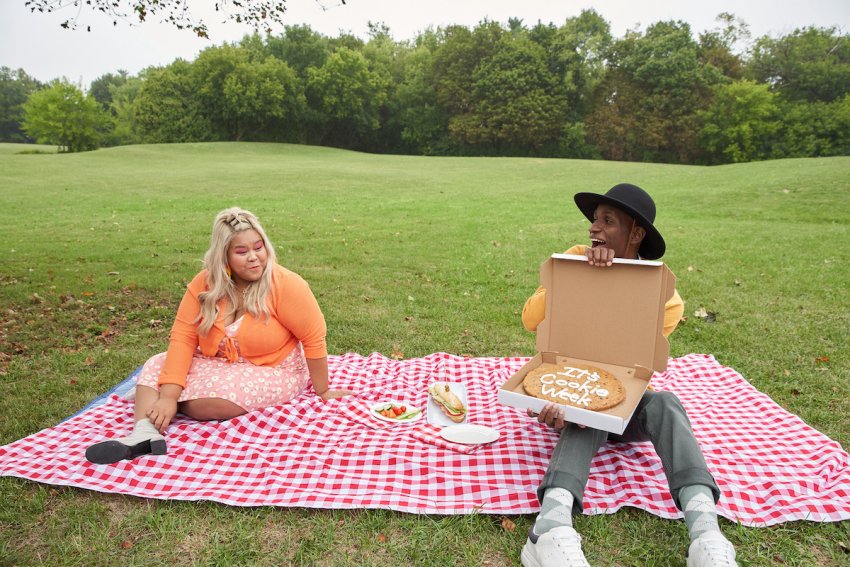 This week the first challenge was to make 18 Linzer cookies. We're talking about two buttery cookies sandwiched together with jam. The top cookie boasts a cut-out design on top so you can see the jam (a.k.a. the peekaboo cookie).
I really liked the energy that this season's new co-hosts, Ann Pornel and Alan Shane Lewis brought to this episode. They have brought energy to the first two episodes of course, but this week I just felt like they had finally found their rhythm. They were playing off each other in a less rehearsed way.
I also love Alan's mango-yellow sweater. I might have to reach out to the show's wardrobe people, as just looking at it was an instant mood booster.
The hosts were correct in pointing out that this week's theme was all about exploring everyone's favourite midnight snack. No one wants a midnight carrot. We want McDonald's and/or an indulgent sweet treat.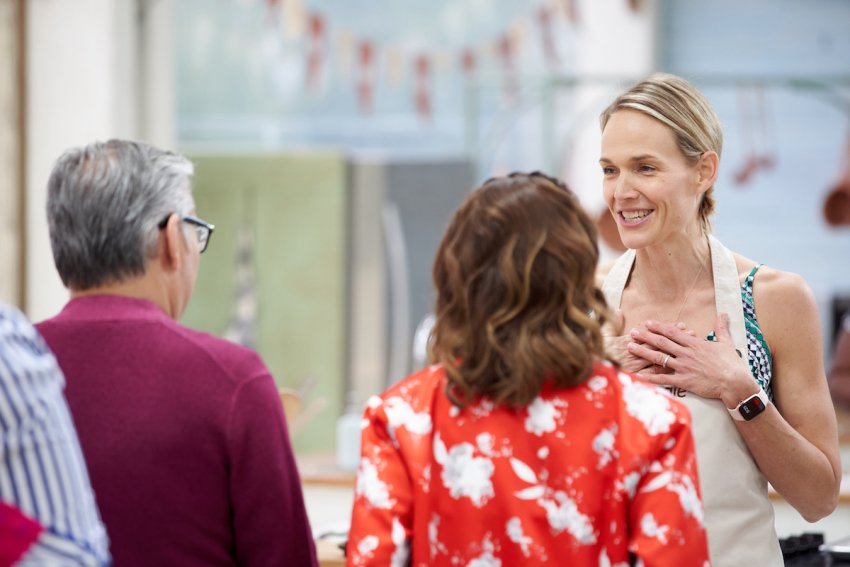 Maggie channeled her great grandma for this challenge. There's something so nice about her being able to share a family recipe that dates back to the 1920's. She didn't use any fancy machines, just her hand, wrist and forearm strength to make the dough. In the end, the judges loved the flavour contrast of the citrusy lemon curd filling next to the buttery cookie.
I hope the show posts this recipe on the CBC website. I am going to tweet them about this.
Side note, I really enjoy the narrations over the baking illustrations (the latter are done by Toronto artist Kenna Barnes). This is a cool element of the show and something that sets it apart from other competition shows. The illustrators that sketch out the baked goods help me visualize the flavour combinations, as well as the aesthetics, before seeing the end results from the bakers.
Raufikat made "day and night" cookies: chocolate and vanilla cookies with coffee-flavoured ganache. I think she played it a bit safe with this one.
Sheldon made marble cookies using tahini, apricot and rosewater with a crème de noyaux marmalade. It sounds like too many flavours competing for attention, yet the judges didn't have anything negative to say about flavour, just that there was a lack of jam.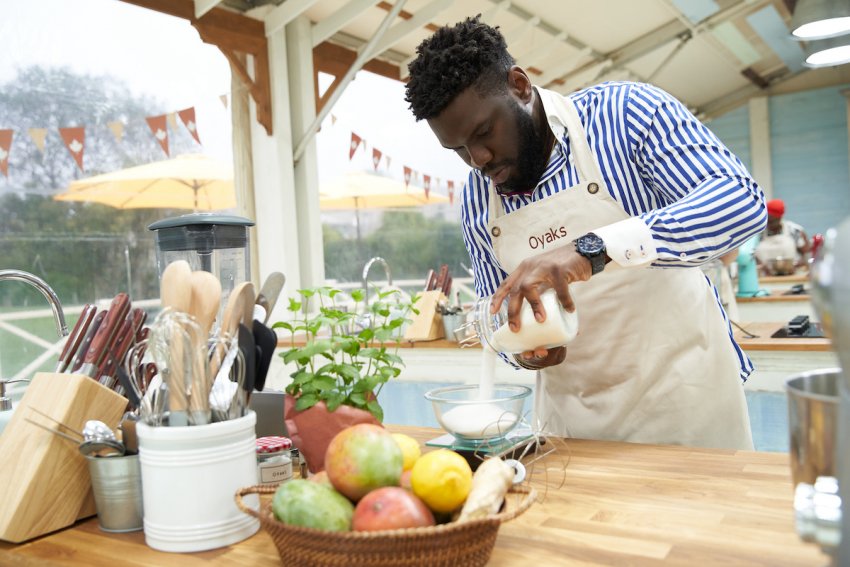 Oyaks went with a mango and brandy filling to represent the Nigerian city he's from which is known for mangos–Benin City. The judges said his Linzer cookies were baked inconsistently. The flavours were there, but he was ungenerous with the amount of filling in each cookie.
I was into Mahathi's mulled wine filling. I love the flavours of a classic mulled wine (cinnamon, star anise, cloves, oranges  et al.), so I imagine that it smelled like Christmas at her station. I thought her chocolate sugar cookie lacked creativity, but the judge's commentary was that the spices of the mulled wine complimented the chocolate well.
I feel that the judges are getting noticeably nit-pickier now and are calling out everyone's slightest mistake.
If I had to choose, I think Maggie won this round. Seriously CBC, I need her Linzer cookie recipe sent over to me, stat!
Technical Bake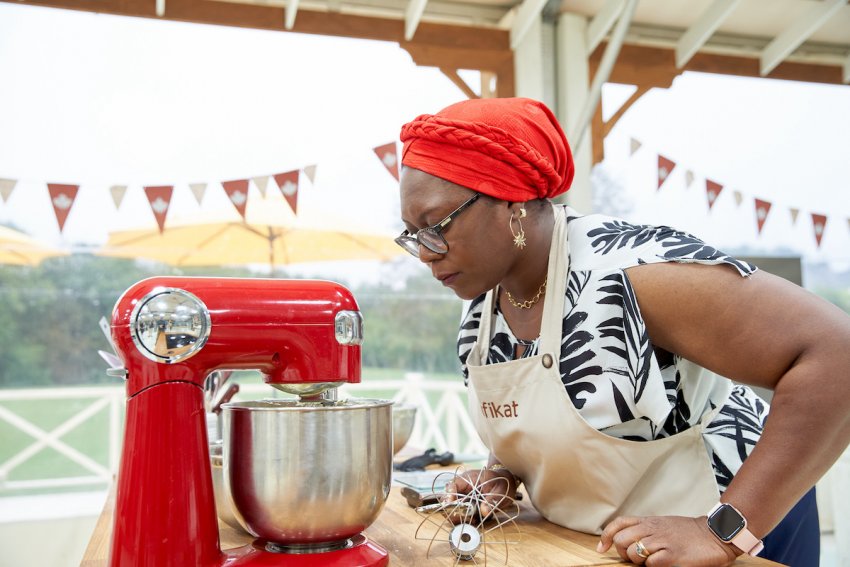 Time to make some stroopwafel.
Twelve perfectly soft and chewy stroopwafel with a shiny, smooth stretchy caramel is the Technical Bake of the week. This is the cookie that pairs perfectly with coffee or tea and appears simple to make upon first glance, but first looks are deceiving as we know from last week's pretzel challenge.
The judges mentioned multiple times that a perfect stroopwafel must have a "chewy crunch". That is a difficult texture to imagine.
The bakers had a recipe to follow, except the recipe left out one crucial detail; how much time each waffle should spend in the iron. This missing detail made this challenge more interesting as a viewer. The correct answer–which both unsure bakers and viewers eventually learn–is exactly 90 seconds.
Can you imagine how good it must have smelt in that tent with eight pots of sugar and butter melting together.
Sheldon came in eighth place for having over-baked waffles and an underwhelming caramel. Oykas's stroopwafels were the opposite: undercooked and hard. On the opposite end of the spectrum, Mahathi excelled with consistently baked stroopwafels that boasted clean edges, great flavour and the caramel had a beautiful pull.
I've never had a warm stroopwafel. As I write this, I would pay up to 20 dollars for one to magically appear in my hand.
Showstopper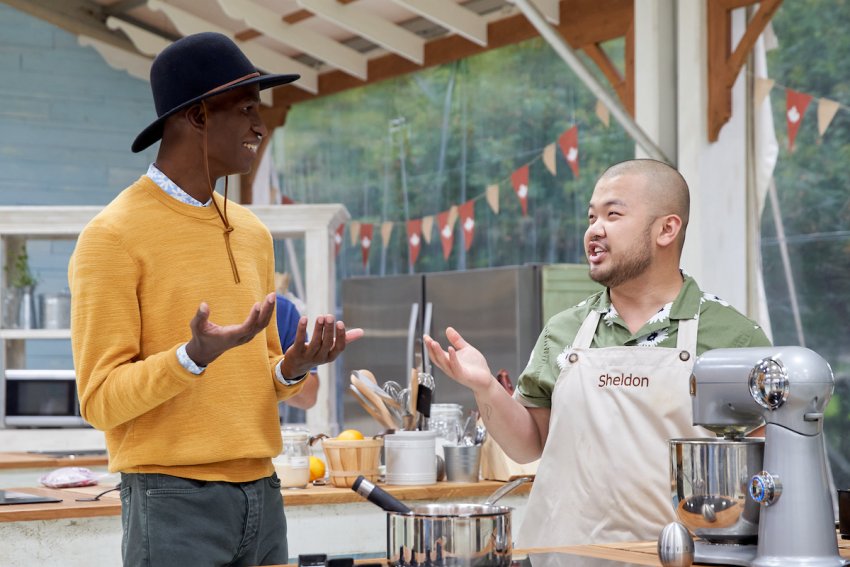 Hell hath no fury like an epic cookie collage. Jokes aside, the judges ask the remaining bakers to conjure up a 2D or 3D family portrait made entirely of cookies.
These portraits had to be made with at least two types of cookie dough and royal icing. The judges were looking for a story behind the creations.
Right off the bat I am not into this challenge. I feel like there is more emphasis on the shape than flavour and baking technique.
If I had to choose, the most compelling from the group was Sheldon's immigrant story from China to Canada and Mahathi's summarization of her family celebrating Diwali at a temple.
Sheldon did something I've never seen done before on a cooking competition show–or in life–he melted his pastry scraper in the oven with his cookies. Good thing he made enough dough for multiple do-overs.
Okyas created a 3D interpretation of his dad's library as an ode to his father's passion for books. He was too ambitious on making three stacked books which ended up looking crooked and messy. More importantly, his dough was malleable which means it was still raw.
The judges couldn't even eat it.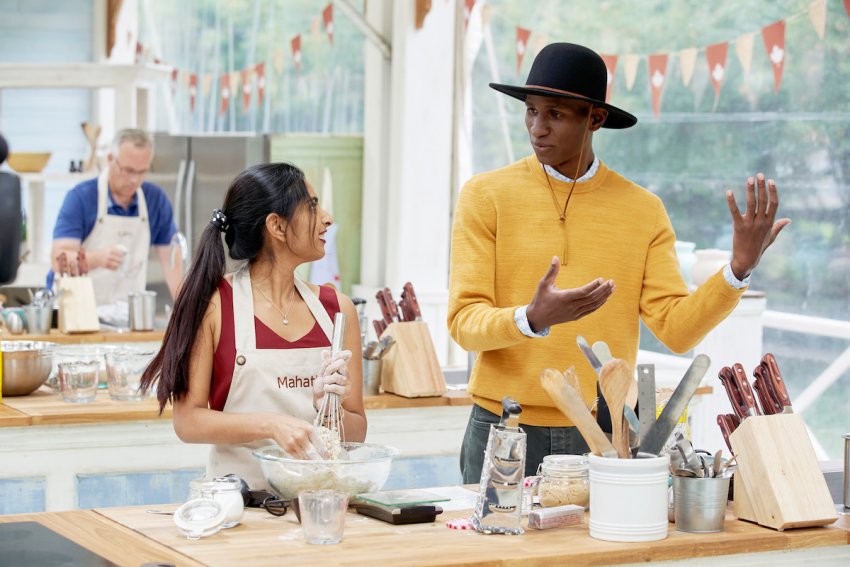 As the camera panned over to Mahathi during this particular challenge, I knew she was going to come out on top. Her showstopper was so colourful–as expected since Diwali is all about bright colours and floral motifs. Her family members were wearing saris and lehengas. There was an impressive attention to detail which did not go unnoticed.
The judges loved all three flavours of cookies she created. Not surprisingly, Mahathi is our Star Baker for episode three.
This week we learnt that Oyaks' weakness is baking cookies. As a result, he was sent home which I did not see coming, seeing as he was the Star Baker in the premiere episode. I saw potential in him to wow the judges further.
Kitchen Scraps
I shook my head and screamed "No!" when I saw Tanner open the door to the oven to check on his cookies. Tanner should know that is a no-no. You learn that in Baking 101.
When you open the oven door, you're letting heat escape and a rush of cold air in. People probably don't realize this, but some baked goods–when being baked–are much more sensitive to the door opening than others.
With that said, a good rule of thumb is to never open the oven door while baking.
In fact, now that I am on this tangent, during the episode I caught a few bakers opening the oven door while baking. They should all know better!
Real talk: Sheldon and Tanner need to step it up their game for the next episode.
I want Sheldon to bring back those Asian techniques and flavours going forward. I think Mahathi will continue to shine. Maggie stays in her comfort zone, but it clearly is working for her.
I bet she knows how to make a really good classic chocolate chip cookie.
The Great Canadian Baking Show season 4 airs Sunday nights at 8 p.m. ET on CBC and CBC Gem.