We went from 10 bakers to three in seven weeks and this is the episode of The Great Canadian Baking Show where one baker gets to feel happy and overwhelmed with an extra boost of self-assurance.
In other words, a winner will be crowned tonight!
This has been such a fun season of GCBS. I have loved watching each baker perfect their craft and showcase their artistry as things progressed over the past eight weeks.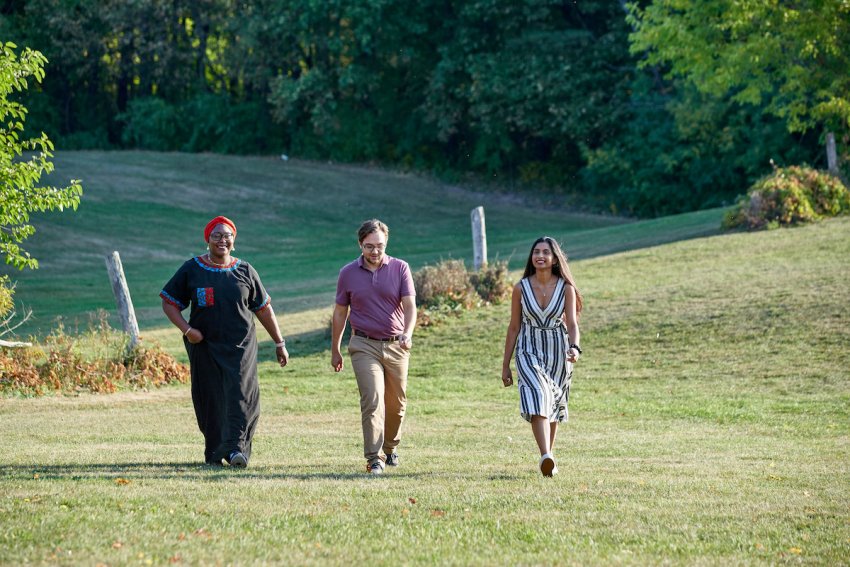 Though I consider myself somewhat of a baking aficionado, I too picked up a few baking tips along the way. I also learned that some desserts aren't as scary to create as I thought...while others totally are–I'm referring to the St. Honoré cake.
I also enjoyed the fact that this show is not about the drama...though that might be because Dominique and Bertie got cut early. I joke, but the thing that is so lovable about this series, aside from the bakers, is the fact that it's really about making those drool-worthy things you want to see in a bake shop.
I have truly looked forward to watching and recapping the show each week, but I digress...
I imagine our three finalists gave themselves many good-vibe pep talks in the mirror before this closing set of baking challenges.
It's worth noting just how much each of the three bakers have evolved since episode one.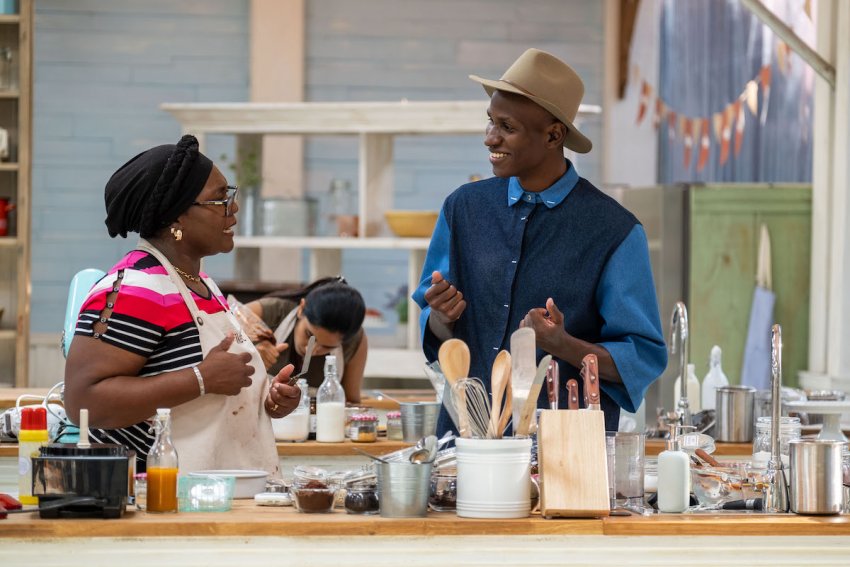 Raufikat's confidence grew throughout the show and she's the only two-time Star Baker this season.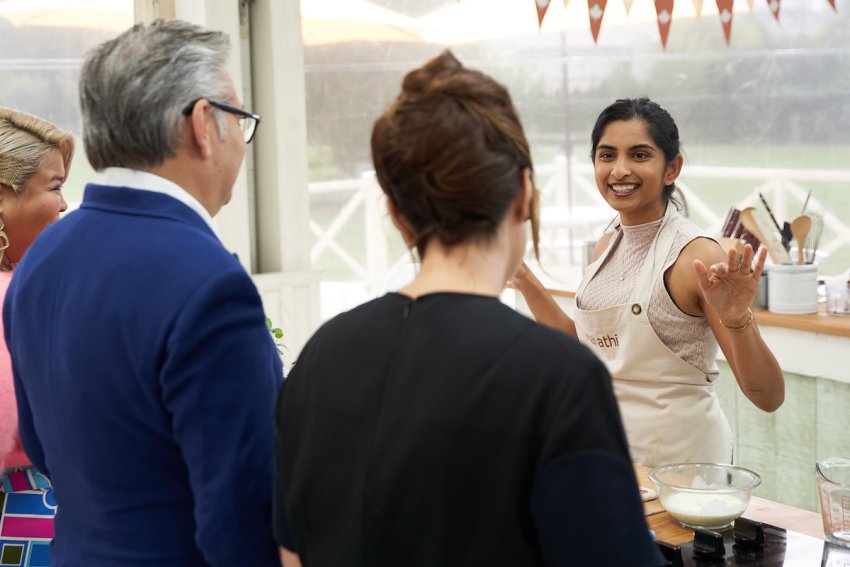 Mahathi, the youngest competitor has not shied away from taking creative risks in the kitchen and most of which have served her well.
Although Tanner might be the most inexperienced baker from the bunch, his instincts and determination have proven that he belongs in this top three.
Is it anyone's game at this point? I'd say so.
Signature Bake
The bakers start by making ice cream "bombs" with different flavours of homemade ice cream and cake of their choice.
The biggest challenge for this Signature Bake is the fact that the tent can get quite warm. This means the ice cream needs to be churned and chilled properly if the final three bakers want positive praise from judges Bruno and Kyla.
Did you notice that Alan and Ann had so much energy during the Signature Bake? The competitors' energy proves no match for the hosts, as one can assume all three are exhausted and channeling all remaining energy on being focused on their baking.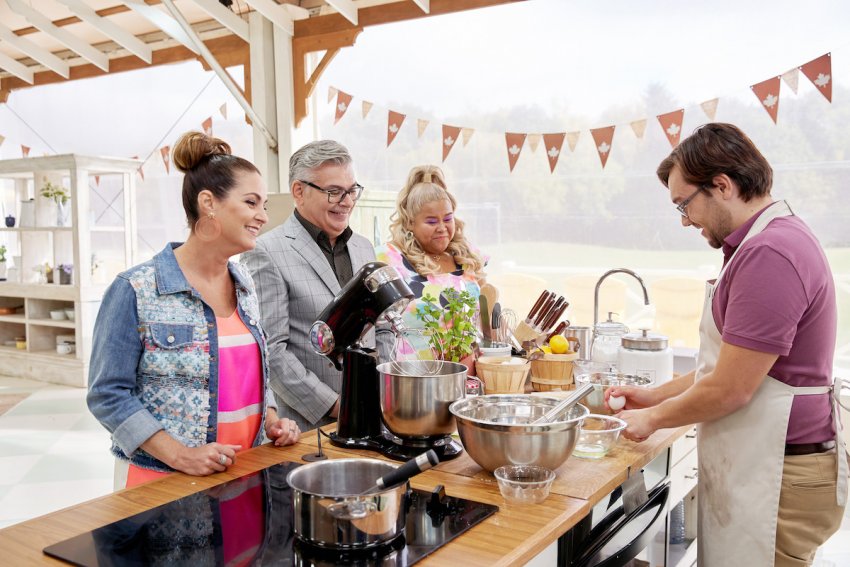 Mahathi makes a pineapple and lime ginger ice cream on a rum cake. Not to be outdone, Tanner assembles a pistachio cake with strawberry balsamic and goat cheese ice cream–looks like Tanner is getting adventurous with this one–and Raufikat arranges a swiss roll cake with dark chocolate and cherry ice cream.
I want to point out that Raufikat really knows how to carry herself while on public display. This is a character quality we have seen through the entirety of the season. Although the pressure might be getting to her, and she might feel frantic on the inside, on the outside she consistently appears very composed and calm.
I envy this personality trait!
Regardless, everyone has the same tactic when waiting for their ice cream to be done, which is to pace around the tent until the final minute on the clock. Can you blame them?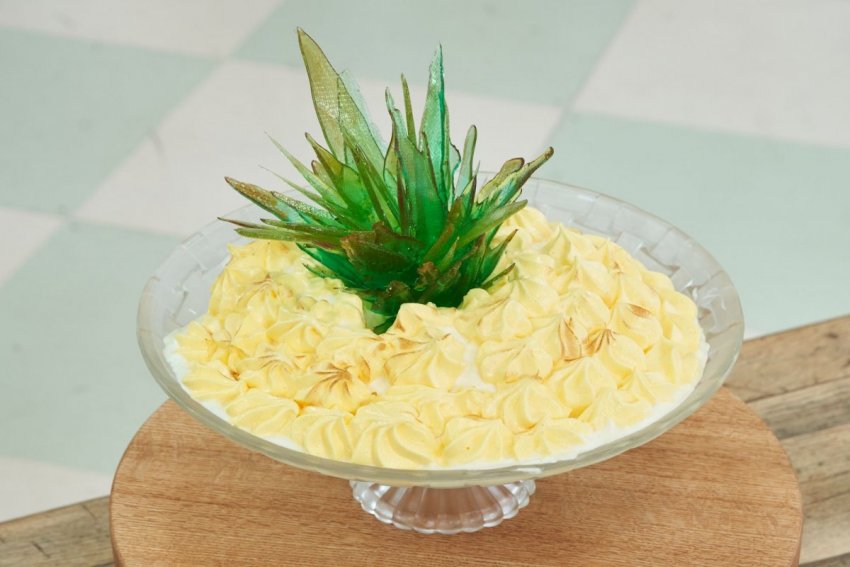 As soon as Mahathi pulls the plastic wrap off of her ice cream, we see that she has an ice cream soup on her hands. This is not a good start for our young baker. However, when it comes to the judges' bites, the fresh pineapple flavour–from said "soup"– on top of moist cake garners positive feedback.
Raufikat's ice cream bomb held its shape. Plus, it's Raufikat, so you know that she'll deliver a neat swiss roll, which she did. The one critique the judges had was that her cherry ice cream was too sweet.
Tanner comes through with a great combination of flavours and nearly perfect marks for his Italian-inspired creation.
This was Tanner's round, for sure.
Technical Bake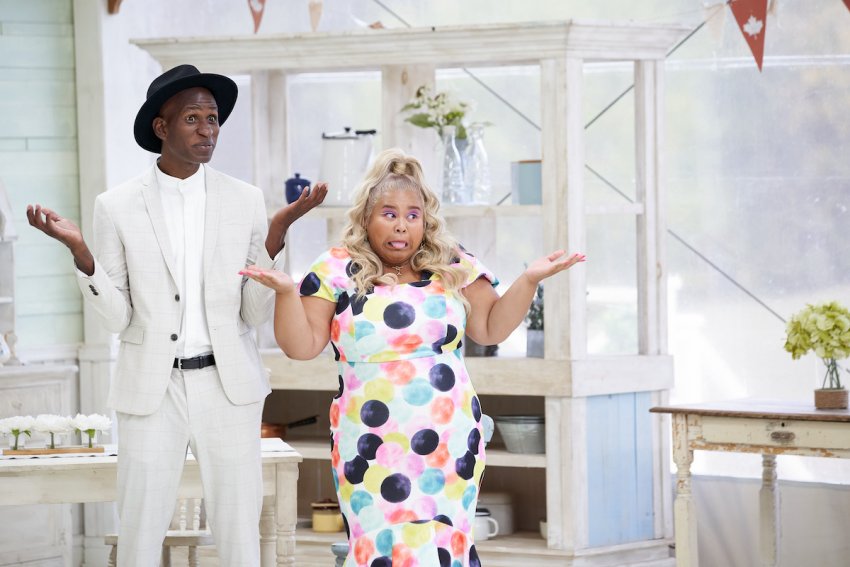 We've come to know that every baker in GCBS history dreads the Technical Bake. Thankfully, this is the last one and everyone seems to be relieved about that...including the hosts.
This technical challenge is no joke, as the bakers must prepare a gâteau St-Honoré. This classic French torte requires many steps and many separate components. The judges have really stuffed multiple technical challenges into this difficult dessert.
TL;DR - It is far from an easy task.
There's the puff pastry base and a ring of choux pastry (also known as pâte à choux) involved. At some level, this dessert preparation is somewhat similar to making cream puffs which means they have to make the puff pastry dough as well as a cream filling. The centre of the gâteau St-Honoré is filled with Chiboust cream.
(Fun fact: Chiboust cream is named after a baker, as is the gâteau St-Honoré.)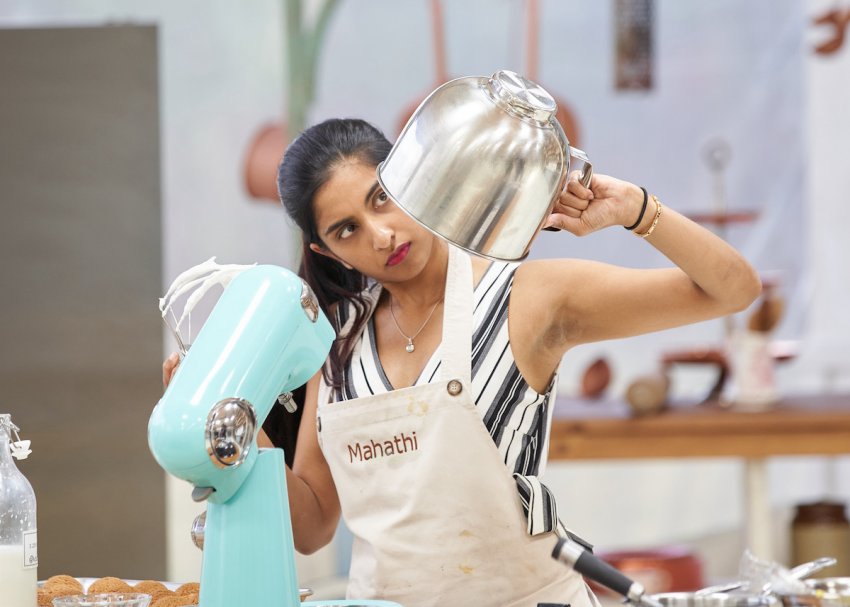 The Chiboust cream also requires gelatine which makes me nervous for Mahathi. The last time she worked with gelatin things did not go so well.
Tanner sarcastically points out that there are no instructions on how to make the choux pastry.
Ugh! I feel his pain.
Alan can't pronounce what the bakers are making and laughs at himself butchering the French name of the dessert. This is the first time we get a real laugh out of Alan throughout the whole season and it's nice to hear.
In the end, Mahathi comes through with a great Choux pastry equally great piping work on the Chiboust cream. The remarks from the judges are that her cream is rich and buttery; however, the puff pastry looks a bit dense.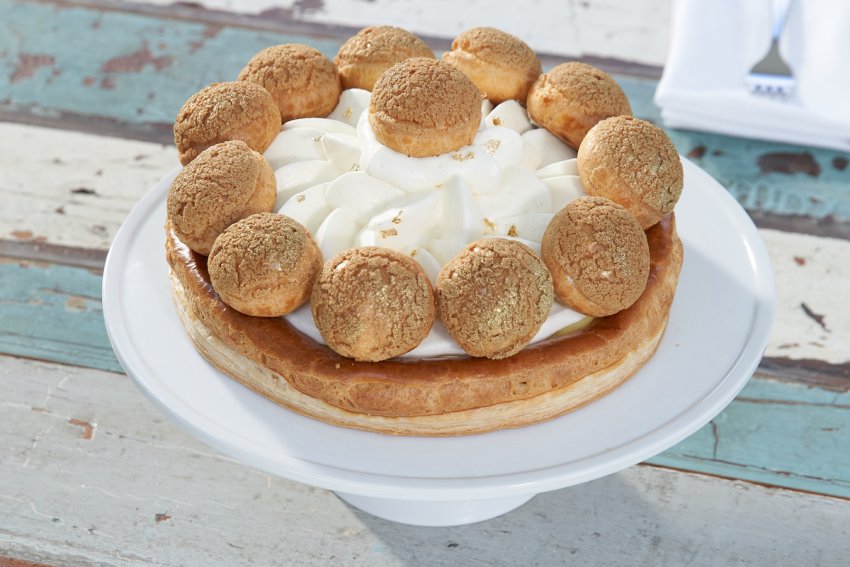 Her almost-perfect score puts her in first place.
Tanner doesn't fare nearly as well with his piping work was lost due to runny cream. His partially raw puff pastry base and a waxy Chiboust means he's bringing up the rear in this challenge.
Somewhere in between lands Raufikat with a perfect Choux pastry brought down by a lacklustre Chiboust cream and slightly undercooked puff pastry.
Once again, I am left thinking this is anyone's game.
Showstopper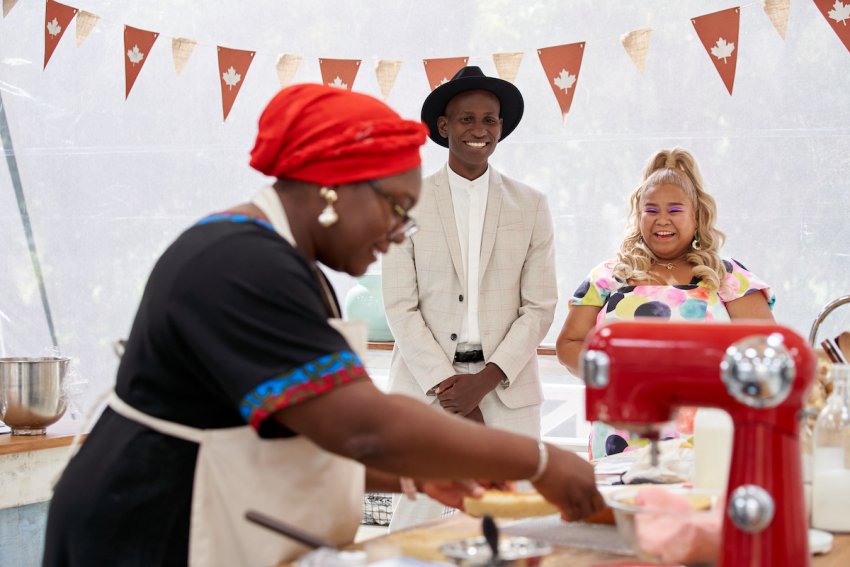 I love this final challenge of the season!
The remaining bakers must create an old-fashioned dessert trolley and said trolley must include one pie, six mini cakes, six viennoiseries (pastries that require yeast-leavened dough like a croissant or Danish) and eight cookies for a total of 21 treats.
The bakers have four and a half hours for this challenge making this a true baking marathon.
With everything that's created in terms of quantities, this challenge feels like it's more about moxie and time management than it is about wildly creative baking skills.
Tanner makes blackberry opera cake, Viennese whirls, mixed berry pie and blueberry balsamic danishes.
Raufikat creates lemon rose Battenberg cake, chocolate raspberry macarons, almond jesuite and strawberry mousse pie.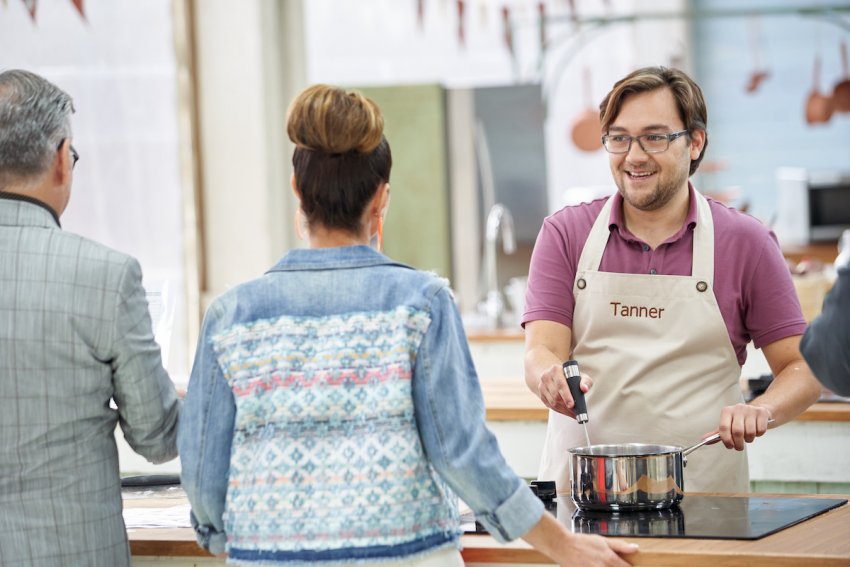 Mahathi dreams up an ube and coconut cream pie, orange madeleines, kiwi lime danishes and poppy seed cakes with apple and walnut.
When the time is up, I bet that sigh of relief from finishing this final challenge must be so satisfying to the three bakers.
Mahathi's dessert cart theme is "around the world", complete with hand-painted luggage tags. I expected to see her handy work in the last challenge. Her madeleines have flavour, but end up being dry, says Bruno. Her cake was excellent,but her viennoiseries are overbaked.
A mixed bag.
Raufikat's cart theme replicates her wedding colours of pink and gold. Opening remarks from Kayla are that this is everything you would see in the windows of the best bakeries and pastry shops in London.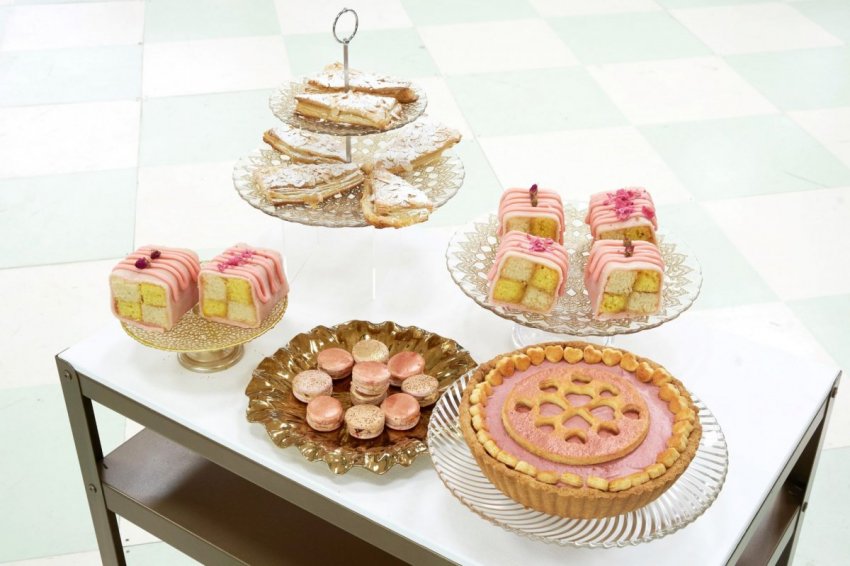 This is high praise straight out the gate for Raufikat.
The judges note that her Battenberg cake is baked to perfection as are her macarons. They also love her strawberry mousse pie from the flavours to structure to pie shell's crispness. Though, like Mahathi, her viennoiseries are dry.
Tanner showcases a "symphony of berries" as his theme. Bruno feels that blackberry does not work in the opera cake, though he approves of the melt-in-your mouth Viennese whirls. His viennoiseries are doughy which leaves me wondering if that is better than being dry.
Everyone struggled with the viennoiseries. I'm not at all surprised as this type of dough needs time to be properly laminated and then time to be rested.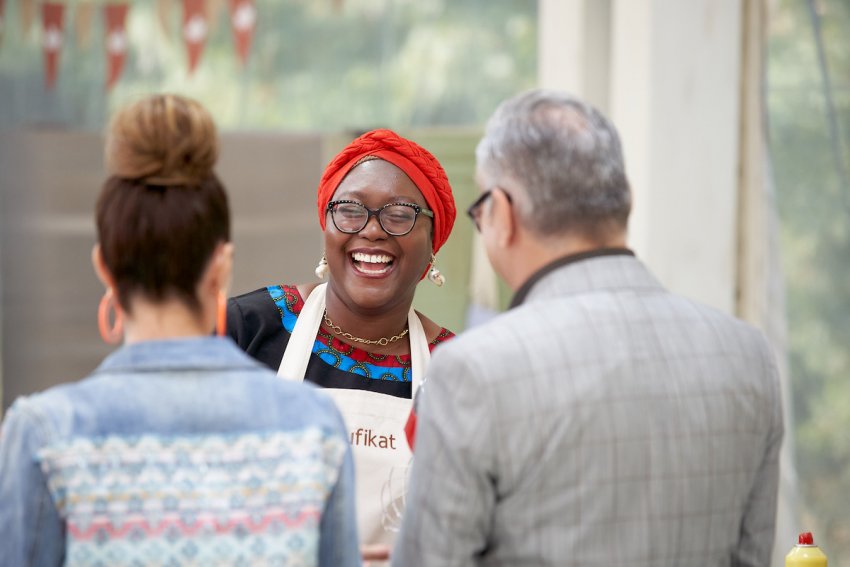 To narrow it down to one winner, I imagine the judges put a lot of weight on how the bakers fare in this final Showstopper, but they must factor in the past eight weeks of challenges as well.
When the entirety of the season is taken into account, as a viewer it feels clear that Raufikat is the rightful winner...and that's exactly what happens.
I can't wait to see what she does next!
Kitchen Scraps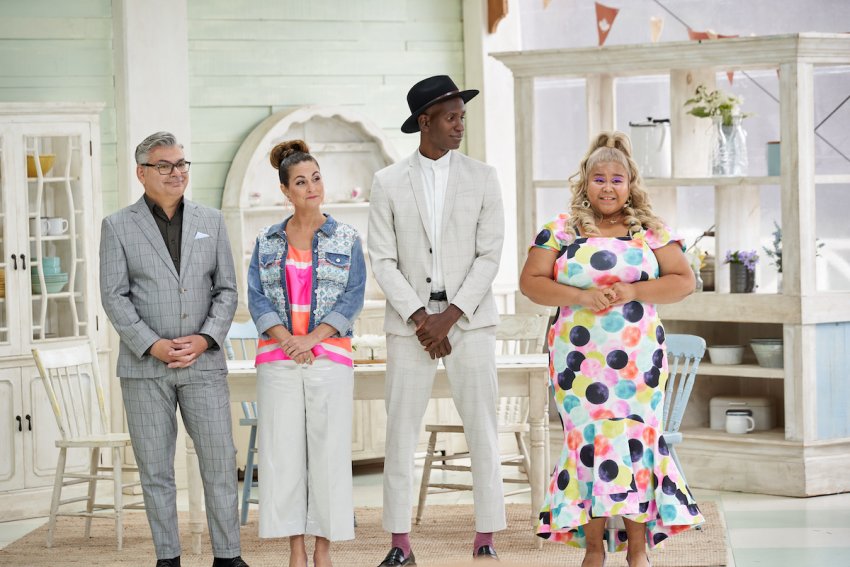 Do you realize that for the Showstopper challenge Bruno and Kayla had to try 63 desserts? I don't even want to be in their shoes today, and I live for baked goods.
It was nice to see the rest of the bakers from the first episode make an appearance towards the end of the episode. I forgot how Dominike's jolt of energy could be felt through the screen.
It's also fun to see the ex-contestants weigh in on who they think will win.
I had never considered this before writing these recaps, but what do the baker's win besides bragging rights?
Why is there no cash prize? Lame.
(Don't worry, The Great Canadian Baking Show, I still love you.)