I am almost blinded by co-host Ann Pornel's dress in the opening scene of this week's episode of The Great Canadian Baking Show. Talk about a fashion statement!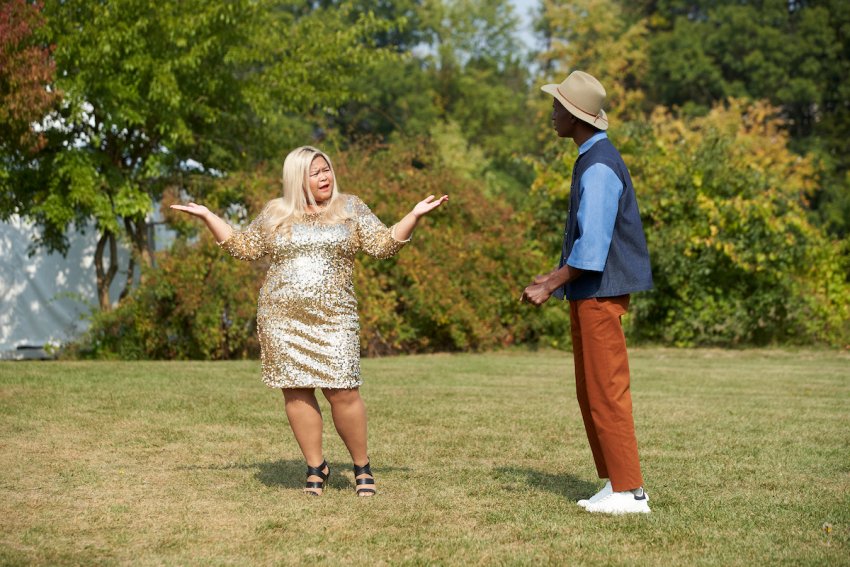 It turns out that Ann has dressed especially fancy for Fancy Dessert Week and, to be honest, I am quite jealous. It reminds me that I've forgotten what it's like to dress up.
With four bakers gunning to make it to the next round, we have now entered the semi-finals folks! It's all about extreme focus and optimism from here on out.
Signature Bake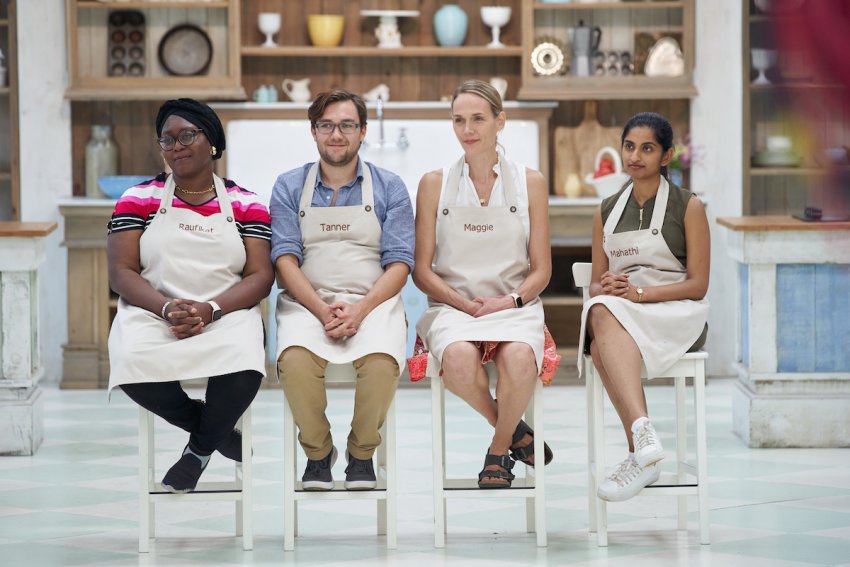 The word "entremets" just sounds fancy, doesn't it?
This week's Signature Bake gives the remaining bakers three hours to make 12 mini entremets –a French dessert made up of cake and mousse layered along with other elements such as jelly, pralines, panna cotta, custard or crémeux. Essentially, the judges are looking for contrasting textures and complementary flavours presented beautifully.
Maggie says she loves making entremets which feels like a good start for her. In baking, the general rule is that if you like making it, you typically make it well...or did I just make that saying up?
Maggie makes a pistachio sponge cake with lime basil jelly, strawberry mousse and pistachio pralines, which all sounds so delicious.
I also need to give Maggie props for having buff arms. Watching her use one arm to make glaze and her other to temper chocolate simultaneously was impressive.
Raufikat pairs orange cream jelly with dark chocolate mousse and pecan pralines while Tanner puts together a peach bourbon jelly, vanilla bean panna cotta and peach mousse.
Mahathi goes tropical with a coconut sponge, mango crémeux, lime jelly and lemongrass mousse.
Before putting the finishing touches on the desserts, everyone shares a collective moment of panic as they take their entremets out of the tin molds, hoping the mousse has set properly.
Phew!
When it came to judging, Bruno comments on how the inside of Tanner's entremets are almost more beautiful than the outside. Tanner managed to put together visible, clean layers with melt-in-your-mouth flavours which ended up being memorable for the judges.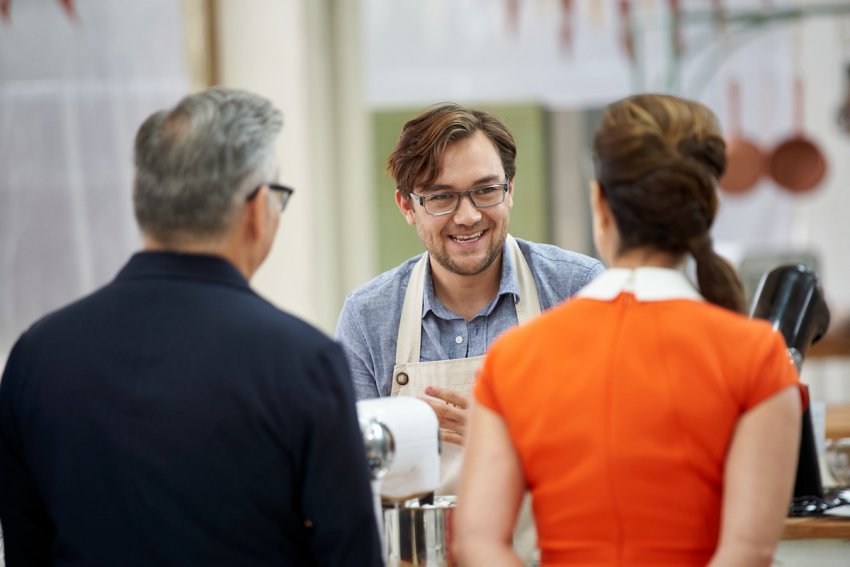 Mahathi's entremets have a beautiful shine, however the mousse layer lacks lemongrass flavour.
Maggie also seems to struggle with the edges of her entremets. However, she makes up for it by having a lovely flavour profile and a beautiful praline crunch that the judges seem to really enjoy.
The contrasting colours of the orange against chocolate in Raufikat's entremets looks extremely gorgeous.
After tasting her dessert, the judge's expression said it all. This was exactly what they were looking for.
Although we can't applaud an official victor for this round, I feel that this win could have gone to Tanner or Raufikat.
Technical Bake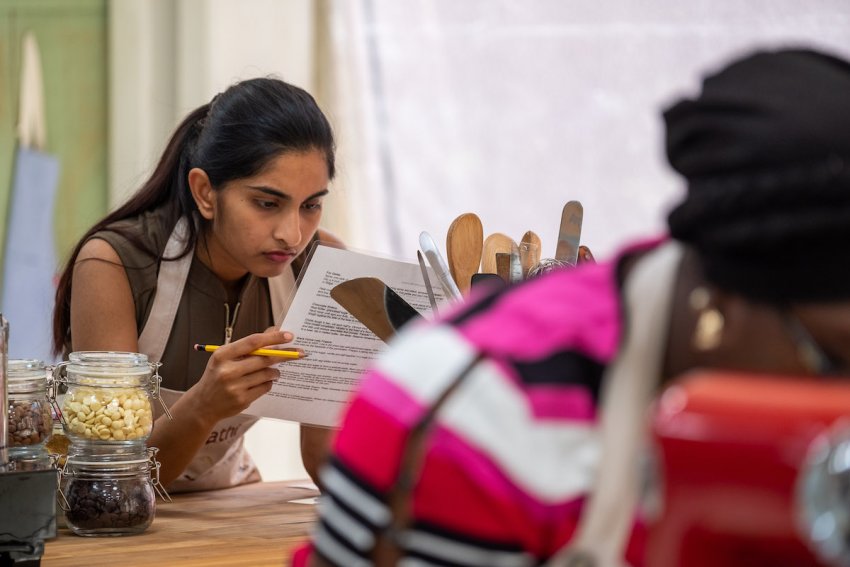 Before providing the details of this week's second challenge, Ann tells the bakers to breathe in the fear, tension and pressure. Even though she tells them to breathe out a hopefully perfect bake, I don't think that this is a particularly helpful breathing exercise.
Maybe a couple more positive adjectives while breathing out?
Before leaving the tent –as we know, the Technical Bake involves blind judging –Kyla and Bruno give away sly hints as to what the challenge will entail. This time, Bruno tells the bakers to be "passionate, but gentle".
Is Bruno still talking about baking or is this a general rule for love making? I smell double entendre!
Our bakers are tasked with making a chocolate passion charlotte cake. This elegant chocolate cake is lined with chocolate ladyfingers and loaded with rich, creamy chocolate filling and more chocolate garnishes.
This would be a chocolate hater's nightmare...but do chocolate haters even exist?
In true GCBS fashion, there is a subtle twist as this charlotte cake is to have not one, but two light and airy chocolate mousses; one white and one dark. The bakers must include a layer of passionfruit ganache.
This time there appears to be no missing parts to the instructions as the bakers have a three-page recipe to go off. There is some relief here, but as the challenge unfolds, everyone shares the same collective moment of fear that their mousse will not set in time, as mousse is both time and temperature sensitive.
As Mahathi removes the mould from her cake, her mousse immediately starts to seep out from underneath. This is not good.
She puts her ascertain sheet back around her cake hoping to keep her cake intact. Our resident angel, Raufikat, helps Mahathi out by sealing the ascertain sheet with tape.
Sadly, it proves all for not as the judges were unable to even cut a slice in Mahathi cake, garnering review of being too soupy–judge Kyla's descriptor, not mine.
This landed Mahathi in fourth place, as expected.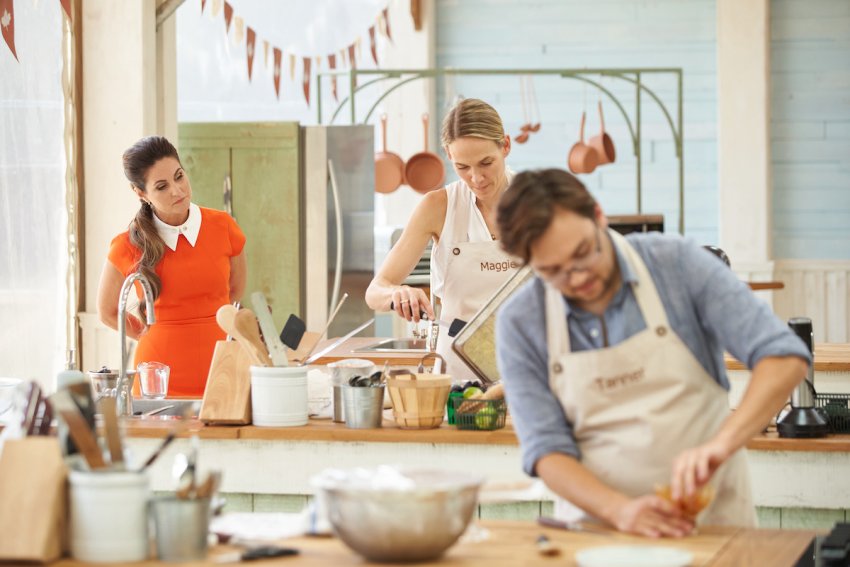 Maggie's cake has very clean design work on top which the judges appreciate upon first glance. Plus, her passionfruit ganache is a real hit with Kyla.
However, there are unmistakable cracks on the sides that she loses points for, along with the fact that her dark chocolate mousse appears very thin. For these reasons, Maggie ends up in third place.
Tanner's mousse is also escaping from the sides upon judges' review. His slightly runny mousse seems to be less runny than the aforementioned two and lands him in second place.
This means that Raufikat comes in first place, and for a third time in a row this season. Her cake boasts a strong cookie crumble, balanced flavours in both mousses and close-to-perfect structure.
Her winning streak perseveres!
Showstopper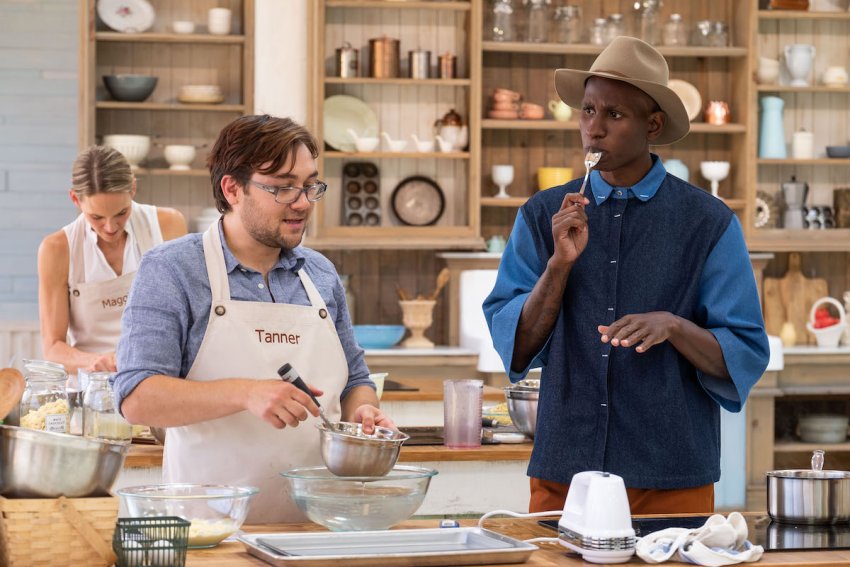 The bakers move swiftly onto this week's Showstopper, a meringue crunch cake made with any kind of curd, custard or cream filling. They have a fairly generous three-and-a-half hour window to get it done.
I love this type of cake so much because it has so many textures going on — crispy, chewy, creamy and smooth. What's not to love?
With that in mind, meringue still needs to be the star of this cake. The bakers have to be careful when adding extra ingredients into the meringue for flavour as it's super delicate and too many additions can (obviously) affect texture.
The bakers concoct the following meringue flavours: Maggie makes a "nutty" meringue, Raufikat goes for a coconut meringue, Tanner produces a pecan meringue–also "nutty", I suppose–and Mahathi plays it safe with a vanilla meringue.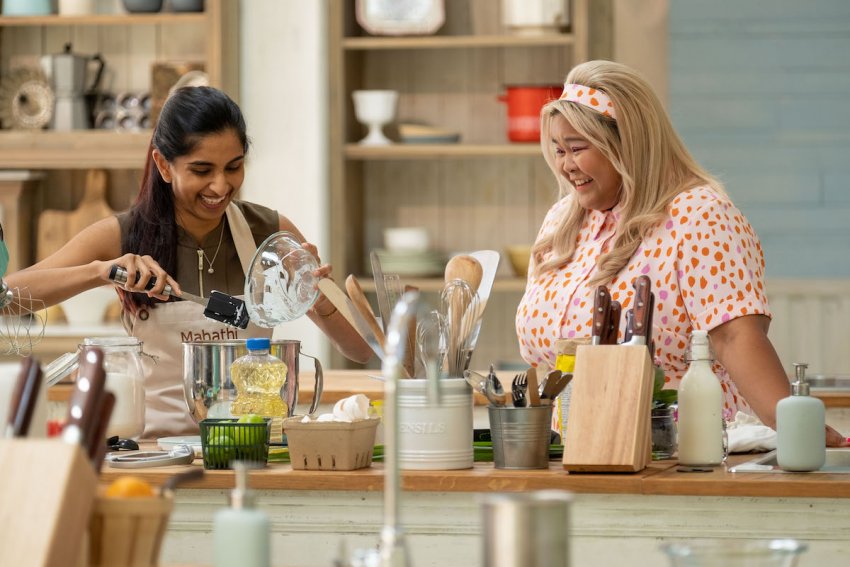 Though her meringue is modest in terms of flavour, Mahathi takes a risk with a rice pudding filling for her meringue crunch cake as well as a ganache that includes tortilla chips and pretzels.
It all sounds like too much to me.
Mahathi shows off her skilled handwork with the design of her cake which impresses the judges. As judge Kyla cuts into it, she listens for the crunch and, oh, it is there.
The baker gets some bonus points for the additional crunch from the savoury snacks she put into her ganache. Her risks paid off.
The colours of Tanner's cake tell the judges (and viewers) right away that they'll be tasting blueberry crème. The crunch and flavours are also there.
Moving onto Maggie, Kyla compliments her on her blackberry and lime curd, but upon first glance, her cake layers weren't equally visible. The judges listen for a crunch as they cut into the meringue portion and, unfortunately it just isn't there.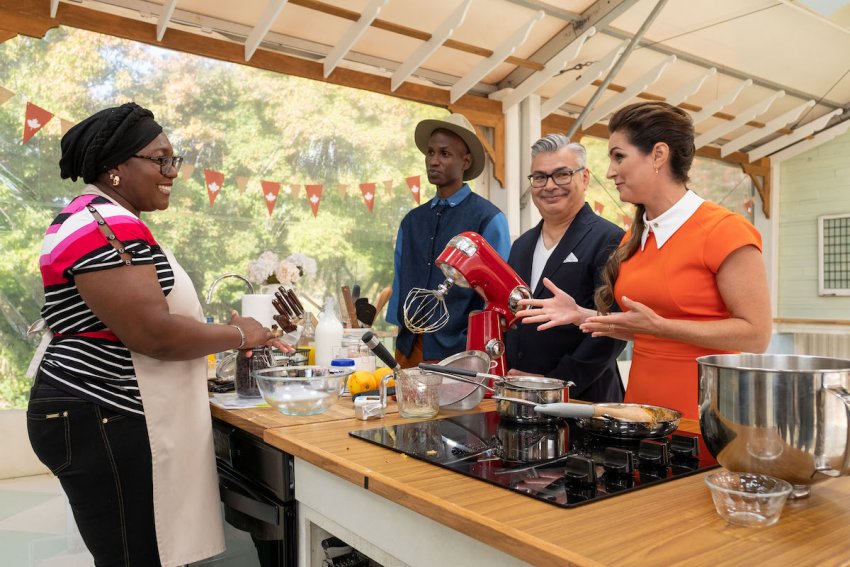 Raufikat decides to make a sugar isomalt flower for the first time and nails it. The judges love her cake for both its visible layers and her creative flavours.
As I watch the judges cut into Raufikat's cake, it looks like a cloud that I want to bite into. It's another perfect baking review for Raufikat which tells me that she's definitely going to the finals.
Indeed, Raufikat is once again awarded Star Baker. She's been in this position twice this season, more than any remaining competitor.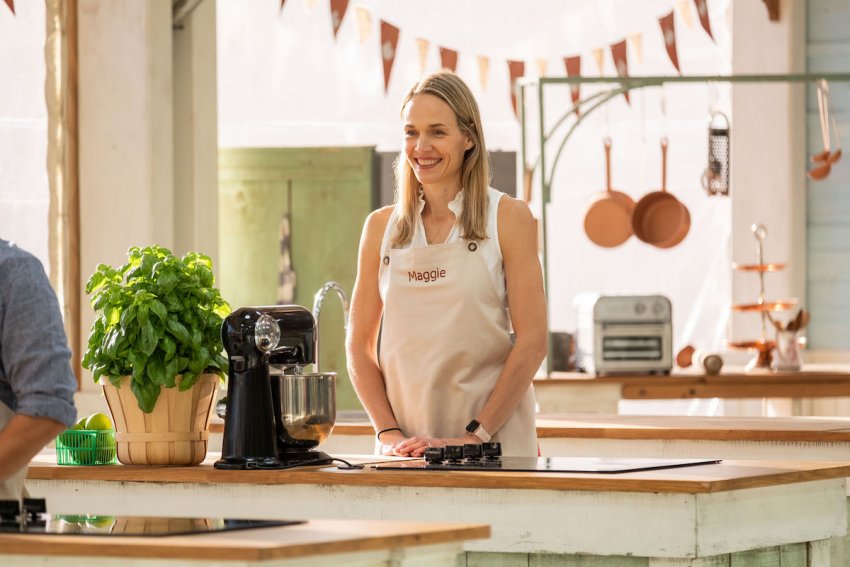 On the opposite end of the spectrum, it is Maggie that's headed home. The way Maggie cupped her face into hands as it was announced that she was going home hurt me. I wish I could give her a big hug and tell her she's going to have her own shop one day.
Actually, I did tell her that through a DM on Instagram. Perhaps not a GCBS winner, but still a baker with something special!
Kitchen Scraps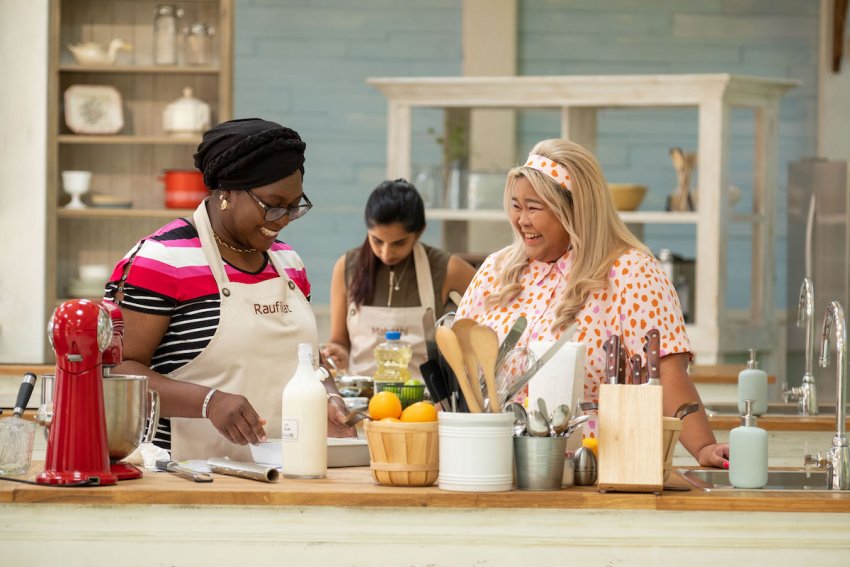 Mahathi told the judges she was going for a rustic look for the Showstopper. In last week's episode Tanner went for the same approach which was really just a cover up for being messy.
Did you notice Mahathi's and Tanner's aprons? They both looked like a chocolate crime scene.
It's probably now obvious that I've been binge watching Mindhunter lately.
As there are fewer bakers in the competition, It's easy for me to zone in on how creative each one is and how they express themselves through design and technique. It's really impressive.
This is not the first time we've seen mama Raufikat help a contestant who desperately needs an extra hand to finish on time. She first helped Mahathi with her coconut garnishes, then with 30 seconds on the clock, Raufikat rushed to Maggie's station to help with her garnishes as well.
Can we all agree that Raufikat is a superwoman?
From the beginning of the episode, you could just tell that this was Raufikat's week. The baking gods were clearly on her side, but will they be there next week too?
Only time will tell!
The Great Canadian Baking Show season 4 airs Sunday nights at 8 p.m. ET on CBC and CBC Gem.