Another Friday has rolled around and that means we've got a new crop of Canadian-made songs for you to check out. Though streaming doesn't generate a ton of money for an artist, it's an easy way for us to support musicians at home during these unprecedented times.
If you aren't a playlist-making sort of person, you can give our Spotify playlist a spin while you're cooking or enjoying dinner to discover a wide range of Canadian musicians; some you might not have heard of before and some that you likely have.
Like usual, our new music collection this week run the gamut from moody synth-pop ballad to upbeat country, to R&B and more. You can check out the ten new songs that we've just added to our playlist below.
Adaline - Part of You
We're loving the sound that queer pop artist Adaline is offering up with her brand new EP. Her song "Part of You" is equal parts haunting and upbeat, which makes us want to play it again and again.
Carly Rae Jepsen - Let's Be Friends
Released in February as a playful response to being single on Valentine's Day, Carly Rae Jepsen's most recent release is a sassy bop that's undeniably catchy.
Chloe Florence - Nightmare
This Montreal songwriter's debut single is a melancholy synth pop through-and-through and showcases the artist's deep, soulful voice.
dvsn - Still Pray for You
We are always up for a quality slow jam and that's exactly what the Toronto-based R&B duo dvsn are giving us with "Still Pray for You".
Lennon Stella - Older Than I Am
It's rare to get a stripped down ballad from Lennon Stella these days, so we're really appreciating her heartfelt vocals on this track from her just-debuted album Three. Two. One. Beauty in simplicity.
Liz - Different Shoulders
You've got to love the high quality production and the presence of a full band–those drums!–of Liz's latest single "Different Shoulders". This song has us happily singing along by the first chorus.
Madeline Merlo - It Didn't
With a recent win on Songland under her belt, Canadian country star Madeline Merlo just released a trio of songs this week and we're especially digging "It Didn't". The track showcases Merlo's impressive vocals in and really brings things home in the bridge. This is a fun listen that we'll be playing well into summer.
Megan Dawson - Double Take
Calgary-based Megan Dawson is giving us all sorts of fun late 1990s/early 2000s vibes with her new single. Mix a little Liz Phair together with Michelle Branch and add a splash of Josie and The Pussycats (a la the 2001 film soundtrack), and you've got "Double Take". We're here for it.
Shea Michael featuring Tinywiings - Landmines
This fun collab between singer-rapper Shea Mitchell and Tinywiings is a cute little love story wrapped up in, well, a rap song.
Washboard Union - Never Run Outta Road
Can we go on a road trip with our friends yet? "Never Run Outta Road" is making us crave just that. Until then, we'll go for a solo drive by our friends houses with the windows down and this song cranked up.
Can we also please take a moment to appreciate the epic cloud suits these Washboard Union gents are donning in their album artwork?
Eat North's Cooking Playlist on Spotify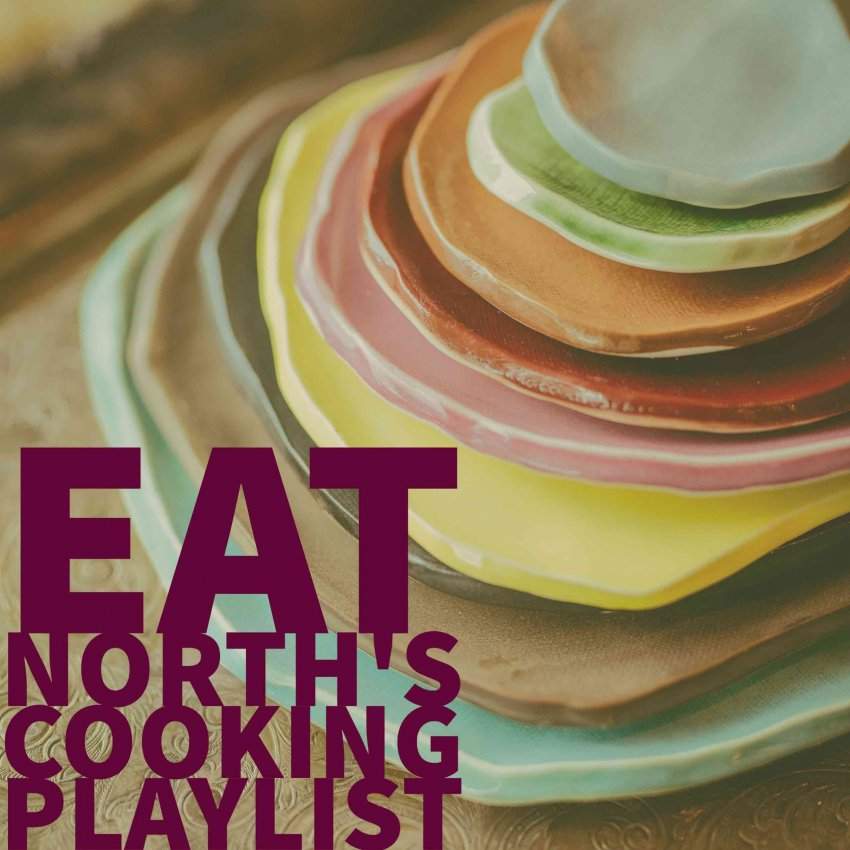 Make sure to give our Spotify playlist a listen and a "love" so you can stay up-to-date! Eat North's Cooking Playlist is updated every Friday with 10 new songs and features 35 tracks in total by talented Canadian musicians.