Cheers to the weekend and to some sunny weather, hopefully! As usual, we're getting ready for the weekend with a refreshed cooking playlist of new songs by a mix of interesting Canadian artists. This week, we've added plenty of summer-friendly songs from artists like pop singer Madison Olds and country singer Jade Turner.
Here are the ten new tracks by Canadian singers that we're currently in love with.
Brettyn Rose - But I Do
This new song from Okotoks-based country singer Brettyn Rose is giving us all the feels. Listen at your own risk if you're not fully over an ex. Jokes aside, Rose's vocals on "But I Do" are beautiful and we enjoy the dreamy guitar strumming throughout.
Fake Shark - Superstitious Thing
Spunky, catchy indie rock is just what the doctor ordered and "Fake Shark" delivers that from start to finish on their album, House of Mirrors. The opening track "Superstitious Thing" has us dancing around in the kitchen.
Jade Turner - Highway Town
The Manitoba country singer's new single "Highway Town" pairs perfectly with a summer road trip down Prairie highways with a wide open sky.
Jiwoo - Antiriver
Slow and charmingly haunting, a minute into Jiwoo's "Antiriver" and you might think you've floated into a dream. This song is the epitome of chill and we love it.
Lindsay Ell - make you
Lindsay Ell's powerful and raw new ballad "make you" sees the singer opening up about being a victim of sexual violence. We can only imagine how Ell (ever an advocate for womens' rights) sharing her difficult story will continue to help so many.
Madison Olds - Best Part of Me
This bop from Madison Olds is officially going into regular rotation on our playlist for the remainder of the summer. If you're not hooked by the first chorus of "Best Part of Me", you are no friend of ours.
Melissa Livingstone - That Ship Has Sailed
Saying, "You're too late" to a potential love interest has never sounded as peppy as it does in "That Ship Has Sailed". Kelowna-based country singer Melissa Livingstone's gorgeous voice sails above a full band production and, as a listener, it's fun to be along for the ride.
Namoo Nara - Back In Time
The new song from Namoo Nara, a musical duo out of Saskatoon, offers up a playful back and forth between the two singers to a backdrop of synth beats. It's the perfect kind of song to enjoy while soaking up some sun and drinks on the back deck.
nodisco. - Unrelated
With a quirky start, this R&B-pop track grabs your attention from the get-go. Nodisco serves up some chill soulful lines on "Unrelated" coupled with unexpected choir-like vocals that at times, keeps you guessing while tapping along to the beat.
Tedy - Boys Don't Cry
Montreal's Tedy is blending his poweful voice with an infectious, gritty beat on his new song "Boys Don't Cry" and we can't get enough of it.
Eat North's Cooking Playlist on Spotify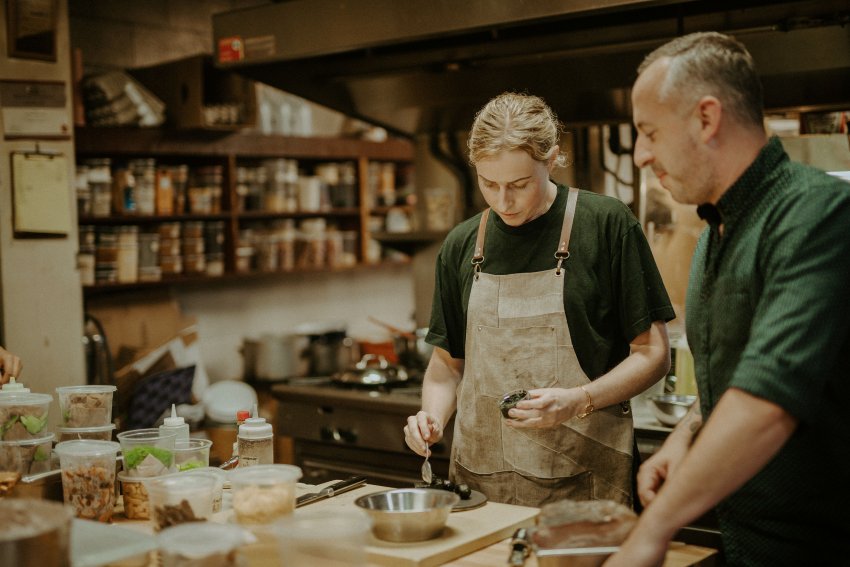 Our Spotify playlist is updated every Friday and features songs by 35 Canadian artists in a variety of genres from folk and country to R&B, synth-pop and more. Give the playlist a listen and a follow to stay up-to-date with newly added songs!