It's Friday and you know what that means, time to refresh our Spotify playlist with some great new tunes by Canadian artists.
As always, there is no shortage of talent to discover in this week's collection of songs. From a thought-provoking piano-driven ballad by Ruth B. to easy, breezy country from Saskatoon's Alex Runions, here are ten tracks that we think should become part of your weekend soundtrack–because they are already part of ours!
Alex Runions - Take It Out On Me
It's hard not to love the warm tones that Alex Runions voice exudes. His first major single in two years, "Take It Out On Me" is an easy listen and pairs perfectly with a highway drive. Windows rolled down, of course.
Donny Anderson featuring Divine Brown - Lovin' You
We gave Donny's new tune a low-key shout out last week when we featured Divine Brown's brand-new tune (definitely give that a listen too), but since we've been listening to this bop on the daily since it came out, we figured it needed its own mention. This upbeat love song is extremely catchy and Brown's vocals are the perfect pairing to Anderson's longing-for-love voice.
Fionn - Modern Medication
Vancouver twins and pop-duo Fionn just dropped their latest single and after a couple listens, it sounds like it's destined for great things. Knowing these two are only 19 years old makes the song and its composition even more impressive.
"'Modern Medication' is a song about growing up with social media, and how it has affected the mentality of our generation," says the band in this morning's single announcement. "Being raised in Gen Z, we have never truly experienced life without our senses being overwhelmed by constant entertainment and pictures of what other people are doing."
Jayda G - Both Of Us
Canadian-born, but London-dwelling, DJ-producer Jayda G's new track "Both Of Us" calls for a full-on dance party whether you're in your kitchen, living room or out on the back deck. Piano takes center stage for most of the song, as Jayda's airy vocals float in and out.
K-OS - Crucial (Kaytranada Remix)
The final track from K-OS' latest EP Boshido, produced by Kaytranada, offers layered vocals, great beats and plenty of food for thought when it comes to his lyrics.
Lo Lo - Dead Inside
After releasing a fun EP in 2019–which included quite a fun cover of "Dancing in the Dark"–Toronto's Lo Lo is back with a melanchony alt-pop song that acknowledges self doubt and how it can be remedied.
"Sometimes, all it takes is a little reminder from somebody that cares about you, to make you feel alive. I hope when you listen to this song, it makes you think about that person who always seems to know how to bring you back to life," says Lo Lo in her single announcement this morning.
LU KALA - Want You
With so much raw emotion in her voice, you'll be sucked into LU KALA's world within seconds of her starting to sing. "Want You" is a rollercoaster of feelings lyrically and we are 100 per cent along for the ride.
Mouraine - Open Letter to America
Edmonton rapper Mouraine shares a heartfelt rap that showcases the many things wrong with America today. Naturally, Canada is not exempt from racism, but let his "Open Letter to America" sink in as you listen to every, single word.
Ruth B. - If I Have A Son
Few singers sound quite as magical as Edmonton's Ruth B. when their vocals are paired with nothing more than the piano. The soulful musician's new single "If I Have A Son" offers up a mix of sadness and hope as her vocals glide up and down octaves effortlessly. At points, her words make you pause and wonder how we all can do better.
"I saw a man lose his life all 'cause his skin looked like mine," she sings.
Ruth's new single will see all proceeds donated to anti-racism causes.
Tebey - Happened on a Saturday Night
Tebey's latest tune "Happened on a Saturday Night" doesn't aim for anything thought-provoking, lyric-wise, but it is a great addition to a weekend playlist, especially if you're in a party mood (keeping social distancing in mind as well, of course).
Eat North's Cooking Playlist on Spotify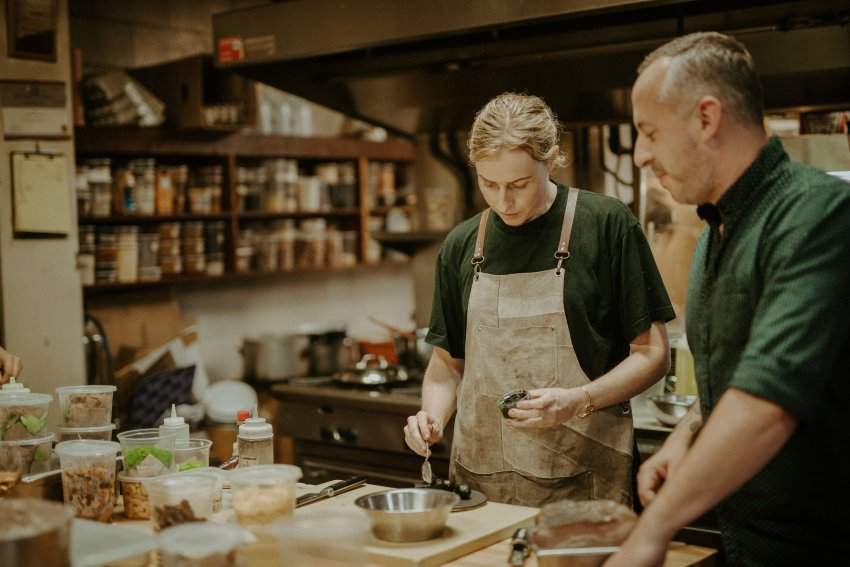 Our Spotify playlist features 35 songs of mixed genres by Canadian artists and is updated every Friday afternoon. Give the playlist a spin below or a follow on Spotify to stay up-to-date with our weekly refreshes!