It's looking like there is some light at the end of the COVID-19 tunnel, with several provinces announcing their tentative timelines for reopening businesses and public spaces. We're sure it will be a slow progression to get back to "normal", so we'll still be spending plenty of time at home heading into late spring.
We've given our Spotify playlist (Eat North's Cooking Playlist) an overhaul today and added plenty of new songs, including these 10 new tracks by talented Canadian artists. Give them a listen below.
Alee - No One Like You (Green)
Though the original version of this song came out last year, Alee has just released a new stripped down version of "No One Like You". We are craving new music from the country singer, but until then, this "green" version of her current single shall tide us over!
The Arkells - Years In The Making
Does this band ever put out a song that's not catchy? We don't think so. This upbeat rock track would have been a fitting anthem for Team Canada during the 2020 Summer Olympics, and given The Arkells' previous ties to Team Canada at PyeongChang, maybe it was supposed to be.
ArtistsCAN - Lean on Me
We can't round up new Canadian tunes to listen to without shouting out to the epic ensemble version of "Lean on Me" by ArtistsCAN. The cover features vocals from various Canadian-born talent, including Jann Arden, Buffy Saint-Marie, Justin Bieber, Sarah McLaghlan, Serena Ryder and others.
Interestingly enough, this production was spearheaded by pop singers Tyler Shaw and Fefe Dobson.
The Free Label - Up in Flames
We're loving this slow jam from Toronto R&B group The Free Label, featuring Oleyada. "The world is ending anyways," sings Oleyada in the chorus. It's hard not to appreciate that line these days.
Kalsey Kulyk - Bad Guy
Kalsey Kulyk's acoustic cover of the Billie Eilish hit "Bad Guy" is nothing short of whimsical. It's so different; in fact, you probably won't even clue in to what song it is until she gets to chorus.
Karl Wolf - City of Lies
Karl Wolf is--maybe purposefully--giving us all The Weeknd vibes on this his new single, "City of Lies". It's a great synth beat that's pretty to tap along to while you're making dinner.
Kiesza - Storm
Pop singer Kiesza made her mark years ago with "Hideaway" and has been putting out music steadily ever since. "Storm", an emotional ballad penned during self-isolation, is a dedication to first-responders around the world during these difficult times. Kiesza is encouraging fans, new and old alike, to donate to Frontline Care in support of first-responders.
Romana - Holding Space
We love all the soul that Romana is putting into her new song "Holding Space". The song throws us back to the 1990s--think Aaliyah or Janet Jackson--in the best way possible.
Terez - Sweat It Out
We don't think Terez is singing about slaving over a hot stove when she sings "Sweat It Out"--if you know what we mean. It's best played during any sexy dinner dates you might have on the horizon.
Tianda - Bed
As we discover more about the bedroom pop world, we find interesting Canadian artists who are already embracing the genre. Edmonton's Tianda is a great example of the sound and her new song "Bed" is all about personal consequences backed by low key beats and cool vocals.
Eat North's Cooking Playlist on Spotify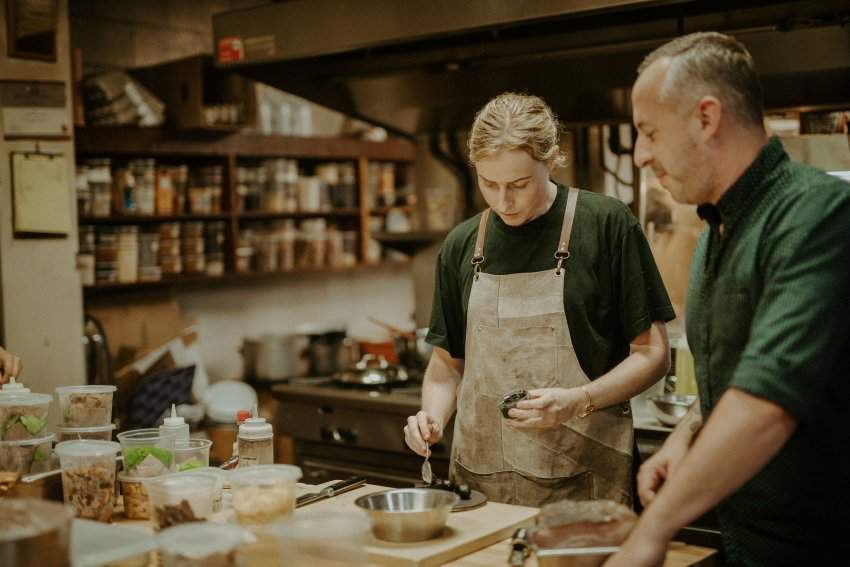 Our Spotify playlist is updated every Friday afternoon and features 35 songs of mixed genres by Canadian-born musicians. Give it a listen or a follow.