Is it just us, or did the May long weekend really sneak up quietly? If you're lucky enough to be getting some warm weather and sunshine this weekend, it might be time to fire up the barbecue and have an al fresco meal or two. Like usual, we've refreshed our playlist, Eat North's Cooking Playlist, on Spotify with interesting new songs by a mix of Canadian musicians.
Whether you're digging the thoughtful rock vibes of artlists like Hannah Georgas and Iqaluit's The Jerry Cans, or soaking up the magic that is Luna Li's latest release, here are ten new songs from a mix of different genres to lend an ear to.
Andrew Hyatt - Stuck
The melody of Andrew Hyatt's latest single "Stuck" has plenty of highs and lows, which makes it an especially fun one to sing along to. Songs like this have us wanting to hit the highway and roll down the windows.
Big Sugar - Anything is Possible
Who doesn't love a solid rock song? That's exactly what Big Sugar delivers with the entirety of their new album Eternity Now. "Anything is Possible" is our favourite track off the album for its fun bass line and positive lyrics.
Dana Gavanski - Catch
From start to finish, Gavanski's album Yesterday is Gone is beautiful. Her pure voice always offers a little bit of sadness with every phrase she sings, which keeps us hanging off of every word in the track, "Catch".
Hannah Georgas - Same Mistakes
This mellow, new song from Vancouver's Hannah Georgas is as easy to take in as a glass of wine after a long day. (Perhaps that's the perfect pairing?) "Same Mistakes" is brimming with thought provoking lyrics about one's self and is worth listening to a few times in a row to catch all of Georgas' wordsmithing.
The Jerry Cans - Swell (My Brother)
The new album, Echoes, by Iqaluit rockers The Jerry Cans is epic , with bonus points for the stunning album artwork and an equally stunning music video, featuring the Northern Canadian landscape. "Swell (My Brother)" is a grand rock song that picks up tempo around the 3:00 mark and gets really exciting.
Juice WRLD - Righteous
There are parts of "Righteous" where Juice WRLD sounds like he's channelling early 2000s rock singers (like Hoobastank) while weaving in and out of melodic rap verses. The result is something that almost sounds like the singer is having a duet with himself. Whatever the case, we are here for it; this is an awesome tune.
Justin Fancy - Think About You
We're digging this new mid-tempo love song from Newfoundland country singer Justin Fancy. "Think About You" makes us want to grab a partner and have a little romantic dance in the kitchen.
Luna Li - Afterglow
This ambient pop song is not only pleasant to listen to, but once you find out that Luna Li is a multi-instrumentalist and plays most of what you hear on the track herself, it's hard not to be really impressed.
Olivia Lunny - Think of Me
We've loved Olivia Lunny since her appearance on CTV's The Launch last year, so it's nice to see the Winnipeg-based singer back with a new song. "Think of Me" is everything you want in an electro-pop tune: it's upbeat, danceable and makes you think back to lost love.
TOPS - I Feel Alive
This Montreal band's easy, breezy electro-pop will whisk you all the way back to the 1970s in the best way possible with songs like "I Feel Alive". TOPS lead singer Jane Perry has a smooth voice that you can get lost in while you're wasting after the afternoon on the back deck.
Listen to Eat North's Cooking Playlist on Spotify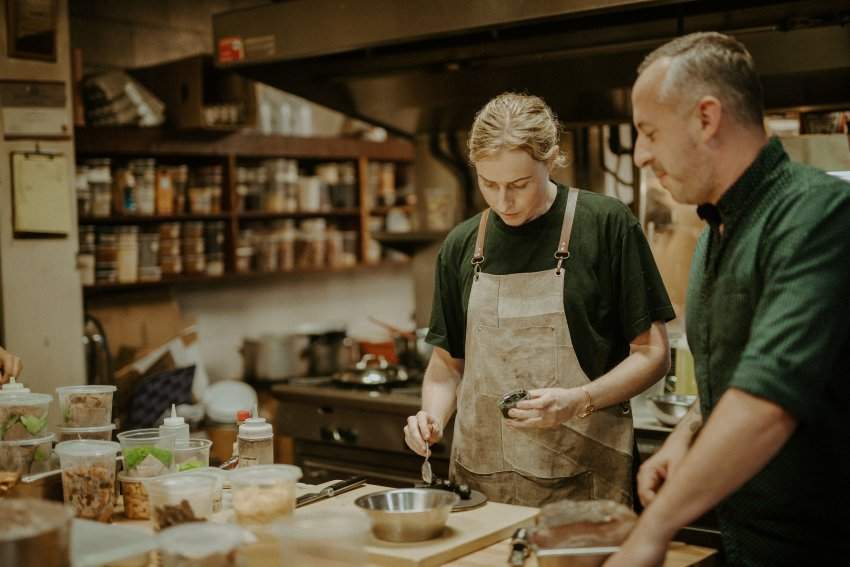 Our Spotify playlist is updated every Friday afternoon and features 35 songs by Canadian artists from a variety of genres! Give it a play or a "love" to stay up-to-date with new song additions.