It's the end of the work week and do you know what you need? Some new music in your life. Whether you're feeling comfortable having people over for a spaced-out bite and a drink or dining with your cohort, there's never a bad time to have some tunes playing in the background.
Streaming or purchasing tracks by Canadian artists is an effortless way to support musicians at a time when they aren't able to perform live. Here are ten new songs by Canadian musicians that we are really loving this week and are definitely worth a play or two (or three).
Aquakulture - Don't Forget
This song off of Aquakulture's new album Legacy is a soulful jam with what sounds like a full band and choir backing that you'll be swaying along with in no time. "Don't Forget" is just the tip of the iceberg on what is a fantastic album.
---
Carly Rae Jepsen - This Love Isn't Crazy
If you know anything about this Canadian pop star, you'll know that "B Side" of the albums she releases are pretty much as good as the original albums themselves. "This Love Isn't Crazy" is the lead track on Dedicated Side B and quintessential Jepsen. Time for a dance party!
---
Crystal Shawanda - When It Comes To Love
Shawanda may call Nashville home these days, but the powerhouse singer was born and raised on Manitoulin Island on the Wikwemikong reserve. "When It Comes To Love" is an beautiful bluesy ballad with a melody that's easily stuck in your head. Make sure to give her full album, Church House Blues, a thorough listen.
---
Fast Romantics - Pick It Up
This new single from Toronto's indie rock group Fast Romantics is inspired by lead singer Matt Angus' personal battles with depression and anxiety. The singer describes "Pick It Up" as an inspiring rock ballad that also doubles as a personal pep talk for Angus.
---
Haley Blais - Too Good
This ambient, synth-pop song by Vancouver's Haley Blais not only features plenty of hurt in the lyrics, but also a great drum track that keeps things feeling upbeat. We're into it.
---
JESUS CMPLXX - Fixx U
There are so many things to love about this brand new single by this Toronto-based R&B artist. "Fixx U" boasts airy vocals over tender piano chords and a bit of synth. It's a pretty song for a little quiet contemplation over a glass of wine.
---
Joni Delaurier - One Day Soon
Anyone in Calgary will appreciate this charming track from singer-songwriter Joni Delaurier for its local mentions that run the gamut from the Inglewood neighbourhood to The Plaza Theatre and the Calgary Flames. "We're going to make it through," sings Delaurier in the chorus. This song helps remind us that we certainly will.
---
Kansas Stone (and friends) - Together We're Strong
We salute Kansas Stone for getting a long list of Canadian country talent together (including Aaron Pritchett, Alee, Chrystal Leigh of Sons of Daughters, Chris Buck and more) to record this new original ensemble track in memory of Captain Jennifer Casey of the Royal Canadian Air Forces' Snowbirds, who recently lost her life in a crash in Kamloops.
Proceeds from purchases of "Together We're Strong" will be donated to the Unison Benevolent Fund.
---
Orville Peck - No Glory In The West
Deep, dark and brooding, Orville Peck's vocals take you on a deep journey on this new melancholy, acoustic single. Peck just announced that his new EP will come out on June 12, 2020 and include a duet with Shania Twain. We're curious to see what that sounds like.
---
Shawn Austin - Dangerous
We're all about this fun new country-rock track by country singer Shawn Austin. High energy and catchy, this one will surely be on plenty of playlists (other than ours) and on the radio this summer.
---
Eat North's Cooking Playlist on Spotify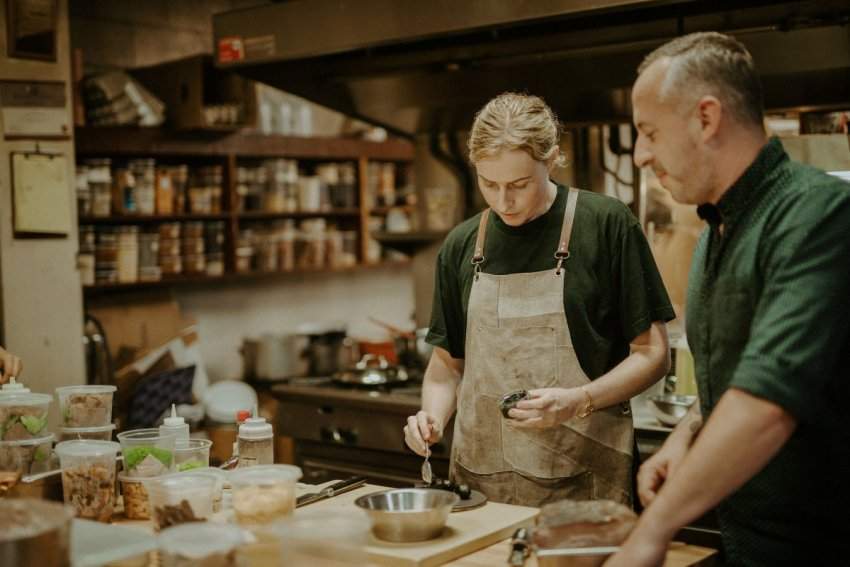 Our mixed genre playlist on Spotify is updated every Friday and features 35 songs by Canadian artists. Give it a listen or a "love" to stay up-to-date with all of our new musical additions!