We hope you are fully embracing this long weekend by way of relaxing hangs and casual food and drinks with friends. Whatever you're up to in the kitchen or on the back deck, you'll want a solid soundtrack playing in the background. So, we've given our Spotify playlist a refresh with some great new music.
From a chill tune from Winnipeg R&B singer Ben Tamana to a beautifully haunting cover of "Our House" by Theresa Sokyrka and Jesse Brown, here are ten new singles that we can't get enough of.
Andrea Nixon - Blind Spot
Edmonton's Andrea Nixon just released this beautiful new tune last week and her signature vocals and thoughtful lyrics make this a pleasant listen.
Ben Tamana - Show Me
This laid back R&B track by Winnipeg singer Ben Tamana is just what the doctor ordered on the long weekend. The simple guitar picking grabs your attention right off the bat and from there, Tamana's vocals carry you away with "Show Me".
The Bros. Landreth - Clean
This new song by much-loved Americana act The Bros. Landreth offers up stunning harmonies and contemplative lyrics over some simple guitar strumming.
Charlotte Day Wilson - Take Care of You, featuring Syd
This R&B duet between Charlotte Day Wilson and Syd is a smooth, slow jam that pulls you in from the get-go. The distortions of Syd's vocals make the song interestingly haunting.
Laterdays - Kitsilano
A little Vampire Weekend mixed with, well, we're not sure what, but Laterdays delivers with this peppy pop-rock song.
Rooks - Yeah
This energetic rock song by Rooks keeps us dancing in the kitchen with its great beat, awesome guitar riffs, drums and an easy sing-along chorus.
Shylo Sharity - Hard Hearted Hallelujah
There's much to love about Shylo Sharity's heartfelt vocals in her new country ballad, "Hard Hearted Hallelujah". The slight twang and slow tempo of the song takes us back to some old school Dolly Parton.
Shuffalo - Whispers
Calgary rockers Shuffalo offer up yet another fun rock track for us this week with "Whispers". Fast-paced and maybe even slightly frantic, the song features a great melody to help balance things out.
Theresa Sokyrka featuring Jesse Brown - Our House
After a seven-year hiatus, Theresa Sokyrka returns with a new single "Our House". The cover of the 1980s classic features pianist and composer Jesse Brown and is completely unexpected. Slowed down and stripped down, "Our House" is equal parts haunting and captivating, thanks to Sokyrka's signature sound.
Check out Eat North's Cooking Playlist on Spotify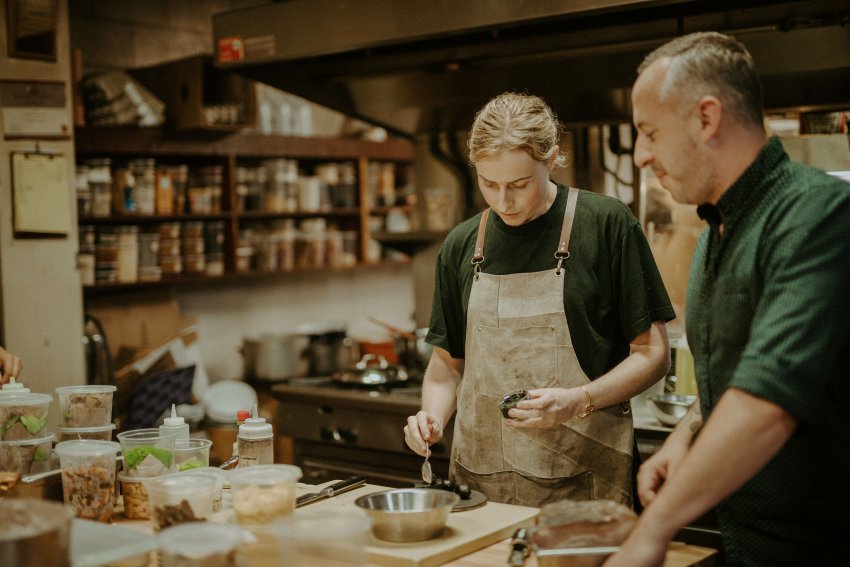 Our Spotify playlist features 45 songs by Canadian artists in a variety of genres: pop, rock, R&B, country and more. Give the playlist a listen or a follow below to stay up-to-date on our weekly musical additions.