With the holiday season in full swing and Christmas day inching closer and closer (Santa, we've been relatively good this year, we swear), there's still plenty of holiday party hosting left on the docket for many of us. No matter what size your upcoming festive gathering might be, musicians always help bring things to life.
This week on Eat North, doing more than simply lending a hand with catchy holiday tunes on our playlist is the B.C. born, Nashville-based country duo Twin Kennedy. With a charming blend of harmony, guitar and fiddle-playing, twin sisters Carli and Julie Kennedy work plenty of Christmas music magic on their self-titled holiday album A Twin Kennedy Christmas, which was released last fall.
After spending the year touring in North America, the sisters are headed home to the West Coast for the holidays, but not before sitting down with us to share some of their tips for creating a memorable holiday gathering.
"Last year, we celebrated the release of A Twin Kennedy Christmas with an album release show in Nashville, TN. This was our first album release in Music City, and we wanted to create an atmosphere that felt like both a concert and a festive Christmas party," says Julie. "We decked out the room in Twin Kennedy holiday style! The show was packed with Canadians and Nashvillians, and we performed songs from our Christmas album. It was so much fun to celebrate the release with our fans, friends [and album collaborators] in Nashville."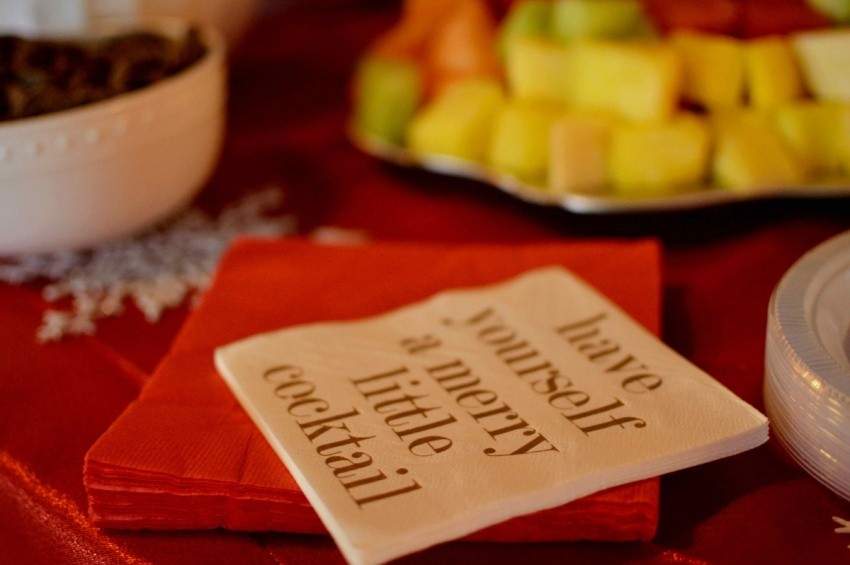 With an inseparable love for holiday music and entertaining (both onstage and among family and friends), Twin Kennedy keeps a few things in mind when having a holiday party to make sure their family and friends leave fun-filled memories at the end of the night.
Make the space your own
We decorated the venue from head to toe: Christmas trees, wreaths, coloured lights, poinsettia table centerpieces, holiday-themed pillows on the couches, and garland-wrapped microphone stands. We found Have Yourself a Merry Little Cocktail"napkins, which tied into one of the Christmas classics on our album, and we customized our Twin Kennedy merchandise table for the event with a holiday lightbox, sparkly snowflake decorations and a miniature gold Christmas tree. Adding these embellishments to an already beautiful space made it extra special and gave the venue a personal Twin Kennedy touch!
Pictures or it didn't happen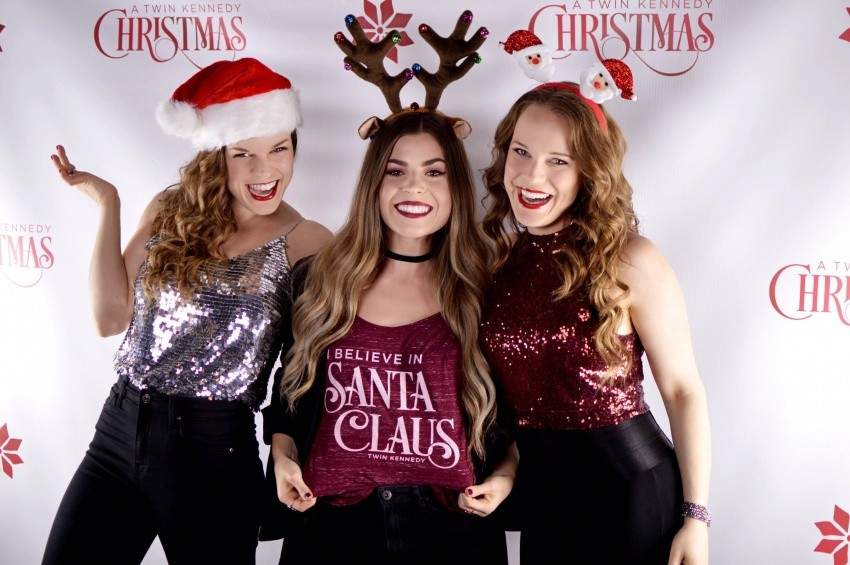 It's an Instagram and Facebook album world these days, and we're all just living in it. That's not a bad thing, so make sure everyone looks their best and happiest in photos from your gathering.
"We love having photos from our parties and shows, because looking back at your pictures after the event helps make the memories last! At our album release show, we created A Twin Kennedy Christmas photo booth with Christmas props galore, and we had so much fun posing with all of the guests," says Carli.
Creating a photo booth-style set-up at home doesn't need to be hard
Dedicate a small section of wall to good lighting, some Christmas decorations and a small side table with a few festive props. Encourage each guest to take photo or two in front of it.
It's easy to AirDrop or Dropbox photos to you (i.e. the host) or simply come up with a party hashtag for everyone to use. Done and done.
A simple takeaway gift for guests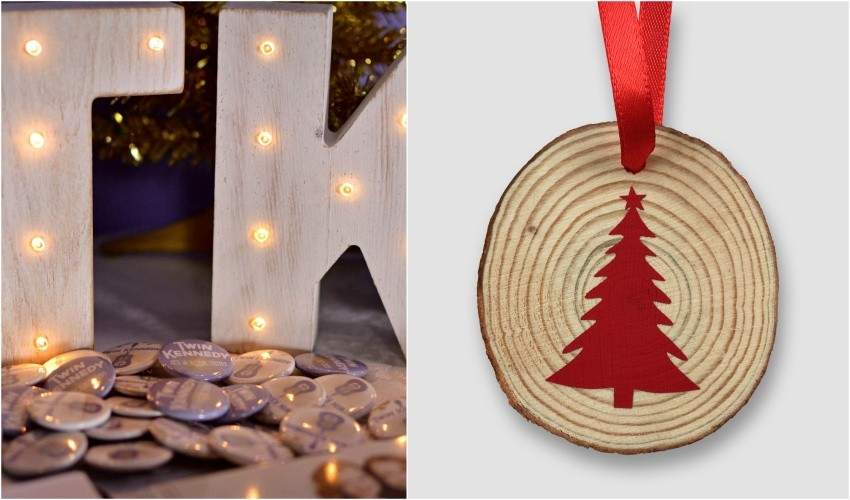 Whether you're a six year-old leaving a birthday party with a treat bag in hand or hugging your coworker after the company holiday party, everyone likes a little swag when walking out the door.
"As a special gift, all guests went home with a homemade Twin Kennedy tree ornament. We made these using circle-shaped wood slices to give the ornaments a West Coast vibe in honour of our coastal roots," explains Carli. "We painted a Christmas tree on the front side using a vinyl stencil and red chalk paint, and stamped the back of the ornament with our A Twin Kennedy Christmas logo. A shiny, red ribbon finished off the look. We hope that every Christmas, our guests will remember the release party--and listen to our Christmas album-- when they hang it on their tree."
People remember thoughtful, homemade gifts
If you're having a smaller gathering, or just want something to surprise family members with after a holiday dinner, try making a batch of this winter-spiced homemade Baileys and portioning it into small mason jars.
Fun finger foods will always reign supreme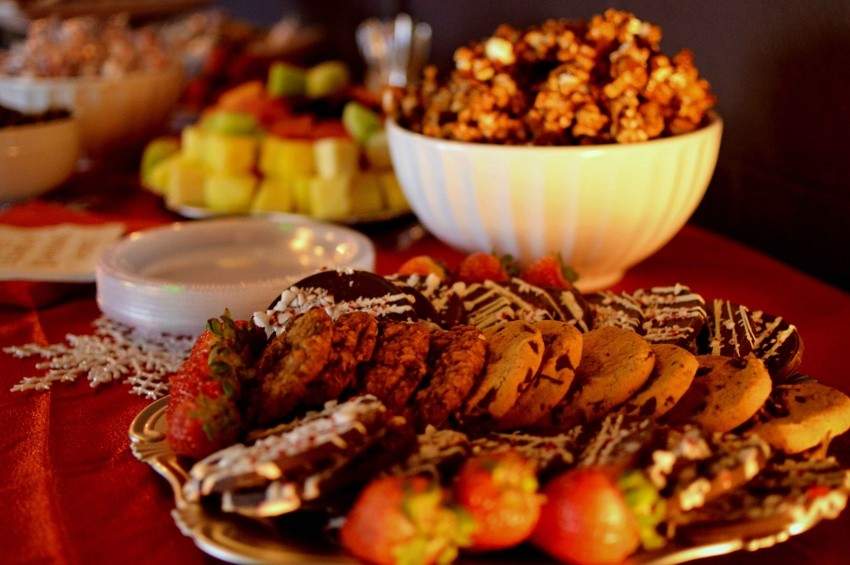 "We love serving platters of appetizers and Christmas goodies, including cheese and fruit plates, charcuterie boards, Julie's homemade dark chocolate caramel popcorn and Christmas cookie platters," says Carli.
Holiday entertaining food doesn't always have to be gourmand
Like the Kennedys suggest, food at a holiday cocktail reception doesn't always need to be showstopping two-bite culinary masterpieces. A smattering of simple finger foods that cover your bases (i.e. salty, sweet, crunchy, savoury) are easy for people to eat while conversing, standing around and holding a drink in the other hand.
Make a fun, memorable signature welcome drink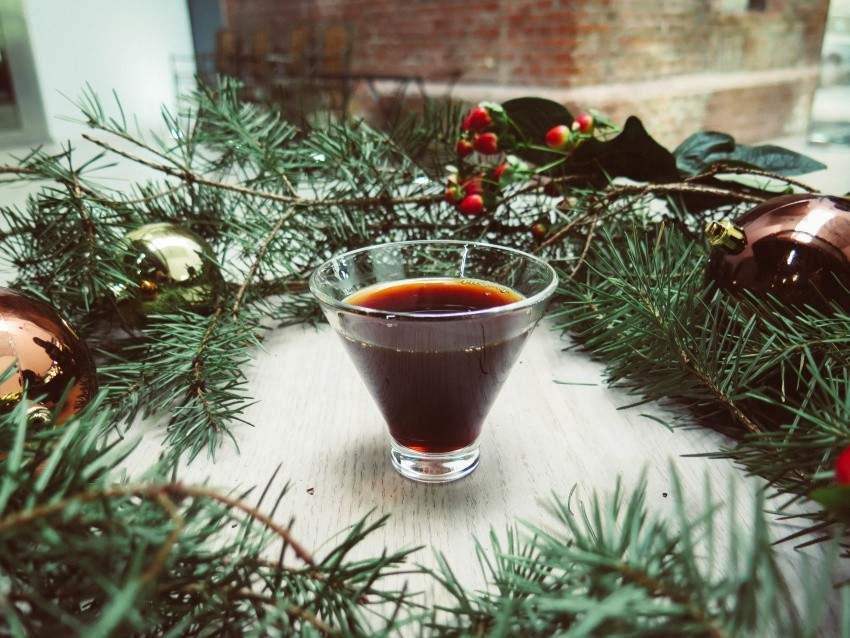 "Creating a memorable drink menu is a fun way to personalize your event. At the bar at our album party, we offered the usual red wine, white wine, and beer, but the most fun we had was coming up with two signature holiday drinks for the evening," explains Julie. "A Twin and Tonic and a Cold Fashioned in honour of our holiday single, 'Cold Weather'".
Come up with a signature holiday drink with a clever and fitting name
It doesn't matter if it's a simple spin on mulled wine like this one or something a bit more elaborate like an eggnog-inspired flip, having a "custom" drink to offer guests will get people talking and ease them into the party environment before moving onto their regular drink of choice.
Festive, but thoughtful, music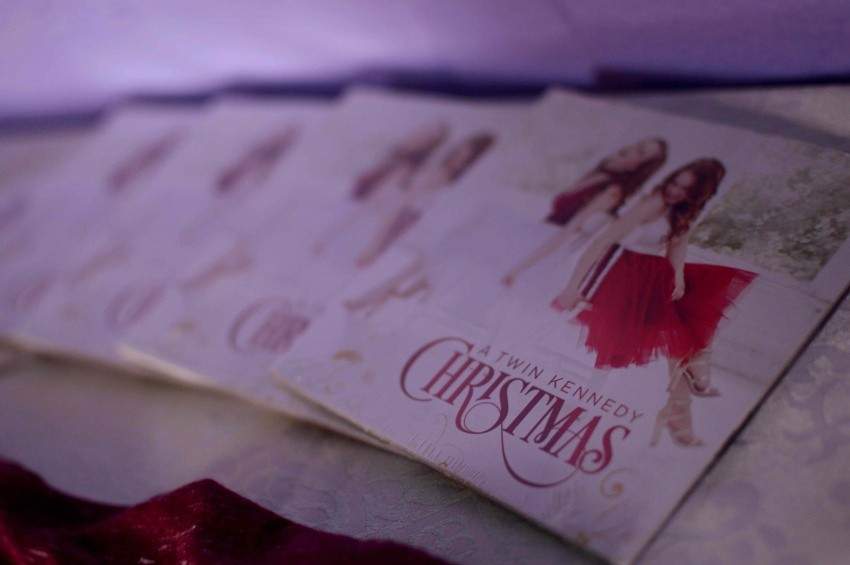 Last, but certainly not least, what's a holiday party without a solid playlist chock full of classic and contemporary Christmas music? Naturally, you can't skip classics like Mariah Carey "All I Want For Christmas Is You" or anything by Boney M (obviously) on a party playlist, but since A Twin Kennedy Christmas debuted in fall 2017, it's been on heavy rotation at Eat North HQ over the holidays.