I had not seen this look in a man's eyes in a long time. It was the look of a man who suddenly had everything to lose. His life's work was endangered and you could hear it in the quiver of his voice.
"Garrett, would you like to come to our charity event at Bridgette Bar and write a review on my food?" asked Dan Clapson.
This is the driver's seat I've been dreaming of for many years. While I've been fortunate enough to not have been dragged through the mud by Clapson's food critiques, the subtle undertone of condescension in his voice when telling me my food was "good" on occasion always felt a little backhanded. I suppose it could be worse–I'm still trying to figure out what Blake Restaurant in Canmore did to deserve the burning hell they were dealt at the hands of his column in The Globe and Mail–but maybe it's all in my head.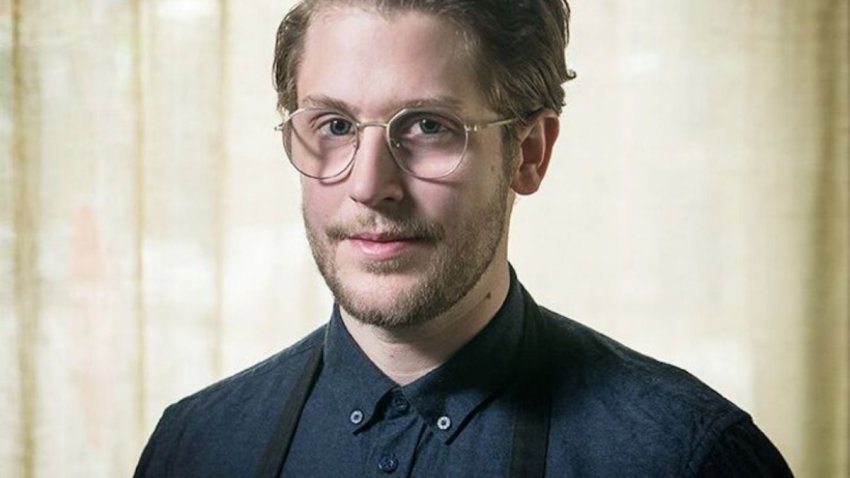 (Chef-turned-critic for a night, Garrett Martin)
It was now my turn to give him a taste of his own (hopefully) underseasoned and overcooked medicine. I was ready for this.
It felt strange, though, getting excited to light Dan up like a Christmas tree in a review of a dinner that was in benefit for Community Food Centres of Canada, where he was donating countless hours of work with the only payoff of helping the underprivileged.
Also, how was I going to execute this roast of a lifetime when I was also supposed to be reviewing Carmen Cheng, Dan's co-chef for the event? Everybody loves Carmen and, to my knowledge, she has no targets on her back like Clapson does. This was going to take some navigating.
Looking back on last Monday's dinner and after much contemplation, there's good news and bad news from the night.
The good news? Carmen and Dan raised over $4300 for Community Food Centres Canada to supply meals to those in need. Incredible.
The bad news? Dan is a better cook than I thought. I was going to have to really dig if I was going to shame him hard on his own website. Maybe I'll reach out to some of his exes. No such thing as foul play for me.
The night started with "The Sterling", a cocktail concept from Dan that contained Broken Spirits gin shaken with a rhubarb berry compote, lemon and soda. It was crisp and bright, albeit not strong enough to take me to where I typically like to find myself after 7 p.m. on a weeknight. Luckily, I always keep some moonshine on me.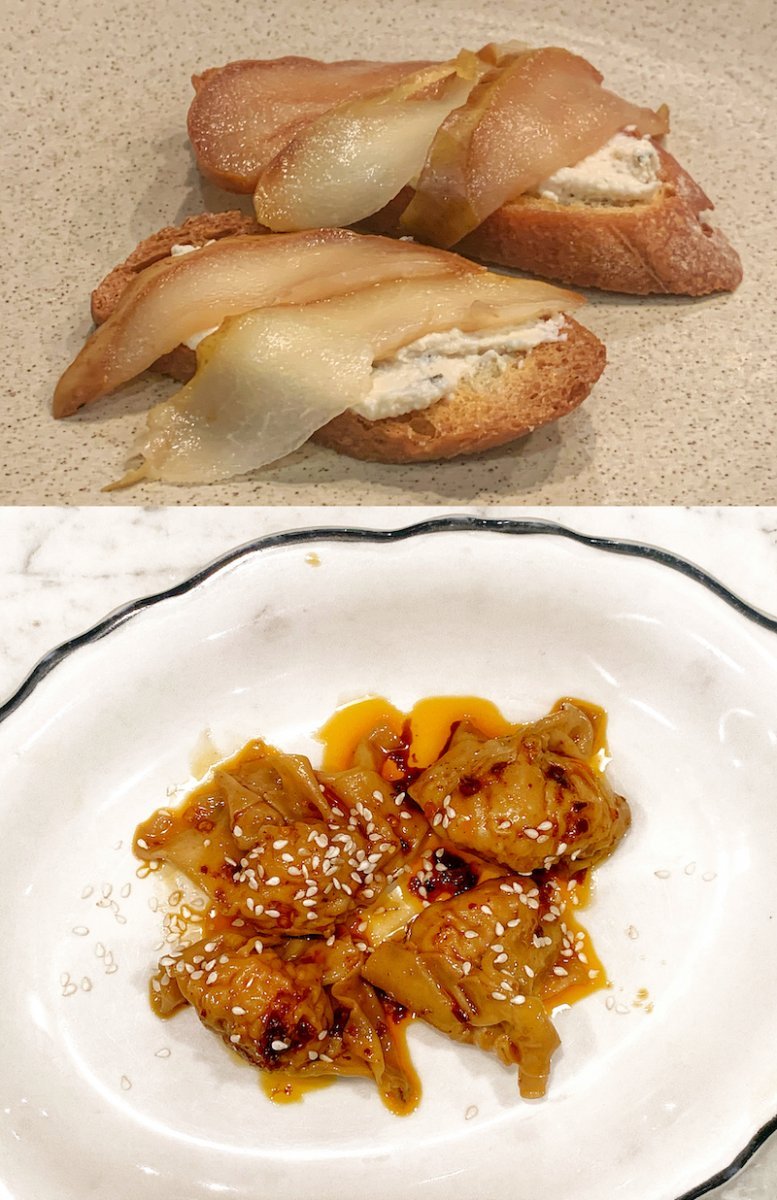 To go along with the cocktail, Carmen opened up the evening with some snacks. The poached pear and cashew cheese on crostini packed great acidity. While I'm typically dubious of any cheese alternatives, the cashew cheese brought everything back down to earth in perfect balance. It was everything you want in an opener - crunchy, salty, acidic and fatty.
What followed was my favourite bite of the night: pork and vegetable wontons adorned with her homemade chili crisp oil, a recipe that had been passed down from her grandmother. I loved them. The wrapper offered just enough chew to suspend the juicy, porky interior and the umami and hint of spice coming from the oil was a thoughtful touch.
Grandma Cheng, wherever you may be at this moment, I salute you.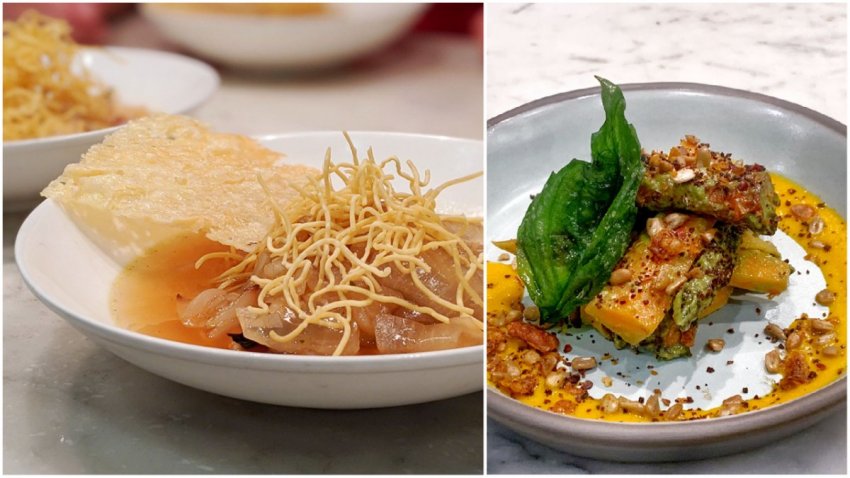 In an attempt to not be outdone by Carmen, Dan's first course arrived: an amalgamation of Taiwanese Beef Noodle Soup and French Onion Soup...of sorts. The soup had a beautiful sourness that lifted the rich, sweet, braised shallots to life. To nitpick, the dried noodles and crispy parmesan frico on the side partially absorbed into the broth just enough to straddle the line between not-quite-crispy and not-quite-soft, a strange purgatory that my wife and I didn't love. Thanks to the impressive broth, we still loved the soup. (You saved yourself here, Clapson!)
Next up from Dan, a degustation–and with that, I've exhausted all the big words I know–of carrots. I stopped counting after three variations, but there were at least roasted carrots, pickled carrots and a carrot purée. A tart sprinkling of a "gremolata" made with roasted sunflower seeds crushed with sumac and fried carrot skins, green goddess dressing and some crispy basil carried the carrots to the finish line.
Despite my personal qualms with fried herbs, this was my favourite of Dan's dishes of the night. The crunchy carrots and the sour sumac became inseparable friends and were gracefully tamed by the spiced carrot puree.
Following the carrots was Carmen's D-I-Y lettuce wrap platter, with tender pork belly, shredded chicken and typical Korean bossam accoutrements. My wife and I agreed that the pork belly was the star of this plate. There are few bites in this world better than pork belly, kimchi, rice and lettuce and that's a claim I'll take to the grave.
Slightly confusing me were the shavings of totally raw garlic on the side, but upon further fact-checking, I found this to be a mainstay on bossam platters everywhere in Korea, so we'll chalk this up to cis white male ignorance. Regardless, it was delicious and if Carmen can forgive me for my uneducated raw garlic comment, I'd happily eat this dish from her again.
To close out the menu, Dan's take on rice pudding hit the table after a long wait. Normally, I would have no comments regarding timing during a one-night-only pop-up, but it would be a terrible omission on my part not to mention that the hold up came as a result of Dan hilariously (and accidentally) trying to brulee the rice pudding using salt, not sugar. It would be irresponsible of me to keep this a secret.
At any cost, when the pudding with coconut, reconstituted dried fruits, bourbon and sesame finally arrived, it was a satisfying end to our night. The nutty sesame and chewy fruits were perfect together, giving a craveable contrast to the soft, sweet rice. Coming in with a strong left hook was the heavy addition of salt, which caught us as off guard as any excessive punch of salt would for a dessert. Luckily for Dan, I'm a big fan of salt and won't hold this against him.
After dessert, I looked at my wife and conceded that Dan was a better cook than I wanted him to be. It was a humble, lowly point that I don't want to feel again in my lifetime. So was Carmen, of course, but Dan was good and that was a tough pill to swallow.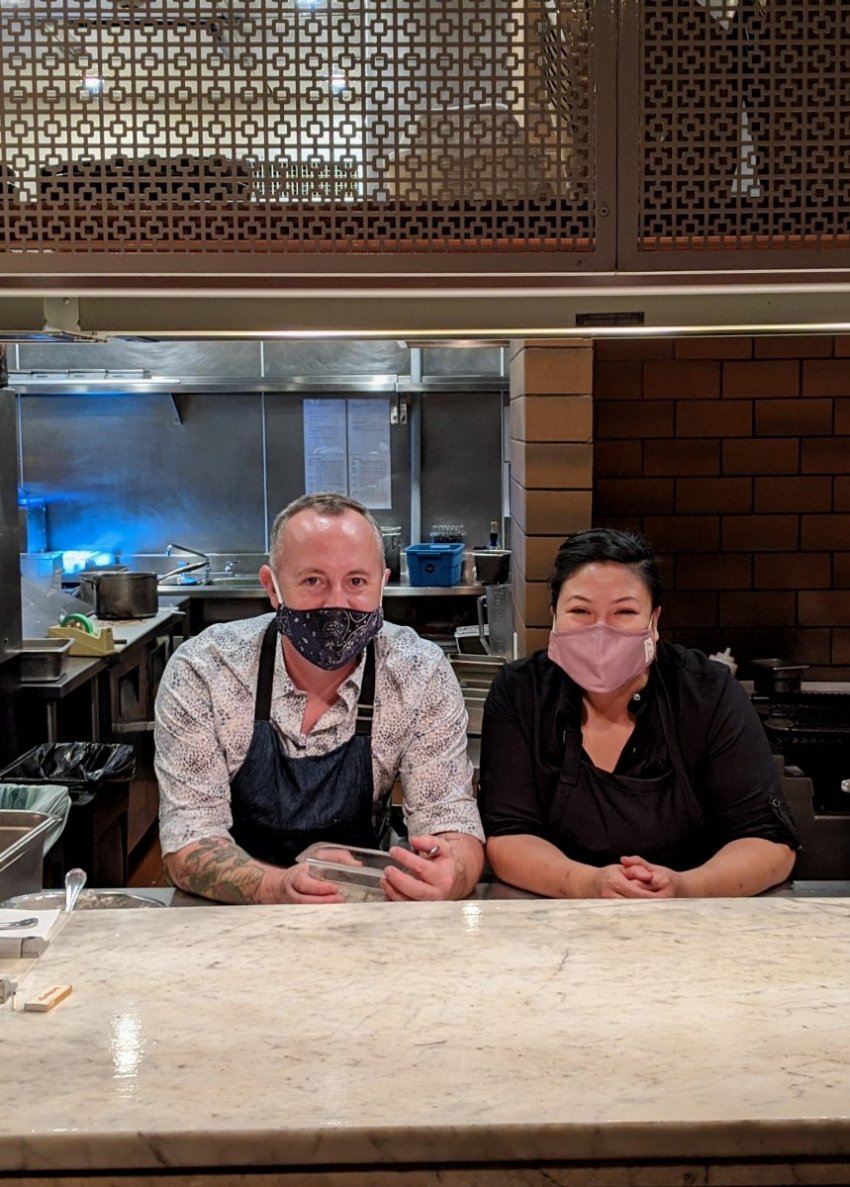 I thank both food writers for a delicious night, letting me share my thoughts on their cooking. I also pray that they will show mercy on me when they find themselves eating my food in the future.