There are many ways to share a message of peace, but Nova Scotia-based chocolatier Peace by Chocolate has devised the most delicious, perhaps, through a bar of chocolate, labelled with the word "peace" in different languages.
The first Peace Bar was released on Friday April 27, with a brightly coloured label, reading Wantaqo'ti—the word for peace in Mi'kmaq, the language of people indigenous to Nova Scotia and the Atlantic provinces.
The peace bar has also been released in French, Punjabi and Arabic; and the company has plans to introduce them in 20 more languages this month, including indigenous languages from across Canada.
The chocolatiers behind the Peace Bar are the Hadhads, who arrived from Syria as refugees just over two years ago, to the small university town of Antigonish, located in North Eastern Nova Scotia.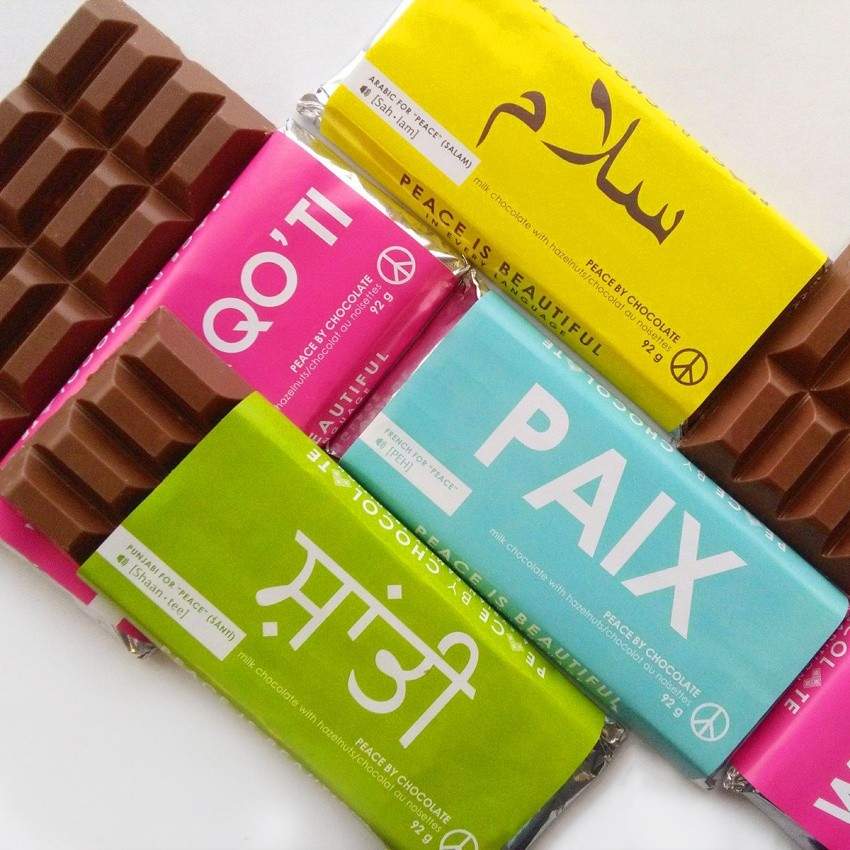 In Damascus, Assam Hadhad ran a successful chocolate business with 30 employees. His factory was destroyed by war, and the family spent three years in a refugee camp before moving to Canada.
Within weeks of arrival, the Hadhad's eldest son, Tareq, a medical student who is fluent in English, set about re-establishing his father's chocolate business, with the support of the local community. Eight months later, Peace by Chocolate was up and running, from a small garden-sized shed that could hardly keep up with demand from local markets.
In September 2016, Justin Trudeau told the Hadhad's story in a speech to the United Nations, bringing notoriety to the family and the business. One year later, the small chocolate-making shed was exchanged for a fully operational chocolate factory, which now employs more than 20 people.
The Peace Bar itself is made with creamy milk chocolate and crunchy hazelnut pieces, and will be available in Sobeys stores in Atlantic Canada and Ontario, and on the company website, for $4.99.
If you're wondering whether you should try one, simply heed the company's slogan and registered trademark: "One peace won't hurt"!