The Amazing Race Canada has launched Season 7 and viewers are in for yet another whirlwind journey as teams compete to win this year's title. Over the years, viewers have become accustomed to seeing the energetic and engaging host, former Olympian Jon Montgomery, greet competitors at every location. Despite the hectic schedule, we were able to chat with him about the show, his role as host--AKA the best job in the country--and his love of fried chicken.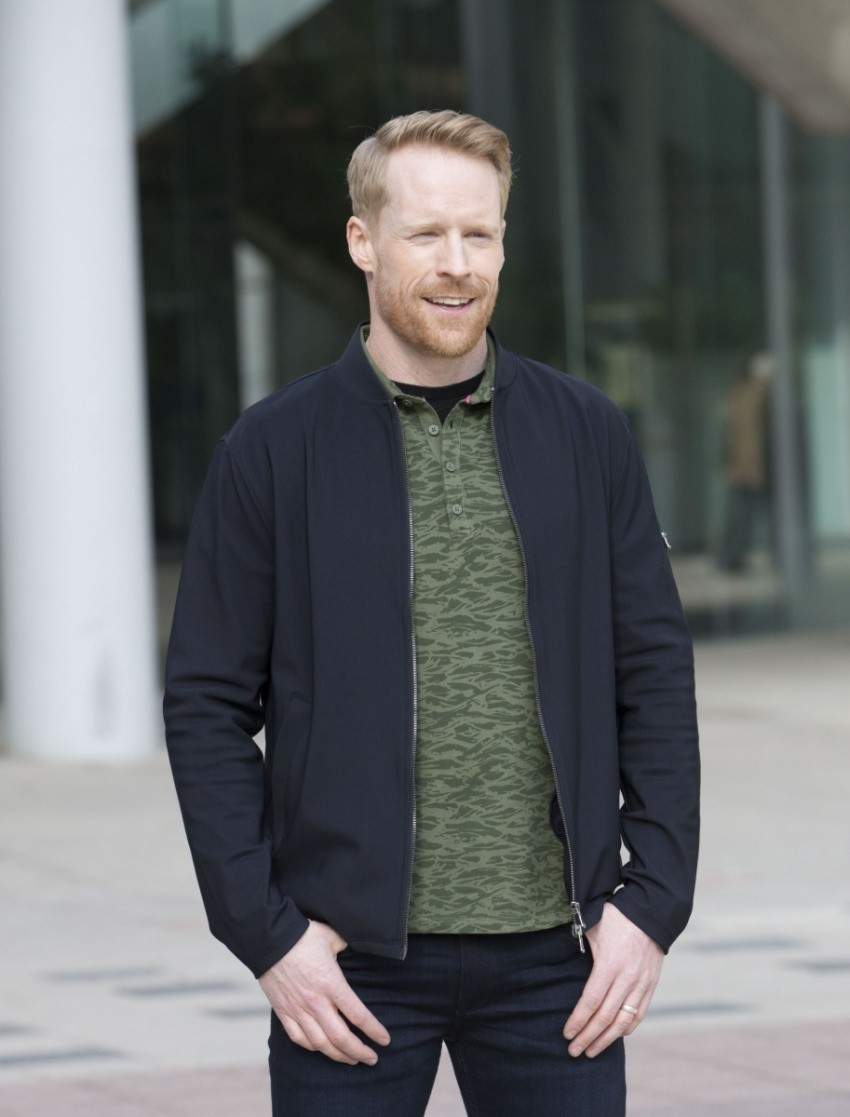 As a celebrated Olympian, did you ever think you would be hosting an award-winning adventure show?
No, I hoped. I was always like, "That would be awesome! I wonder what that guy did to get that job?"
I have no idea how I was fortunate enough to be able to audition for this particular role and I'll never look a gift horse in the mouth or think about it too long.
What keeps you coming back year after year?
The sheer privilege of the role. There honestly might not be a better job in the country, and I use the word "job" as a descriptor very loosely. This is not a "job: It is very difficult in the amount of time and energy it takes to do it, but there is not a single moment during shooting where I feel sorry for myself.
I'm just riding on adrenaline and enjoying the moment because it is so unique and such a privileged position to be a part of the team. That is what keeps me coming back.
Of all the locations that you've had the opportunity to visit in past seasons, which is your favourite?
I love any time we get to go to the north. One place that resonates with me because I hadn't had much experience in a place like it before is Nunavut. And the Yukon Territories are always awesome. When we were in Dawson City, it was a trip thinking about that period of time when people the world over were traipsing to this inhospitable location with hopes and dreams of finding riches and making it. You see the pictures and you can't fathom how people found themselves there. The people in those pictures were probably thinking the exact same thing… How the hell did we end up here? There is just something about the north.
Any food highlights from when you were up north?
We've eaten fish up there in the past and it is always local and fresh and it just seems like it is on another level. It's probably a mental thing, but knowing that it's local, fresh, and probably caught earlier that day adds an element of deliciousness to the fish.
What is the strangest thing you have eaten on your travels?
On the show, I ate narwhal muktuk (frozen skin and blubber). I've also eaten bugs and all kinds of nastiness like that.
Not related to the show, my wife ate a goat's rear end in Uganda. We are fairly certain of that. It was chewy and she took it out and it looked a little "bunghole-ish".
Have you come across any great places to dine while shooting?
There are four of us in the host crew—Rob (director), Mark (head sound engineer), Don (shooter), and me—and we would advance the racers all the time. This season, Rob did a great job of scouting and pre-scouting and asking the local producers where to eat, and we did make a point of going out and trying the local food scene in every city or town we visited. Man, we ate from tip to tail across this country and it was amazing, amazing food.
I can't give any details and give away locations for this season, but I will say the food scene in Canada is remarkable and young folks are at the helm of the turning of the tide for these cities and towns we found ourselves in. Maybe it's because I am getting older and I'm seeing these 30- to 45-year-old proprietors who are injecting energy and passion into their respective communities in terms of food options. Just amazing, talented people bringing good food to the table using local producers. There's a real movement of sourcing, using, and celebrating local. Every time we were treated to something like that in these communities, we were not let down. All of the great dishes we were treated to this season were phenomenal. There is movement afoot, something is happening in this country's food scene.
Any go-to snacks when you're on the road for The Amazing Race Canada?
I fuel my brain with medium-chain triglycerides and am all about the fat coffees. That is what keeps my brain moving and motivated.
I am so surprised that, as an athlete, I did all this training over the years and I knew that nutrition was important, but it wasn't until I had to deliver a line to the camera that I realized the absolute importance of nutrition. If I had gone all day without eating, we would get to a point where I couldn't deliver a line to camera. Now, I'll make sure I have a Clif Bar with me. If I eat that, I instantly have enough mental acuity and fuel for my brain to deliver the line.
Is there a bucket list location you would like to see the show visit?
I'd love the show to go home to where I grew up: Russell, Manitoba. It's podunk, and I would love to show the country why I am so proud to be from Russell, Manitoba. It's a bit difficult to get to with it being 300 km from Winnipeg, but maybe we'll find ourselves in Russell some day. It would be a hoot!
You spend a fair amount of time in Toronto as a result of being part of the show. Do you have any favourite places in the city you like to dine at when you are in the city?
This season, I spent about five days in Toronto, getting ready for the road and I was by myself, so I was going on solo food missions. One mission was to find the best poutine in town and I was taking Ubers all over the place. I ended up at Leslieville Pumps for brisket and poutine at a gas station. I didn't know what the pumps were, but I was like, "Wow, they are the actual gas pumps!"
I didn't realize I would be eating food at a gas station. And man, I was not let down, the poutine and brisket were bananas. It was great poutine.
I was also seeking out fried chicken and one of the best spots I found is Twist by Roger Mooking at Toronto Pearson International Airport.
They do a chicken breast and it's got some heat on it, a dusting of some cayenne or pepper. It's delicious.
You are infamous for enjoying a pitcher of beer while walking through the streets of Whistler and have collaborated with Old Tomorrow, an Ontario Craft Beer company to create Monty's Golden Ryed Ale. Do you have any plans or interest to collaborate on other beers or beverages?
I'm always open to collaborations and anytime someone wants to work with me on anything, I jump at the opportunity to be creative. I am trying to do things that demand these creative juices and flex creative muscles that I maybe didn't believe I had before.
Any final words to our readers about The Amazing Race Canada Season 7?
Check it out! Tuesday nights at 9:00 p.m. on CTV.