One of the largest theatrical productions in the world, Cirque du Soleil dazzles audience with its elaborate sets, energetic music and jaw-dropping acrobatics.
Each show tour has more than a hundred staff, crew and performers involved in set up, tear down and production.
All this can work up quite the appetite. That's why Cirque de Soleil has a team of chefs permanently travelling with the group on tour. This teams runs a fully equipped on-site kitchen tent that's strictly dedicated to cooking.
At the helm of the culinary circus is kitchen manager Paola Muller. She's been with the company for almost seven years, since they day Cirque approached her in her hometown of Brazil. She worked as line cook, continued travelling to a few cities and the rest is history.
"It's exciting to travel. It's full of action, compromises and of course, challenges. You have to adapt to many different situations, cultures and train rotating kitchen staff in each new city," says Muller.
What's served each day under the big top depends on where they are in the tour. Set up and tear down days call for outside barbecues.
Once set up is complete, Muller and her team run two kitchen shifts to keep everyone fed and things running smoothly.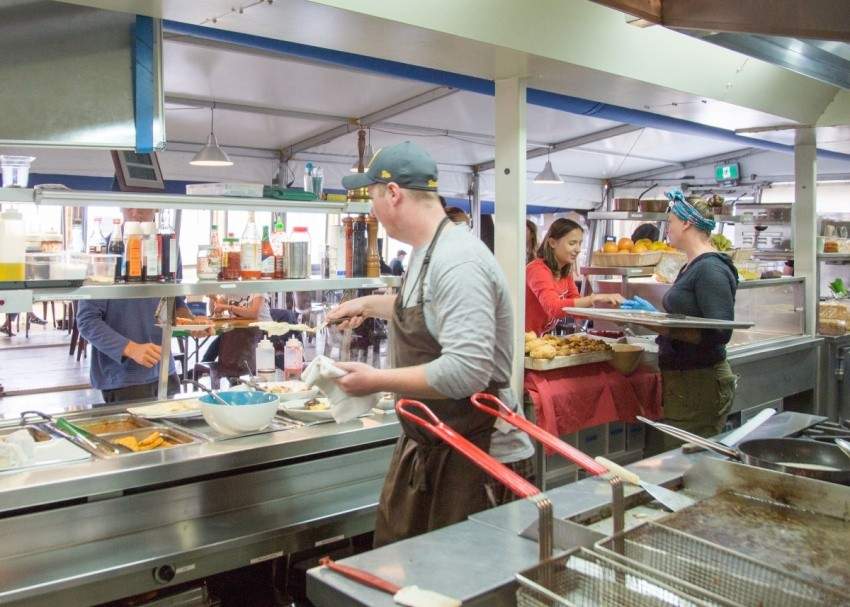 The food tent serves breakfast, snacks, hot lunches and dinner, while a cold bar is available throughout the day, along with homemade soups and fresh breads.
Muller says they go through about two to three thousand pounds of food a week.
"We work as a well-oiled machine. We have people from 22 different nationalities travelling with the show and we do have to consider diversity into our menu planning. Some people are lighter eaters following a stricter diet plan, while others are not. We try and accommodate the best we can," says Muller.
The kitchen team meets weekly to discuss menu planning and determine what ingredients are in season locally.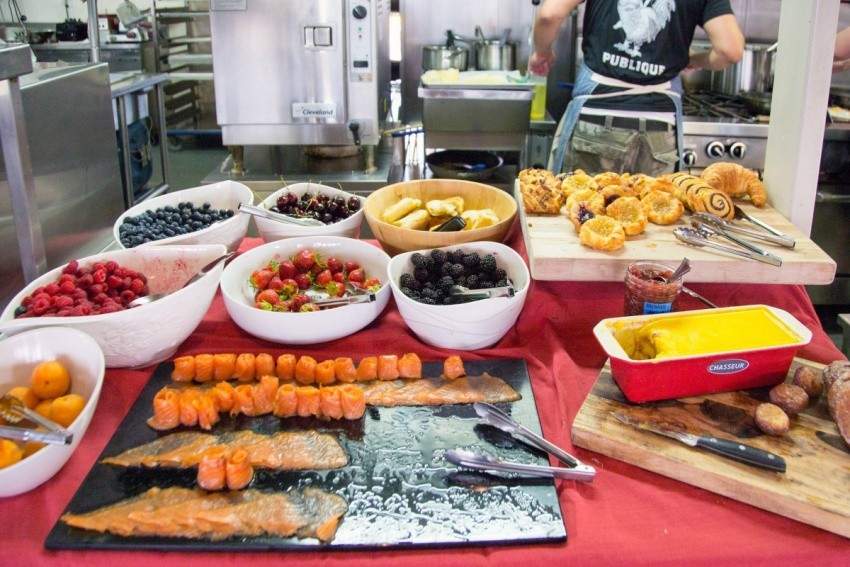 Chefs typically serve two protein options for lunch and dinner, which could be fried chicken on one day and a lighter steamed fish option on the next day. Meals also consist of one starch, vegetable sides and a variety of salads. Vegetarian, vegan or other dietary restrictions can also be accommodated for each meal.
Acro Net artist, Nathan Dennis, says it's a huge convenience to have a team of chefs cooking their meals.
"With our busy training and show schedule, we would not have time to prepare the majority of our meals. I feel if we didn't have the chefs, a lot of artists wouldn't eat healthy and it would affect their performance," explains Dennis.
Dennis doesn't follow a specific diet, but tries to eat as healthy as he can. He says he contributes his high endurance during the shows to the food he is fueled with, CrossFit six days a week, and a good night's sleep.
And although the group is constantly travelling, they do get a break. Muller returns home to Brazil once a year.
"This group is like one big family. You build very close relationships with each other. I've been touring with the same group for more than three years. My husband is also part of the kitchen crew, which can have its ups and downs," says Muller, light-heartedly.
More than just her sentiment for the group, Muller truly has passion for her job.
"The kitchen brings people together. My team has the freedom to be creative when putting together menus. Each different city or country gives us the opportunity to cook with ingredients some of us have never used before. Food is fuel. I never get bored."