It tastes like cookie dough, but made with chickpeas. Chickie Dough is a sweet treat that you can actually feel good about eating.
The product was created by two Edmonton dieticians and has since been taken over by Debbie George, Amanda Moledina and Alissa Liska.
Removing the fear of eating raw eggs from typical cookie dough, the chickpea "dough" is gluten free, dairy free, preservative free and vegan. The best part is, there's no lack in taste.
The two classic flavours offered each week are peanut butter and chocolate chip. There's also a featured flavour of the month, like banana bread, s'mores, Nanaimo bar and lemon coconut. To get continual inspiration, these chickies continue to work on creating new flavour bombs by reaching out to customers on social media.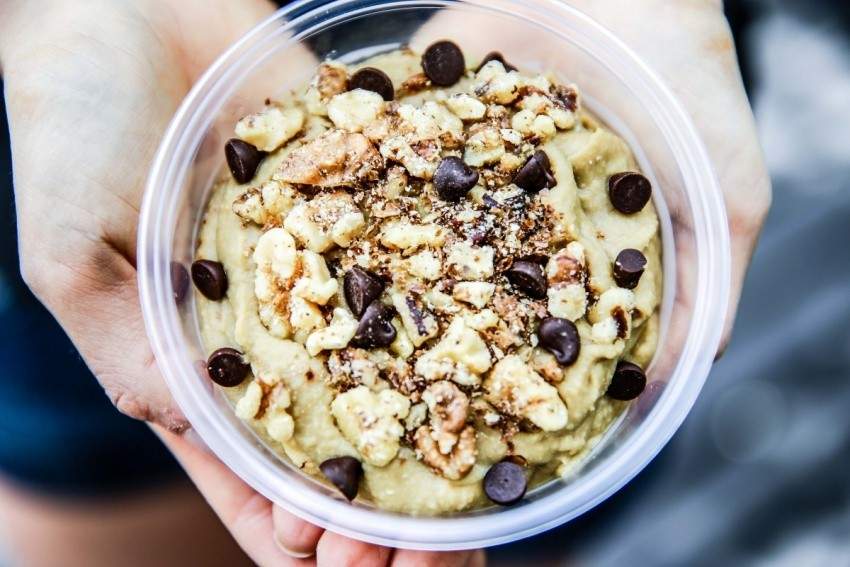 Liska has a holistic nutrition background and says this dessert style hummus is a nutritious option when craving something sweet. "Chickpeas are high in fibre, protein and low in fat."
Unlike after eating a bunch of cookie dough, you can crush a whole container of Chickie Dough and not feel sick.
For Moledina, it's her sweet tooth the drew her to this product.
"I get a sweet treat that is filled with healthy nutrients, so I feel full longer than with most other treats," she says. "I also love that I don't feel guilty feeding it to my children. They can enjoy this as a treat too."
With so many flavours, it's not easy to choose a favourite. Just ask George. "Can I really have just one? If I absolutely have to choose, it would be chocolate coffee because it pairs two of my addictions! However, we have a lot of delicious new recipes planned so this could change."
Chickie Dough pairs well with fresh fruit, crispy rice cakes, pretzels and dried fruit. Some of the ladies' go-tos include apple slices and banana chips, and they love adding it to smoothie or scooped right out of the container on its own.
Of course, it's not all about the tasting. Someone's got to do the heavy lifting. Each week, this trio rotates the workload. Two members of the chickie team mix up the product and the other runs the table at the farmers' market.
"The first week we were in business, we sold out. However, we didn't make that mistake again. We have slowly increased the amount we make per week," says Liska. "We now have so many regular customers and it's such a great feeling."
The ladies whip up more than 100 containers of the guilt-free stuff each week. Usually about 25 peanut butter, 50 chocolate chip and 60 of the monthly feature.
Team Chickie Dough hopes to expand in 2018. But until then, you can find them every Saturday at the Old Strathcona Farmers' Market for your Chickie Dough fix.