Yellowknife, capital city of the Northwest Territories, is located in the sub-Arctic wilderness just north of Canada's 60th parallel. Its history of trappers and traders, miners and daring bush pilots is the stuff of legends. You have to be tough to make it in "The Knife", something Robin Wasicuna knows firsthand. He is a towering man, peppered with piercings and painted with tattoos. He is known for his colourful language and quick temper—two things that simultaneously appear if someone has the audacity to ask for an alteration to his menu.
That's right, menu. Wasicuna is not a trapper, a trader, a bush pilot or fisherman living in a cabin on the shores of the Great Slave Lake; chef Robin Wasicuna is the man behind Wiseguys Foods. For the past five years, he's been serving tantalizing fare out of a trailer, which, arguably, remains the most popular of the half-dozen food trucks on Yellowknife's streets. So popular, that the success of the trailer has now led to the opening of the Twin Pine Diner, allowing Wasicuna to keep feeding 'Knifers year round.
The food trailer first appeared on the streets of Yellowknife in 2011. Hungry 'Knifers knew a good thing when they tasted it and soon, long lineups snaked around the property. Like their creator, the fresh-ground chuck burgers have attitude; the Lil' Kim, a burger patty topped with bacon, kimchi, cheese and smoked mayo set tongues wagging and taste buds tingling; the Numbnuts with peanut butter, bacon jam, cheese and burger sauce is an odd and surprisingly well-received item; but it's the Evergood that keeps the people coming back for more. Why? Because when you bite into that hefty burger, you can't help but say, "Is this ever good!"
His refusal to budge on menu alterations is a mandate that rankles some customers, but Wasicuna is on a mission to bring creative food—"Food you can respect," he says—to Yellowknife. Those who are familiar with his creations can testify that this wise guy has the instincts to know what to do with any food put to him. It is why, to this day, that losing out in 2013 Chopped Canada's dessert round still bugs him. "I didn't trust my instincts. I knew better but I went against my gut."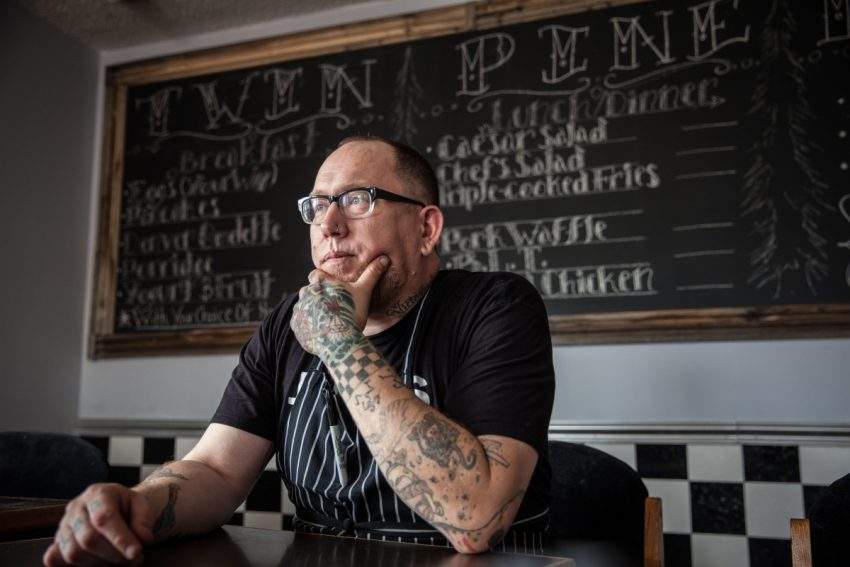 His talent has been noticed countrywide. Celebrity chef, Chuck Hughes, listed Wasicuna as one of his five favourite chefs. When Justin Trudeau and the Liberal party arrived in Yellowknife, they hired Wasicuna to feed them and in 2014, he was the star of a chef collaboration between Top Chef's Richard Francis, pulling off a flawless dinner by himself after Francis disappeared on the second night of service— leaving 60 people and Wasicuna high and dry—not that the diner's even knew it; all they knew was that they experienced culinary perfection from where they sat. And, despite having a somewhat bitter taste left in his mouth after Francis' sudden departure, Wasicuna would jump at the chance for other chefs to collaborate with him in his boreal backyard.
"Working with and learning from other chefs is critical", says Wasicuna, "If you close your mind to food knowledge and techniques, you'll fade away."
It is why he jumped at the chance to work with four other chefs at a culinary event called Northern Food Night near Edmonton this past April. Under the guidance of the Governor General's chef, Louis Charest, Wasicuna—along with Chopped Canada winner Dilan Draper of Calgary, and Ryerson University executive chef, Joshna Maharaj—worked with northern proteins like walrus, musk ox, whale meat, whale blubber, ptarmigan and Arctic char to create a multitude of dishes for 50 people attending the private event. Wasicuna created a dish of black bear meatballs with moose meat chutney, something that has probably never seen the light of day before on a menu.
After parking the food truck for the winter, Wasicuna honed his chops at a temporary space called Numbers at Bayside in a lakefront bed and breakfast, where he served up comfort food with northern flare: ling cod fritters with cranberry, juniper aioli and capered spruce tips; house Caesar salad with smoked oyster dressing and chicharrones; and spicy Tennessee tandoori-fried chicken with cilantro-lime buttermilk crema.
Local residents were catapulted into a culinary dimension never explored before, and the acceptance gave Wasicuna hope that the people were ready for more. He had the winter to stew over the idea of operating in a permanent space, and in July, the 20-seat Twin Pine Diner opened its doors. The space is cozy and comfortable, and the food is what they've come to expect from this northern trailblazer: Scotch egg with boudin sausage; picked onion and remoulade: pulled pork waffle; fried chicken and meatloaf; and his riff on fish and chips using fresh-caught ling cod served with patatas bravas.
Though the menu at the diner is far from what's offered out of the food truck, the owner's, shall we say, "charisma" will be ever present. Will he accommodate customer's requests for modifications? Probably not. Should they trust him? Absolutely.
Pulled pork waffle photo from Twin Pine Diner Instagram feed by James Mackenzie.