There is no shortage of annual "best" restaurant and bar lists across Canada (local, regional and national), but, oddly, there are very few that celebrate people operating in different capacities within the culinary scene.
For years, Western Living's Foodies of The Year awards have done just that. Somewhat similar to Air Canada's enRoute's Canada's Best New Restaurants format, the magazine first releases a long list of nominees--40, to be exact--while announcing its final ten a little further down the road. To come to the long list of 40 finalists, the magazine does an open call for nominations from the public and seeks out insight from different food and drink experts across Manitoba, Saskatchewan, Alberta and Manitoba.
"We're so lucky to live in a place with such an incredible food scene that's so focused on celebrating local ingredients and building community," says Stacey McLachlan, executive editor of Western Living and Vancouver Magazine. "This year's list of finalists embrace that spirit wholeheartedly. It's always incredibly difficult to narrow down our longlist to these top 40 names, but it's a thrill to spotlight those who are making Western Canada a vibrant, delicious place to live, with cream puffs and craft beers and everything in-between."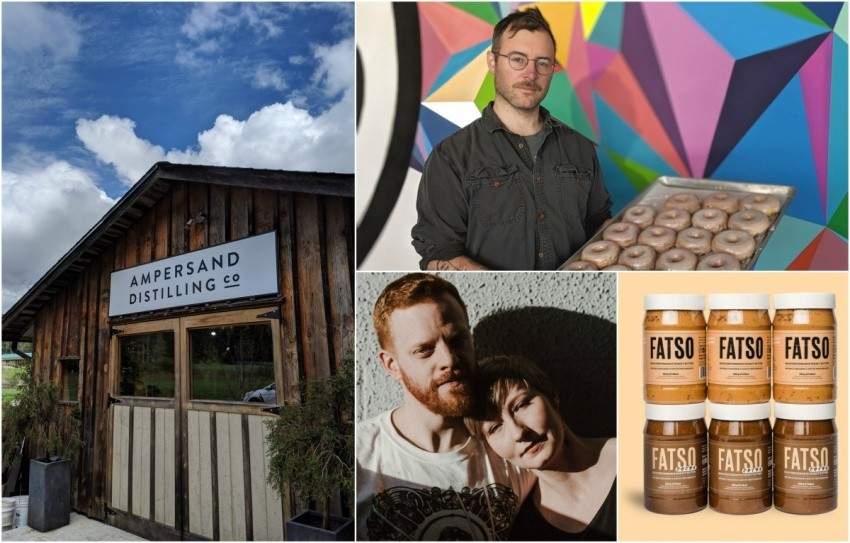 (clockwise from top right: Bryn Rawly, Fatso Peanut Butter, Beth Rogers and Thayne Robstad and Ampersand Distilling Co.)
This year, the list runs the gamut, including the award-winning Vancouver Island distillery, Ampersand Distilling Co. (their newest release, a dry vermouth, is currently getting plenty of buzz); Victoria-based Jill Van Gyn, owner of Fatso Peanut Butter; Richmond's Woody Wu, managing partner of Origo Club; Kevin Kent, author and owner of the Japanese knife store chain, Knifewear; and restaurateur sister duo, Raya and Carolina Konrad, owners of one of Canada's best brunch spots, Clementine.
Saskatchewan in particular has plenty to celebrate this year with nods to restaurant-owning couples Thayne Robstad and Beth Rogers, and Arlie and Brett LaRoche (of Hearth and Odla, respectively); as well as bakers Bryn Rawlyk (The Night Oven, Darkside Donuts) and Blessing and Joe Obirai, who own BeeRain which offers up Nigerian-style baking, snack foods and more.
The top 10 finalists (i.e. the "Foodies Of The Year") will be announced online on July 12, 2019 as well as in Western Living's July/August issue.