This past weekend was a bittersweet one for Saskatoon's food scene as the award-winning Hearth Restaurant had its final dinner service in its original location on Melrose Avenue.
It was announced in late 2022 that the restaurant would be moving into the Remai Modern, with chefs Thayne Robstad and Beth Rogers and general manager Tina Thorsteinson taking over the museum's food and beverage operations as a whole. Renovations in the museum are nearing completion, and the team is readying themselves for a same-same-but-different Hearth in downtown Saskatoon.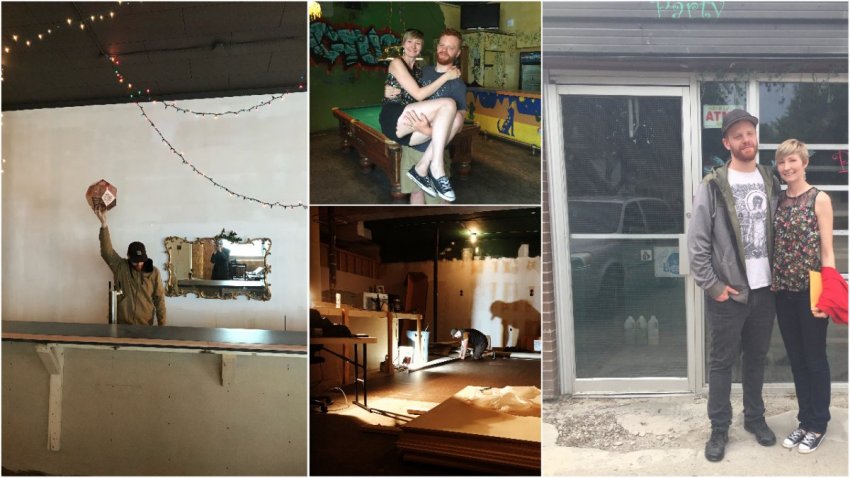 Thayne Robstad and Beth Rogers in 2017 shortly after taking over the original Crazy Cactus space and then during mid-renovations as they brought Hearth to life.
Hearth opened in 2018 to much fanfare locally. It quickly garnered plenty of attention nationally after being long-listed in enRoute's Best New Restaurants list and has become a favourite of locals and tourists ever since.
Hearth Restaurant's co-owners look back fondly on their first restaurant space
"Saskatoon will always be my weird and wonderful hometown. Opening and operating this restaurant over the past 4.5 years was a ;wild ride filled with highs and lows. Watching it grow to become something so much bigger than us has been beautiful," says Robstad.
With the move from Melrose Avenue to the Remai Modern comes a larger dining room, a sizable riverfront-facing patio and regular event catering for the museum's wide range of private and public events. There's no doubt that the Hearth team is up for the challenge.
"It feels like I'm graduating eighth grade," jokes Rogers. "This is how we are going to grow, learn and do more as a team, but a little piece of my heart will always be on Melrose."
"Leaving Melrose is sort of like upgrading from my first car. I feel a bittersweet nostalgia about all of the memories and who I became there, but I'm so excited about all of the opportunities for the business and for staff to grow to their potential in fulfilling careers," adds Thorsteinson.
Regardless of the "upgrade", Rogers, Robstad and Thorsteinson seem detertimed to keep the same atmosphere and charm their original eatery exuded.
Hearth 2.0 is located at 102 Spadina Crescent inside the Remai Modern. For updates regarding its official opening date and operating hours, follow the restaurant on Instagram: @hearth.restaurant.