As these odd times continue to leave us feeling frustrated and restrained, at least we can look to music to help take our minds off of things a bit. Whether you're in the kitchen or grilling in your backyard, adding some Canadian-made music into the mix always makes a meal that much more enjoyable.
From a stunning new cover of a Canadian classic by Celeigh Cardinal to Mariya Stokes' uber-catchy country single, here are 10 new songs that we've added to our Spotify playlist and that you should have a listen to.
Alanis Morissette - I Miss the Band
The stripped down, heartfelt ballad "I Miss the Band" is all about missing live music from a musician's perspective. Whether you're in the music industry or simply a fan of live music (who isn't?), it's very easy to relate to what Alanis is singing about here.
Celeigh Cardinal - Ahead By A Century
Come through Celeigh Cardinal with a beautiful re-imagining of The Tragically Hip's "Ahead By A Century". Light and upbeat, the warm tones from the band plus Cardinal's rich, soulful voice makes for a song that you'll want to hear again and again.
We can expect new original music by the Edmonton-based singer come the summertime too, which is exciting!
Fionn - Let Me Go
Any time Vancouver duo Fionn drops a new song, we know it's going to be a bop. Their latest "Let Me Go" is no exception and captivates with plenty of synth, beats and siren-like harmonies that the twin sisters are known for.
Their new EP Candid Constellations will be released on May 21. Bops for all!
Justin Fancy - Makes Me Wanna
We love ourselves a good quality country track and that's exactly what Justin Fancy is delivering with his second single from his debut album (released in 2020). As upbeat as it is, "Makes Me Wanna" is actually about missing someone, but we'll chalk it up to a fun summer tune anyway.
Check out the music video for the single that Fancy just released last week.
Lhasa Petik - Here and Gone
The new single from Winnipeg bedroom pop artist Lhasa Petik definitely offers up some Lorde vibes in terms of tone, but sets itself apart with some pretty cool phrasing throughout. Petik created "Here and Gone" from start to finish by herself, making it all the more impressive.
Mariya Stokes - Break My Heart
A song about love at first sight, but make it less cheesy. Award-winning country singer Mariya Stokes' brand new tune "Break My Heart" is all about falling in love with a bartender she just met and we love that kind of fast and furious love.
Missy D - Rollin'
In her new single, Vancouver-based hip-hop, rap and soul artist Missy D sings about the highs and lows of life–especially when it comes to the past year–and how it's important to roll with the punches and to never give up. "Rollin'" is a great blend of rap and R&B with plenty of impactul lyrics to relate to.
Ralph - Tommy
It's always a great day when Ralph debuts a new song. "Tommy" is all about being hung up on a missed connection with someone and the song itself is catchy as all hell.
If you need us, we'll be listening to Ralph's single on repeat and reenacting the epic Marie Antoinette-inspired music video she released concurrently.
Ruth B. - Situation
Perhaps better known for her folky, piano-driven tracks, it's cool to hear Ruth B. lean more to a R&B sound with her new single "Situation". The talented Ethiopean-Canadian singer's velvety voice glides overtop of beats and chill piano chords throughout.
Her new album Moments In Between drops on June 11.
What If Elephants featuring Flara K - Guilty Pleasure
This catchy tune by indie pop act What if Elephants featuring Flara K came out last month and it may have initially snuck by us, but now we can't get enough of it. "Guilty Pleasure" is about exactly what you think it would be about, which helps make this peppy collaboration a perfect feel-good song for the spring.
Follow our cooking playlist on Spotify!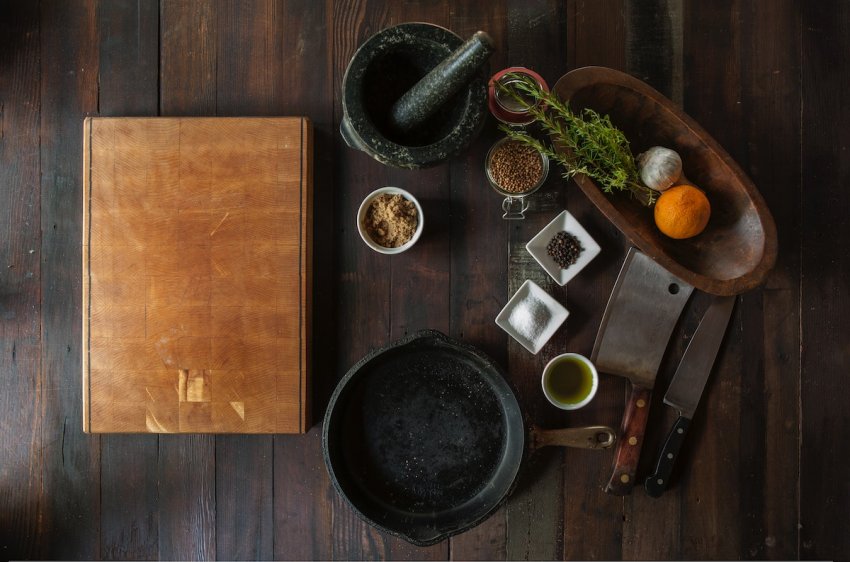 Updated weekly, our Spotify playlist offers up 60 tracks by a wide range of Canadian artists. From R&B to indie pop and everything in between, there is much to discover by listening.
Listen to our full playlist below and consider giving us a follow on Spotify to stay up to date on all of our new musical additions.